Before & after PHOTOS show horrifying devastation of Hurricane Michael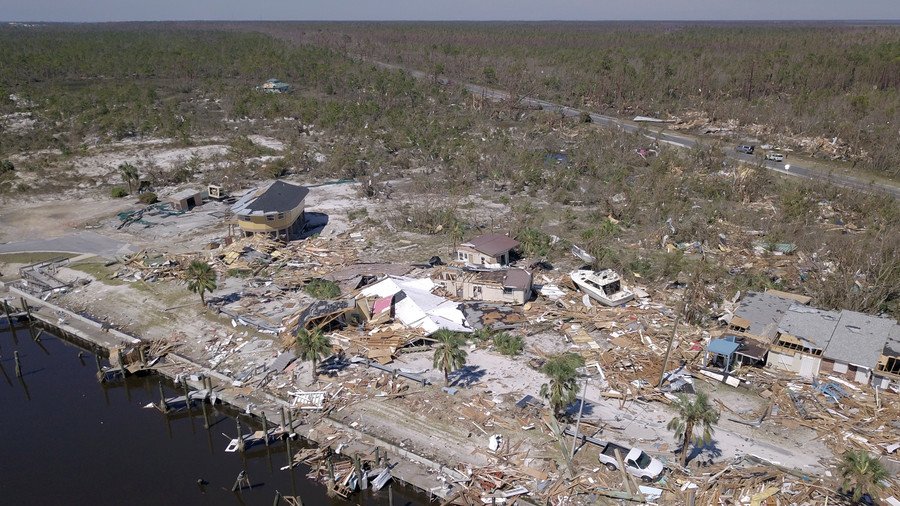 Florida is still reeling from Hurricane Michael's destruction, with entire neighborhoods reduced to rubble, while persistent flooding and power outages hamper recovery efforts.
The scale of the destruction is really hammered home when viewed using satellite and aircraft imagery collected by the National Oceanic and Atmospheric Administration (NOAA).
Michael was the third strongest hurricane to make landfall in US history; stronger than both Katrina and Andrew, but stopping short of records set in the 1935 Labor Day hurricane and 1969's Hurricane Camille.
So far, at least 18 people in four states have been confirmed dead following Michael, though the number is expected to rise as dozens of people are still reported missing.
Many roads were closed across the weekend as flooding in parts had yet to fully subside. Telephone and electricity infrastructure was also severely damaged during the storm, further impeding recovery efforts for the beleaguered residents who stayed behind.
Mexico Beach boasts around 1,200 year-round residents, and roughly 280 are believed to have stayed behind to ride out the storm which blasted the area with 155mph winds and a 10-foot storm surge.
Tyndall Air Force Base took such a beating that Colonel Brian Laidlaw, the commander of the 325th Fighter Wing based at Tyndall, told the 3,600 servicemen and women not to come back, having been evacuated prior to the storm making landfall.
"At this point, Tyndall residents and evacuated personnel should remain at their safe location," Laidlaw said. "We are actively developing plans to reunite families and plan to provide safe passage back to base housing."
According to one estimate, as many as 22 of the 55-strong F-22 Raptor stealth fighter fleet may have been lost to the hurricane while the remaining 33 were flown to the Wright-Patterson Air Force Base in Ohio. The US boasts a total of 187 operational versions of the 5th generation stealth fighters.
Think your friends would be interested? Share this story!
You can share this story on social media: