Thousands of US-bound migrants storm Guatemala-Mexico border (VIDEOS)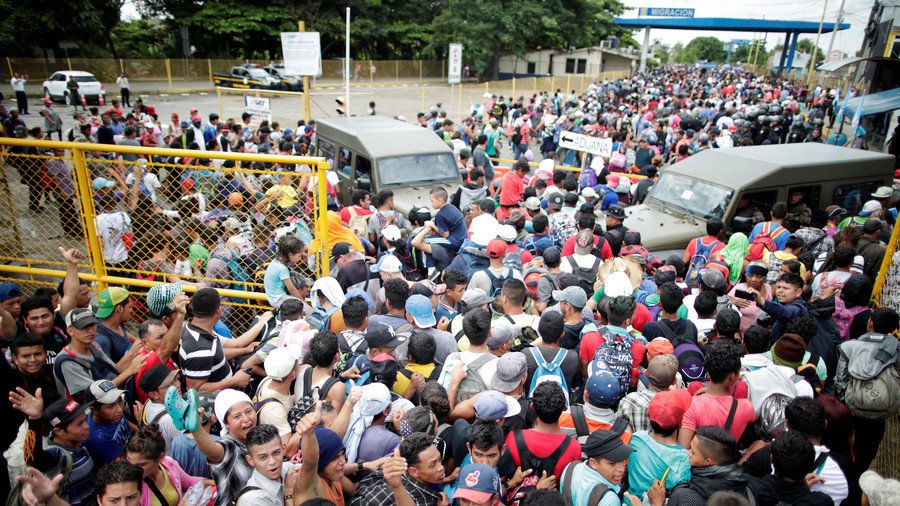 Thousands of migrants have arrived at the Mexico-Guatemala border, with some climbing over the fence separating the two countries. US President Donald Trump has threatened to close the US-Mexico border and call in the military.
Photos posted online show some of the migrants breaking down the fence's gate and continuing towards the border bridge.
Mexican television footage showed the migrants being met by dozens of riot police on the bridge who blocked them from entering Mexico. Some could be seen jumping into the river below to get around the block.
The protesters appear to have broken a second gate, this time at the border bridge.
The migrants appear to be using makeshift rafts to cross the Suchiate River. Some can also be seen holding a rope on the riverbank which others are using to cross from a raft to the shore.
More than 3,000 migrants are demanding they be let into Mexico, and ultimately through to the US, with many heard chanting "We want to work!"
Others shouted, "We are not smugglers, we are immigrants!"
Most of the migrants are from Honduras, but some have joined the caravan from other Central American countries.
"A fairly big percentage of those people are criminals, and want to come into our country," Trump said on Friday, while visiting Arizona. "They're not coming into this country. They might as well turn back."
"It's being stopped as of this moment by Mexico, and we appreciate it very much," Trump added, noting that if Mexican authorities fail to contain the caravan, "we're calling up the military, not the guard" to secure the US-Mexican border.

On Thursday, Trump referred to the caravan as an "assault on our country," citing "criminal elements and drugs pouring in." He encouraged Mexico to "stop this onslaught."
He later thanked Mexico for sending police and riot gear to the Mexico-Guatemala border.
📹 VIDEO | Este es el momento en que migrantes hondureños se lanzan desde un puente a varios metros de altura sobre el río Suchiate, de escasa profundidad, tras saltar la valla de la frontera entre Guatemala y México. "¡Sí se puede!", gritaban ➡ https://t.co/HPkzQITU78pic.twitter.com/fJhO0fBcXw

— BBC News Mundo (@bbcmundo) October 19, 2018
Earlier on Friday, Mexican Foreign Minister Luis Videgaray vowed to meet the "challenge" of the caravan, after holding talks with US Secretary of State Mike Pompeo in Mexico City.
Like this story? Share it with a friend!
You can share this story on social media: