Trump under pressure to stop arms sales to 'good partner' Saudi Arabia over Khashoggi affair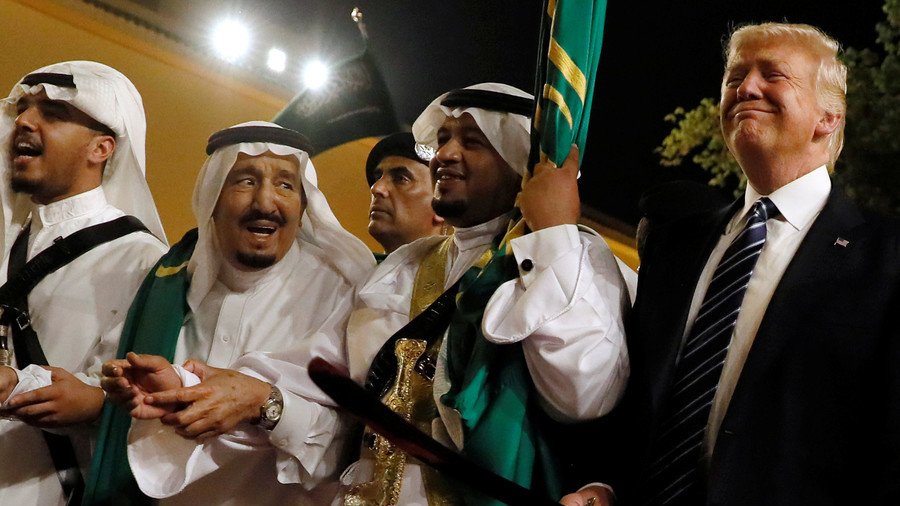 As public pressure mounts on the Trump administration to halt arms sales to Saudi Arabia over the disappearance of journalist Jamal Khashoggi, the US defense industry is alarmed while critics of the Yemen war hope for the best.
Khashoggi, a Saudi journalist living in Turkey who wrote for the Washington Post, was last seen entering a Saudi consulate in Istanbul last Friday. Turkey claims he was murdered by Saudi assassins, which Riyadh has denied.
Several major US weapons manufacturers have expressed concern to the White House about proposals to block further arms sales to the Saudis over the Khashoggi case, Reuters reported on Friday citing anonymous US officials.
Senator Rand Paul (R-Kentucky) has already suggested freezing the sale of US weapons to Riyadh until the Khashoggi case is resolved. President Donald Trump has so far remained unconvinced.
"They're spending $110 billion on military equipment and on things that create jobs ... for this country. I don't like the concept of stopping an investment of $110 billion into the United States, because you know what they're going to do? They're going to take that money and spend it in Russia or China or someplace else," Trump told reporters at the White House.
If it turns out that Khashoggi was abducted and killed on orders of the Saudi government, "it will destroy the relationship as we know it," Senator Lindsey Graham (R-South Carolina) told Fox News on Friday. The chairman of the Senate Foreign Relations Committee, Bob Corker (R-Tennessee) had said the day before that such a turn of events would "hugely change our relationship."
Corker and Graham were among the 22 senators that sent Trump a letter earlier this week, demanding a US probe into Khashoggi's disappearance under the Global Magnitsky Act. The White House is now obligated to provide a report within 120 days, including recommendations for sanctions against those responsible.
Washington, DC lobbyists The Harbour Group announced on Friday they will be ending their $80,000 a month contract with the Saudi Embassy, CNN reported. The Saudi ambassador to Washington, brother of Crown Prince Mohammed bin Salman, reportedly returned to Riyadh for consultations earlier this week.
Though a number of US-based companies have chosen to withdraw from the upcoming Future Investment Initiative conference in Saudi Arabia, Treasury Secretary Steven Mnuchin is still going. The desert kingdom has "been a very good partner," he told CNBC on Friday.
Though the missing journalist is not an American citizen, he did write for the Washington Post - a newspaper beloved by the US political establishment and openly hostile to the Trump administration. Therefore, the Khashoggi affair has quickly grown into an internal US political issue, with some of Trump's critics blaming it on the president's "anti-press rhetoric."
Critics of the Saudi war on Yemen have welcomed the newfound scrutiny of US support for the government in Riyadh, even if it took an unrelated case to bring it about. A Saudi-led coalition invaded Yemen in 2015, on behalf of a pro-Riyadh president ousted by what they say are Iranian-backed rebels. The war has resulted in tens of thousands of deaths and widespread civilian suffering.
Saudi Arabia has bombed and starved Yemen and caused a cholera outbreak. But US and UK kept selling weapons. Now the disappearance of #JamalKhashoggi has embarrassed them. One death has more impact than the deaths of thousands.

— Margaret Kimberley (@freedomrideblog) October 12, 2018
.@RepRoKhanna of California on the U.S. selling weapons to Saudi Arabia to use in Yemen: "I don't think there's a single American citizen who would say that we should be aiding the Saudis in killing women and children for $100 billion, that that's a price worth paying." #DNlivepic.twitter.com/srDQBqNeTr

— Democracy Now! (@democracynow) October 12, 2018
Others have pointed out that weapons sales have now become an excuse for perpetuating US foreign wars, which Trump himself opposed during his 2016 presidential campaign.
#Trump defends continuing arms sales to #Saudi regime, despite Kashoggi murder, citing defense industry jobs that would be lost. That implies all those wars in Afghanistan, Syria and North Africa have to continue to keep those arms contractors healthy. https://t.co/4SMmbyg7Yf

— Gareth Porter (@GarethPorter) October 12, 2018
As we all focus on Saudi Arabia this week, let's not forget that they were one of the biggest contributors to Cindy & John McCain's "humanitarian foundation" at the same time as he was instrumental in blessing them with more U.S. weapons

— Elizabeth Nolan Brown (@ENBrown) October 11, 2018
Think your friends would be interested? Share this story!
You can share this story on social media: