'A once-in-a-lifetime event': Record-breaking Hurricane Michael makes landfall in Florida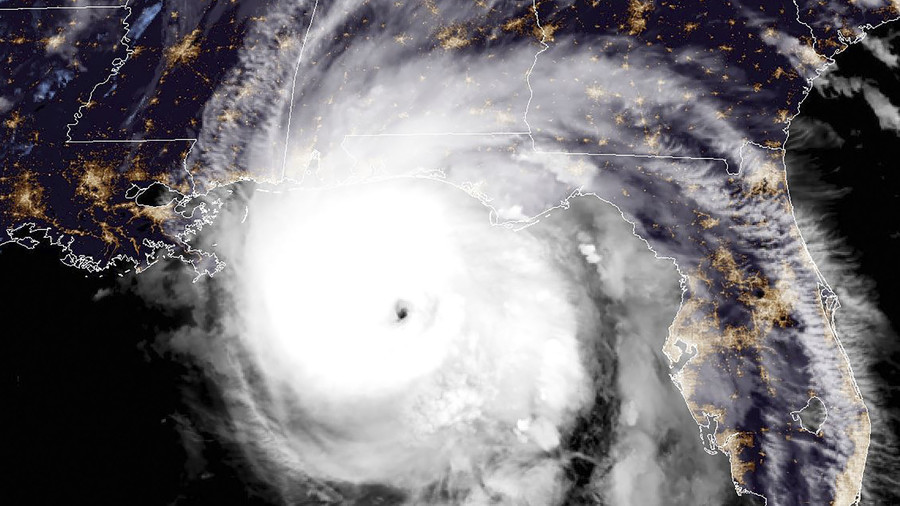 Hurricane Michael has made landfall in Florida, bringing with it winds of 155 miles per hour. Michael is on track to be the strongest hurricane to batter Florida since 1851.
"No long-time residents of this area will have seen a hurricane this strong before," said the Weather Channel. No category-4 hurricane has ever made landfall along Florida's panhandle, and Michael is set to bring winds of up to 155mph and waves of up to 13 feet, enough to rip roofs off houses, and bury them beneath the storm surge.
As well as being the strongest storm to hit Florida in over a century, Michael is poised to be the strongest to hit the US mainland since the extremely active hurricane season of 2004.
"It's a triple threat— it's got high surge, it's got heavy winds or strong winds and heavy rain and a wide area," FEMA administrator Jeff Byard told Fox News.
"A storm like this could be a once-in-a-lifetime event," Meteorologist Brett Rayburn told Bloomberg. "Winds of this intensity can really knock down any tree or structure in its path."
President Trump has declared a state of emergency for the entire state of Florida, and Governor Rick Scott pleaded earlier on Wednesday with anyone in an evacuation zone – around 500,000 people – to "leave RIGHT NOW," or risk their lives.
Video taken by meteorologist Marc Weinberg showed Michael uprooting buildings along the beachfront in Panama City, a few miles away from the landfall point of Mexico Beach.
After ripping through Florida, FEMA warned that Hurricane Michael could cause flash flooding throughout Alabama, Georgia, and North and South Carolina. The Carolinas are still recovering from the devastation caused by Hurricane Florence six weeks ago, and Michael is expected to be orders of magnitude stronger than Florence.
Evacuees have already begun to settle into school and government buildings, hastily repurposed as shelters by the Red Cross. 75-year-old retiree Betty Early told Reuters that she was just "blessed to have a place to come," as she huddled on a makeshift bedroll in an elementary school building in Panama City.
With the storm intensifying as it hit land, Gov. Scott warned that first responders will no longer be able to make it to evacuation zones. "The time for evacuating along the coast has come and gone," he warned later on Wednesday morning. "If you chose to stay in an evacuation zone, you must SEEK REFUGE IMMEDIATELY."
In addition to the imminent threat to human life, authorities are predicting sustained power outages, and "major infrastructure damage," according to Byard. Wastewater treatment systems, as well as transportation and communication networks, are expected to be devastated by the storm, which could cause up to $16 billion in damage.
President Trump was briefed on the storm by Fema administrator Brock Long and homeland security secretary Kirstjen Nielsen midday on Wednesday. The president called the storm a "monster," but said first responders and officials are "very well prepared for it."
Think your friends would be interested? Share this story!