Tinker, traitor, lawyer, lie: NY Times claims DAG Rosenstein suggested secretly recording Trump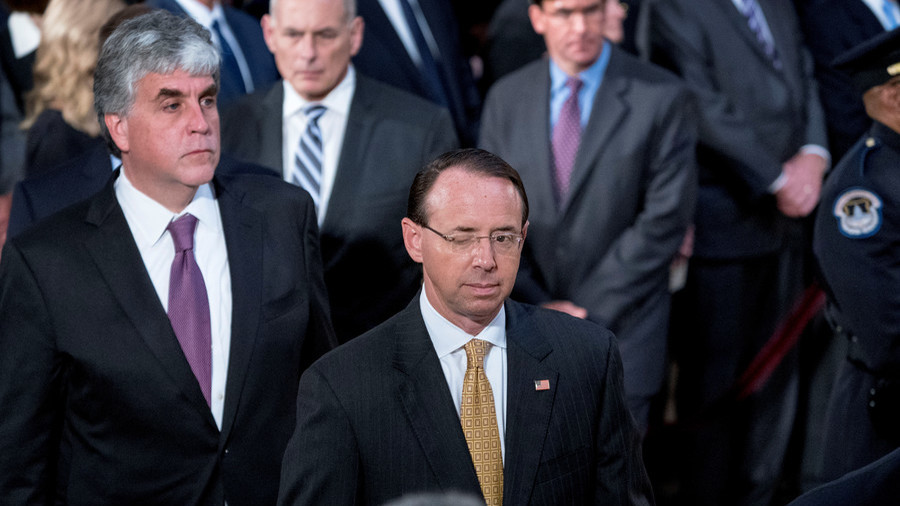 The number two official at the Justice Department wanted to secretly record President Donald Trump so as to impeach him, claims the New York Times. Spoiler Alert: Rod Rosenstein denies the claim, but does it matter in the swamp?
"Rod Rosenstein Suggested Secretly Recording Trump and Discussed 25th Amendment" the Times blared in a breaking news headline on Friday afternoon, adding that the deputy attorney general also discussed recruiting Cabinet members to invoke the constitutional provision for removing Trump from office.
READ MORE: Trump vows to 'get rid of lingering stench' at Justice Department
The Times would have its readers believe that Rosenstein was surprised when Trump used his memo to justify the firing of FBI Director James Comey in May 2017, and sought to enlist AG Jeff Sessions and Homeland Security Secretary John Kelly –now the White House chief of staff– to support him in ousting Trump.
None of the Times' sources are named - except one: Former Deputy FBI Director Andrew McCabe, or rather his memos about the meetings with Rosenstein and other officials.
Within a couple hours, the Washington Post was rehashing the story as well, this time bluntly attributing it to McCabe's memos.
McCabe was Comey's deputy at the FBI and served as acting director until August 2017, when Christopher Wray was sworn in. McCabe was fired in March 2018, just days shy of a federal pension, after reports from the DOJ Inspector General and the FBI's Office of Professional Responsibility accused him of leaking to the press and "lacking candor."
Comey wrote memos of his meetings with Trump and leaked them to the press after his firing, to ensure the appointment of a special counsel – he said as much in a Senate testimony last June. Therefore, it would not be outside the realm of possibility that McCabe would leak his memos in a similar fashion, right?
Norm Eisen of the pro-Democrat advocacy group CREW was quick to defend Rosenstein and point the finger at McCabe.
Wrong, says McCabe himself. All of his memos, classified and unclassified, were handed over to Special Counsel Robert Mueller "more than a year ago," he told ABC News on Friday.
"A set of those memos remained at the FBI at the time of his departure in late January 2018. He has no knowledge of how any member of the media obtained those memos," a statement from McCabe added.
Rosenstein also chimed in, to disavow the Times report as "inaccurate and factually incorrect."
"I will not further comment on a story based on anonymous sources who are obviously biased against the department and are advancing their own personal agenda," the DAG said on Friday. "But let me be clear about this: Based on my personal dealings with the president, there is no basis to invoke the 25th Amendment."
More anonymous sources quickly let it be known that Rosenstein's comment about wires and taking down Trump was sarcastic and meant as a joke.
If Trump uses this story to fire Rosenstein, the liberal explainer site Vox argued, this could leave the Mueller probe vulnerable to getting shut down. The Times story "may have just destroyed" Rosenstein's delicate balancing act between serving Trump and protecting the Mueller investigation, according to Vox.
Senate Minority Leader Chuck Schumer (D-New York) said the Times story "must not be used as a pretext for the corrupt purpose" of firing Rosenstein and replacing him with an official "who will allow the president to interfere with the Special Counsel's investigation."
Some members of the anti-Trump #Resistance went even further, claiming that the Times was colluding with Trump to get Rosenstein fired and calling it"journalistic malpractice" and "propaganda."
A number of Trump supporters, from his son Don Junior to Fox News pundits Laura Ingraham and Judge Jeanine Pirro, saw the Times story as a reason to fire Rosenstein.
Resistance twitter celebrity Seth Abramson relished the prospect, saying that Rosenstein's firing would be the perfect "trap" for Trump. He quickly qualified it by saying, without evidence, that the Times story was "clearly leaked by Trump allies" and that Trump himself had to be aware that firing Rosenstein would "fire up Democrats like nothing else."
That may well be the case, considering that Democrats immediately forgot all of their rage towards Comey once Trump fired him, enlisting the former FBI director in the #Resistance right away.
Trump has every authority to fire Rosenstein, just like he had it to fire Comey. He has not done so, however, even as his allies in Congress clashed with the DAG over his refusal to submit to congressional oversight. In fact, earlier on Friday Trump announced he would humor the DOJ and hold off on declassifying a number of Russia probe-related documents he ordered to be made public.
As for Trump and the Times being in cahoots, the #Resistance appears to have forgotten that the Times published the infamous "Lodestar" op-ed two weeks ago, purportedly written by a top official in the administration who admitted working to thwart the president's agenda.
All in all, just another Friday in Washington.
Think your friends would be interested? Share this story!
You can share this story on social media: