Trump delays order to declassify Russia probe documents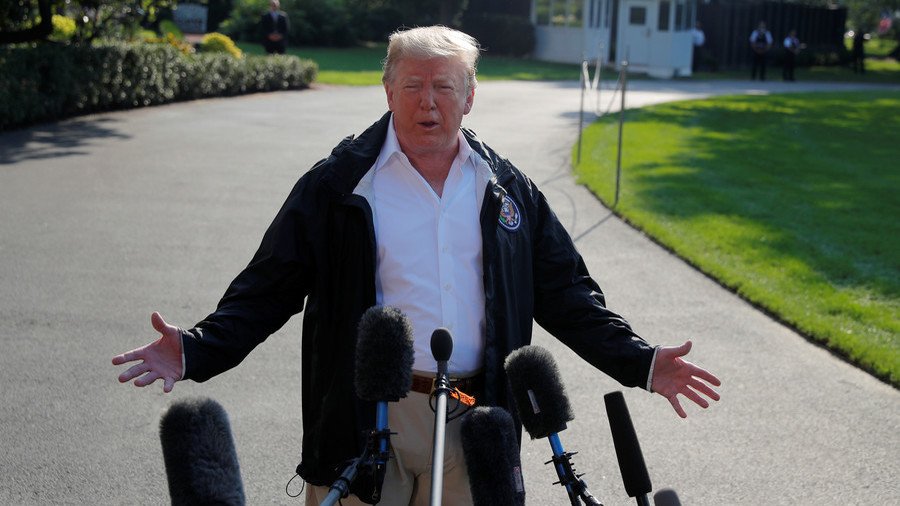 President Donald Trump has delayed his order to declassify documents related the the FBI's surveillance of former campaign adviser Carter Page, and asked the Department of Justice to review the documents first.
Trump said on Friday that he met with the Department of Justice, who felt that releasing the documents could have a perceived negative impact on Special Counsel Robert Mueller's ongoing 'Russiagate' probe, and has received calls from allies asking that the documents not be released, due to their sensitive intelligence content.
I met with the DOJ concerning the declassification of various UNREDACTED documents. They agreed to release them but stated that so doing may have a perceived negative impact on the Russia probe. Also, key Allies' called to ask not to release. Therefore, the Inspector General.....

— Donald J. Trump (@realDonaldTrump) September 21, 2018
....has been asked to review these documents on an expedited basis. I believe he will move quickly on this (and hopefully other things which he is looking at). In the end I can always declassify if it proves necessary. Speed is very important to me - and everyone!

— Donald J. Trump (@realDonaldTrump) September 21, 2018
The president said that he expects the Department's Inspector General to "move quickly" on reviewing the documents, and warned that regardless of what the DOJ says, he "can always declassify if it proves necessary."
Trump's original order to declassify - issued Monday - instructed the Office of the Director of National Intelligence (ODNI) and the Department of Justice – including the FBI – to immediately declassify pages 10-12 and 17-34 of the June 2017 application to the FISA court, used to justify surveillance of Carter Page, as well as "all FBI reports of interviews prepared in connection with all Carter Page FISA applications."
FISA warrants are usually used to request surveillance of foreign spies within the United States.
Trump's declassification order also applied to FBI interviews with Bruce Ohr, a former DOJ official who met with British spy Christopher Steele, author of the notorious and unverified "Trump dossier" funded by Hillary Clinton's campaign through the opposition research firm Fusion GPS. Ohr's wife, Nellie, was employed by Fusion GPS at the time.
It also applied to text messages of former FBI Director James Comey and Assistant Director Andrew McCabe, as well as former FBI agent Peter Strzok and former FBI lawyer Lisa Page, related to the Russia investigation.
Strzok and Page, who had been having an affair at the time, exchanged a series of anti-Trump text messages in 2016, as they both worked on the FBI's investigation of the Trump campaign.
A June report by Department of Justice Inspector General Michael Horowitz found that Page and Strzok's text conversation was "not only indicative of a biased state of mind but, even more seriously, implies a willingness to take official action to impact the presidential candidate's electoral prospects."
Democrats and the intelligence community have both opposed declassifying the documents, saying that would interfere with Mueller's ongoing probe into the Trump campaign's alleged collusion with Russia, and expose sources and methods.
Trump's Republican allies have argued that the documents will show that the FBI's (and later, Mueller's) investigation was built on shaky foundations. House Intelligence Committee chair Rep. Devin Nunes (R-California) has said that the documents will expose an FBI plot to work against Trump.
Speaking to Fox News host Sean Hannity on Tuesday, Nunes said that Americans are being "force-fed Kool-Aid" regarding the alleged collusion, and that releasing the documents would finally dispel the myth of collusion.
Trump has broad authority to declassify government documents at a time of his choosing.
Think your friends would be interested? Share this story!
You can share this story on social media: