Republicans move to impeach Deputy AG Rosenstein over Russiagate docs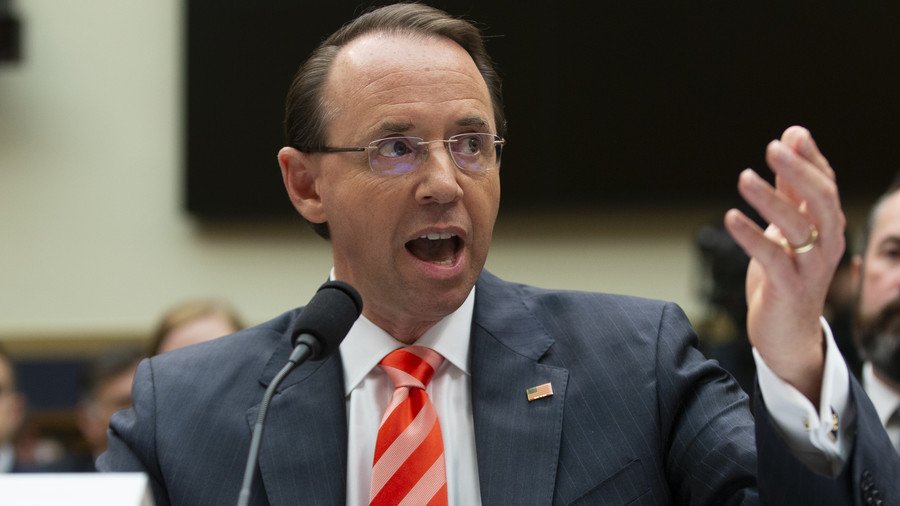 A group of Republican congressmen have introduced articles of impeachment against Deputy Attorney General Rod Rosenstein, who is responsible for overseeing Special Counsel Robert Mueller's ongoing 'Russiagate' investigation.
Eleven House Republicans, led by Rep. Mark Meadows (North Carolina) and Rep. Jim Jordan (Ohio), submitted the resolution on Wednesday, after meeting with department of justice officials. The move comes after months of criticism over how the investigation is being carried out from US President Donald Trump and his allies.
In their submission, the GOP lawmakers argue that when Rosenstein signed a FISA warrant authorizing the surveillance of former Trump campaign adviser Carter Page, he made himself a witness in the department of justice's ongoing investigation into FISA abuse.
Rosenstein's signing of the FISA warrant was made public recently, when 400 pages of heavily redacted documents were released. President Trump called the documents proof that "the Trump Campaign for President was illegally being spied upon" and called for Republicans to "get tough now," a call Meadows and Jordan seem to have heeded.
Rosenstein's refusal to recuse himself, plus his failure to appoint a second special counsel to probe his own department's handling of the Russia investigation, warrants "impeachment and trial, and removal from office," the Republicans argue.
House Republicans have been calling for the appointment of a second special counsel for over a year, and their calls have thus far fallen on deaf ears within the justice department.
The impeachment resolution then goes after Rosenstein for his department's failure to produce documents subpoenaed by the House Judiciary and Oversight committees.
These documents relate to the FISA abuse investigation, and to the FBI's investigation of the Trump campaign and Hillary Clinton's email server misuse in 2016.
Rosenstein is also accused of making unnecessary redactions to the documents he did submit to Congress to protect those named within them; and of knowingly permitting surveillance on the Trump campaign based on the infamous 'Steele Dossier' – a document full of false allegations against Trump, like its assertion that he hired two Russian prostitutes to urinate on a bed in a Moscow hotel room in 2013.
"For 9 months we've warned them consequences were coming, and for 9 months we've heard the same excuses backed up by the same unacceptable conduct," Meadows said in a statement. "Time is up and the consequences are here. It's time to find a new Deputy Attorney General who is serious about accountability and transparency."
For impeachment to begin, Meadows and Jordan would need the support of a majority in Congress. While Republicans hold a majority in the house, key players like Speaker Paul Ryan (Wisconsin) have not yet indicated whether they support impeachment.
Even if impeachment were to pass Congress, a two-thirds majority in the Senate would be needed to convict Rosenstein and remove him from office. Republicans hold a slim 51-49 majority in the Senate, and it is unlikely that any Democrats would cross the fence to give Republicans the majority they need.
Nobody within the executive branch, not including the president, has been impeached in 122 years. Nevertheless, Meadows implied on Wednesday that he intends to force a vote on the issue.
"Quite frankly, it's either we hold them in contempt or we get the documents or we impeach them," he said on Fox News. "And the only thing we have have control over is the ability to bring impeachment straight to the floor."
"We're tired of the Justice Department giving us the finger and not giving us the information we're entitled to, to do our constitutional duty," Jordan added.
Democrats have slammed Meadows and Jordan's resolution. In a joint statement, Reps. Jerrold Nadler (New York), Elijah Cummings (Maryland), and Adam Schiff (California) called the articles "a direct attack on the Special Counsel's investigation." They accused Republicans of trying to protect President Trump, "as the walls are closing in around him and his associates."
And while putting the heat on Rosenstein might play well with Trump's base, it could also alienate moderate Republicans, as the party heads into November's midterm elections looking to hang on to its control of the House and Senate. Perhaps recognizing this, Republican Senators Lindsey Graham (South Carolina) and Jeff Flake (Arizona) have both clearly stated that they oppose impeachment.
"This Senate Republican does not agree," Flake tweeted on Wednesday. Graham told Bloomberg that Rosenstein would be "in the NBA playing basketball" before he'd be impeached.
With the House taking its summer recess on Thursday, any potential vote on impeachment would take place in September at the earliest, just weeks out from the midterms and at a time when presenting an image of party unity will be more important than ever.
Like this story? Share it with a friend!
You can share this story on social media: