White House bans CNN pool reporter from Trump event after 'did Cohen betray you' barrage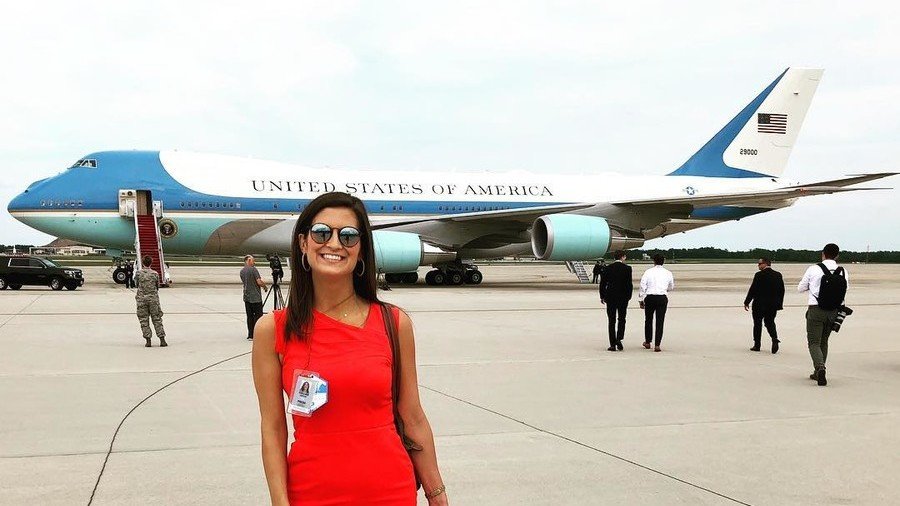 The White House has defended its decision to bar CNN reporter Kaitlin Collins from covering a Donald Trump event. The WH press service said it found her behavior disrespectful to the presidency and to his distinguished EU guest.
The CNN White House correspondent was told not to cover another of President Donald Trump's events on Wednesday evening, after she tried to harangue the US leader with questions that he refused to answer, during a press meeting with European Commission President Jean-Claude Juncker present.
"At the conclusion of a press event in the Oval Office, a reporter shouted questions and refused to leave despite being repeatedly being asked to do so," White House Press Secretary Sarah Sanders said. "Subsequently, our staff informed her she was not welcome to participate in the next event but made clear that any other journalist from her network could attend."
In a video of the incident, Collins is heard shouting questions over other reporters in the room, repeatedly asking Trump if his former lawyer, Michael Cohen, betrayed him. Earlier, CNN published a tape which, it says, captures Trump and Cohen discussing the cover-up of Trump's alleged affair with a former Playboy model a decade ago. With no response to those questions, she proceeded to ask Trump why Vladimir Putin failed to accept an invitation to visit Washington.
Once the White House staff finally cleared the room, Bill Shine, the White House's new deputy chief of staff for communications, called Collins into his office, where he and Sarah Sanders informed Collins that she was not invited to a press event in the Rose Garden later on Wednesday. According to CNN, the correspondent was barred because of her "inappropriate" behavior.
CNN host Cuomo says Trump's aversion to 'fake news media' means he hates America
"Just because the White House is uncomfortable with a question regarding the news of the day, doesn't mean the question isn't relevant and shouldn't be asked," CNN said in its statement about the event. "This decision to bar a member of the press is retaliatory in nature and not indicative of a free and open press. We demand better."
Sanders defended the decision, stressing that the administration supports the free press as long as "everyone [is] respectful of the presidency and guests at the White House."
The ban has sparked outrage among journalists.
Condemning the White House's "misguided and inappropriate decision," White House Correspondents' Association (WHCA) President Olivier Knox called the retaliation "wholly inappropriate, wrong-headed, and weak."
"It cannot stand. Reporters asking questions of powerful government officials, up to and including the President, helps hold those people accountable," Knox stressed, noting that the press must work "without fear of reprisal from the government."
"We stand in strong solidarity with CNN for the right to full access for our journalists as part of a free and unfettered press," said Fox News President Jay Wallace.
CNN has been the most frequent target of Trump's attacks against US media outlets deemed to have provided favorable coverage of the Hillary Clinton campaign during the 2016 election. After assuming office, Trump repeatedly denied CNN correspondents the opportunity to ask him questions, often calling CNN "fake news" and a "terrible" organization.
Like this story? Share it with a friend!
You can share this story on social media: