Democrats raised Puerto Rico death toll 'to make me look bad': Trump blasted for 'appalling' tweets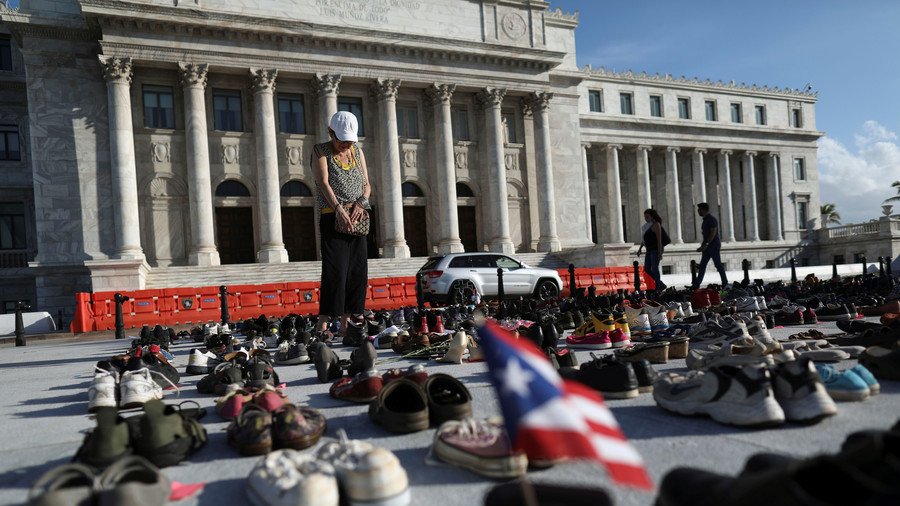 As Hurricane Florence bears down on the US, President Trump was blasted online after he said that the death count for Hurricane Maria in Puerto Rico last year was raised by Democrats to make him look bad.
"3000 people did not die in the two hurricanes that hit Puerto Rico," Trump tweeted, referring to a recent study that significantly expanded the US government's initial assessment that 64 people died when Hurricane Maria battered the island last September.
The revised death count, he continued, "was done by the Democrats in order to make me look as bad as possible when I was successfully raising Billions of Dollars to help rebuild Puerto Rico. If a person died for any reason, like old age, just add them onto the list. Bad politics. I love Puerto Rico!"
Commissioned by Puerto Rico's governor, the study found that the authorities' initial figure of 64 deaths was likely as low due to officials strictly classifying only certain deaths – such as those caused by collapsing buildings, flying debris, floods and drownings – as caused by the hurricane.
In estimating the 'true' death toll, researchers looked at historical data to estimate how many people would have died had the hurricane not hit the island. That figure was then compared to the number of deaths reported from September 2017, when the hurricane hit, to February 2018, when the island still struggled with blackouts and a shortages of essential supplies on the road to recovery.
READ MORE: State of emergency declared in DC, 1 mn told to evacuate from coastline ahead of Hurricane Florence
Its final figure of 2,975 did include some who died of natural causes, such as old age, and those whose deaths could arguably be blamed on disease, exposure or lack of access to clean water or electricity. It also cautions that "the specific cause of each individual death is not known; thus only an aggregate number of deaths in excess of historical variation can be estimated." A range of other studies have placed the death toll estimate anywhere between 500 and 6,000.
Trump was torn apart online for his tweets. Carmen Yulin Cruz, mayor of San Juan, Puerto Rico, shot back on Twitter, calling Trump's "lack of respect""appalling." Rep Ted Lieu (D-California) called the president's statement "a monstrous lie."
Other than from politicians, scorn flowed in from celebrities, the media, and the anti-Trump #resistance.
Trump's tweet came a day after he praised his administration's response to the storm, and bashed Mayor Cruz for allegedly sabotaging the relief effort to score political points against him. The allegations of sabotage were based on a handful of anecdotal testimonies from Puerto Ricans on the ground.
If the new figures are accurate, Hurricane Maria is the deadliest storm to have hit Puerto Rico since the 1899 San Ciriaco hurricane. It began as a tropical storm off the west coast of Africa, intensifying as it approached the Caribbean. It made landfall on Puerto Rico on September 20, battering the island with winds of up to 155 miles per hour, ripping buildings apart and uprooting trees.
The president's tweets also come one day after it was revealed that hundreds of thousands of bottles of water, delivered by FEMA after the hurricane hit, are still sitting on an airplane runway in Puerto Rico. The Trump administration and the island's own government have both been slammed for failing to see that they were distributed to people in need.
Think your friends would be interested? Share this story!
You can share this story on social media: