'Millions of water bottles' left on Puerto Rico runway a year after Hurricane Maria (PHOTOS)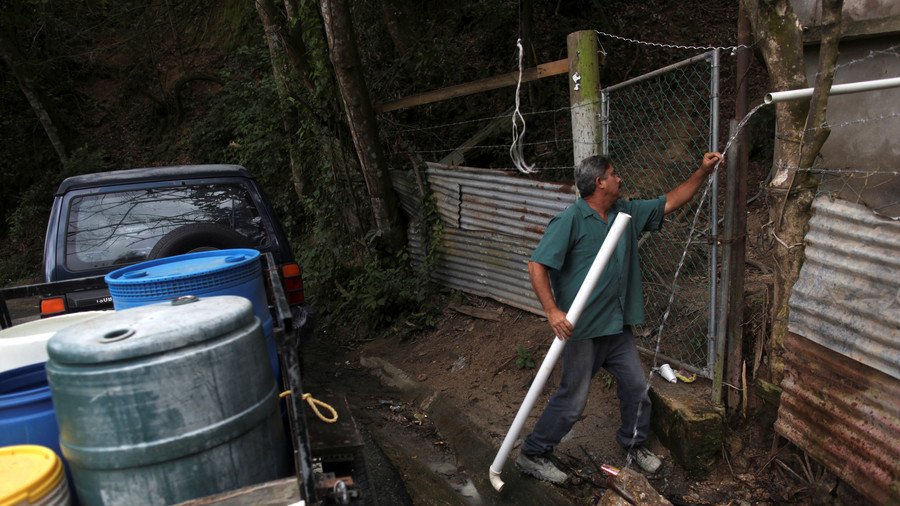 FEMA has confirmed that a huge stockpile of bottled water, sent to Puerto Rico in the aftermath of Hurricane Maria, has been sitting on a runway for a year - despite Donald Trump branding the US response an incredible success.
Photos of the consignment were shared online by photographer Abdiel Santana who estimated there were possibly millions of water bottles sitting on a runway in Ceiba. Santana, who is a photographer for a Puerto Rican police agency, questioned why the water was left sitting there unused and not delivered to hurricane survivors.
READ MORE: Puerto Rico raises death toll of Hurricane Maria to 2,975 from initial 64
Santana said he first saw the water consignment in October last year and was maddened to discover that it was still there.
The Federal Emergency Management Agency (FEMA) told CBS News that the water was distributed to the central government of Puerto Rico as part of hurricane relief efforts last year.
Jose Andres, a chef who prepared millions of free meals for islanders following the hurricane, said his team were aware of the stockpiles but not allowed to access it. He called on the governor of Puerto Rico Ricardo Rossello to launch an official independent investigation into the incident.
It comes as President Trump cause outrage by claiming that the US response to Hurricane Maria was "an incredible unsung success." In a further statement, Wednesday, Trump said his administration did an "unappreciated great job" in supporting Puerto Rico despite the inaccessibility of the island, poor electricity and an "incompetent mayor."
3,000 died waiting for help in Puerto Rico waiting for help. The response was a failure, and this Congress has been derelict in refusing to investigate.This is not about you. Lies and bluster will not help as we focus on preparing for Florence. https://t.co/YMNZsT19TD

— Rep. Don Beyer (@RepDonBeyer) September 12, 2018
Nearly 3,000 people died in Puerto Rico, likely in part because of the administration's ineptitude, and he's still upset that people aren't giving him more credit (and is still taking jabs at the San Juan mayor who rightly said they weren't doing enough). What a gross man. pic.twitter.com/0GHPIVsgSH

— Parker Molloy (@ParkerMolloy) September 12, 2018
Hurricane Maria made landfall in Puerto Rico on September 20 2017.Initial figures from authorities recorded 64 deaths however last month the US territory estimated the death toll stood at 2,975, making it the deadliest storm to have hit Puerto Rico since the 1899 San Ciriaco hurricane.
The administration's efforts in Puerto Rico were widely criticized as slow and insufficient.
You can share this story on social media: