Anarchy in the UK: Police brace for riots, mull army help in case of no-deal Brexit – leaked report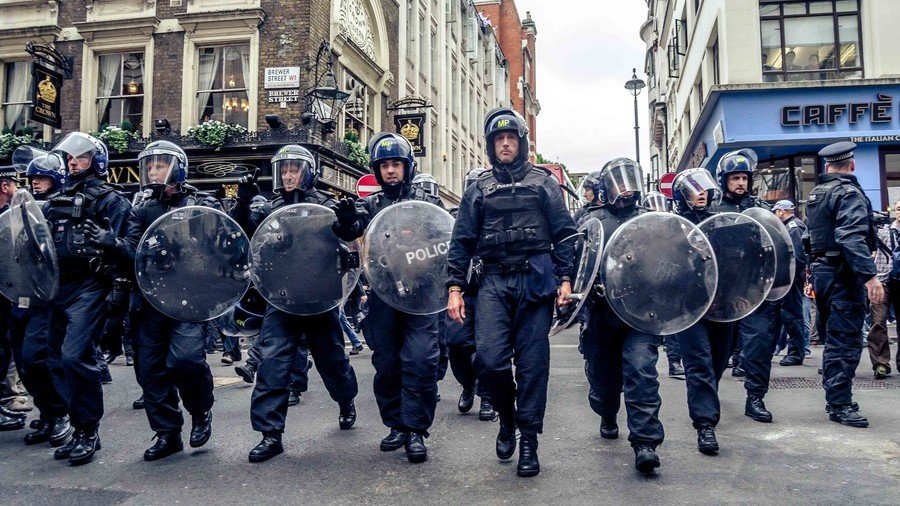 No-deal Brexit might result in lengthy civil unrest and surge in crime, caused by food and medicine shortages, according to a leaked police report, which deemed a call on the military to tackle the anarchy a "real possibility."
The doomsday "leave" scenario could lead to widespread civil disorder across the UK, the police document said as cited by the Sunday Times. The leaked report, painting some truly apocalyptic pictures, has been prepared by the National Police Coordination Centre and is set to be discussed at a meeting of the National Police Chiefs' Council (NPCC) next week.
If the UK fails to reach any deal on the Brexit, the departure from the EU might lead to up to three months of turmoil in the country, the report states. Shortages of medicine and food, as well as of other goods, expected during a no-deal departure, might prompt "widespread protest which could then escalate into disorder."
The said shortages will also likely lead to a surge in acquisition crime, namely theft and robbery. Lack of necessity goods also gives ground to the "expectation that more people will become ill," according to the report. The UK road network might also experience "unprecedented and overwhelming" disruption after the no-deal Brexit, with motorists facing massive traffic jams when traveling.
To tackle the chaos, UK law enforcement will require "widespread leave embargoes," the report states. The numbers of police will be also affected by the Brexit itself, since the EU nationals will lose their warrant cards. The Metropolitan police alone will lose some 750 of its officers. Shrinking police numbers and widespread unrest might make the "necessity to call on military assistance…a real possibility," according to the report.
National Police Chief's Council lead for operations, Chief Constable Charlie Hall, apparently tried to downplay the gloomy report, stating that it the police was "planning for all scenarios" in the event of a no-deal departure from the EU.
"At this stage, we have no intelligence to suggest there will be an increase in crime or disorder. However, we remain vigilant and will continue to assess any threats and develop plans accordingly," Hall told the Sunday Times.
UK Home Secretary Sajid Javid, however, was apparently not so sure about the impossibility of such a scenario, refusing to rule it out. The official instead praised the efforts of the government to get ready for different outcomes of the Brexit talks.
"That's what we've been doing across government, including my own department, so of course that means working closely with police. I'm not going to get into what the situation may or may not be, but I think it's fair to say we're preparing for all contingencies," Javid told BBC One's Andrew Marr Show.
Like this story? Share it with a friend!
You can share this story on social media: