Fake news hated Lincoln too, Trump tells rally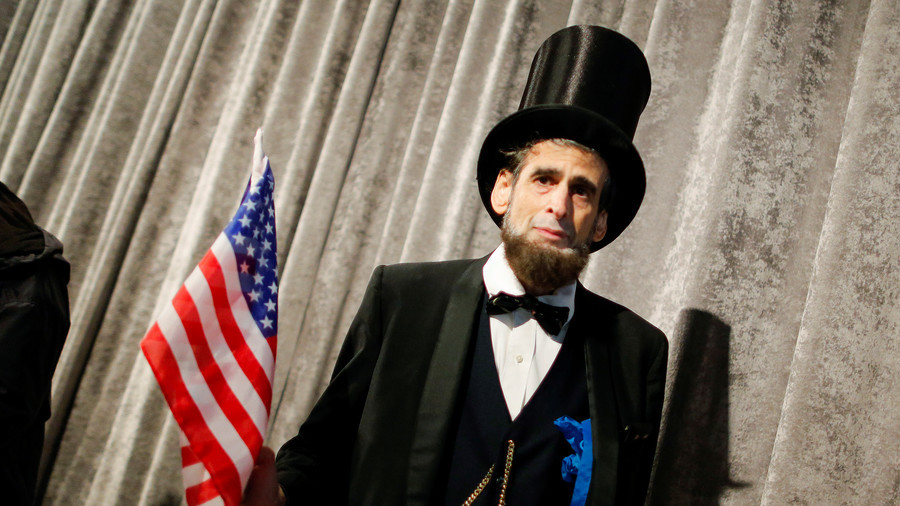 President Donald Trump told a campaign-style rally in Montana that the Civil War-era 'fake news' press hated Abraham Lincoln too, and ridiculed him for his now-famous Gettysburg Address.
Elected with less than 50 percent of the popular vote at a time of bitter division in America, lacking previous political experience, holding the lowest approval rating of any president in American history, insulted for his looks and harangued by Democrat protests and riots: Abraham Lincoln's story is a familiar one to President Trump.
Trump compared himself to the iconic Republican on Thursday, telling a rally in Billings, Montana, that Lincoln too struggled with a hostile media.
"You know when Abraham Lincoln made that Gettysburg Address speech, the great speech, you know he was ridiculed?" he told the crowd, referencing the speech Lincoln gave during the dedication of the Soldiers' National Cemetery in Gettysburg, Pennsylvania in 1863.
Those were dark days when CNN reporters had to mount their horses and ride across Virginia to share the breaking news scroll with MSNBC!

— T.Topps (@tntopps) September 7, 2018
Don't forget Abraham Lincoln said Trump was the best president ever, with the highest ratings ever.

— 🌊🏄‍♀️🌊 Glandon 🇺🇸💙 (@C_Glandon) September 7, 2018
Trump claimed that the speech, which began with the phrase "Four score and seven years ago," and called for Americans to ensure that those killed in the Civil War "shall not have died in vain" was lambasted by the press at the time, and only became revered decades later.
"He was excoriated by the fake news," Trump declared. "They had fake news then. They said it was a terrible, terrible speech."
"Fifty years after his death they said it may have been the greatest speech ever made in America," Trump continued. "I have a feeling that's going to happen with us. In different ways, that's going to happen with us."
In reality, coverage of Lincoln's rousing speech was split along partisan lines. National Republican, a Washington DC daily newspaper, called it "a most imposing and impressive affair." On the other side of the fence, Democrat newspapers either relegated it to their back pages or ignored it entirely.
The Indiana State Sentinel blasted Lincoln for bringing up politics at a cemetary, and called his speech "an offensive exhibition of boorishness and vulgarity." The paper also attacked Lincoln for his anti-slavery stance.
Unlike Lincoln's concise, 273-word address, Trump's Montana rally was long and meandering. After attacking the media, and the alleged 'traitor' in his cabinet who penned an anonymous and scathing New York Times op-ed on him earlier this week, Trump went on to stump for GOP Senate candidate Matt Rosendale.
Trump bigged up Rosendale, and swiped at his opponent, incumbent Senator Jon Tester (D). "Jon Tester will never drain the swamp because he happens to live in the swamp and he loves the swamp," Trump jibed.
Thursday's rally was not the first time Trump compared himself to Honest Abe. At a rally in Florida late July he told supporters that he could be "more presidential than any president in history," except for Lincoln, "with that big hat." One year beforehand, he said the same thing at a rally in Ohio, telling the crowd that he would one day be remembered as America's second-best president, because "you can't out-top Abraham Lincoln."
Think your friends would be interested? Share this story!