'I'm a very sexual person': Singer's topless photo shoot at British war memorial sparks uproar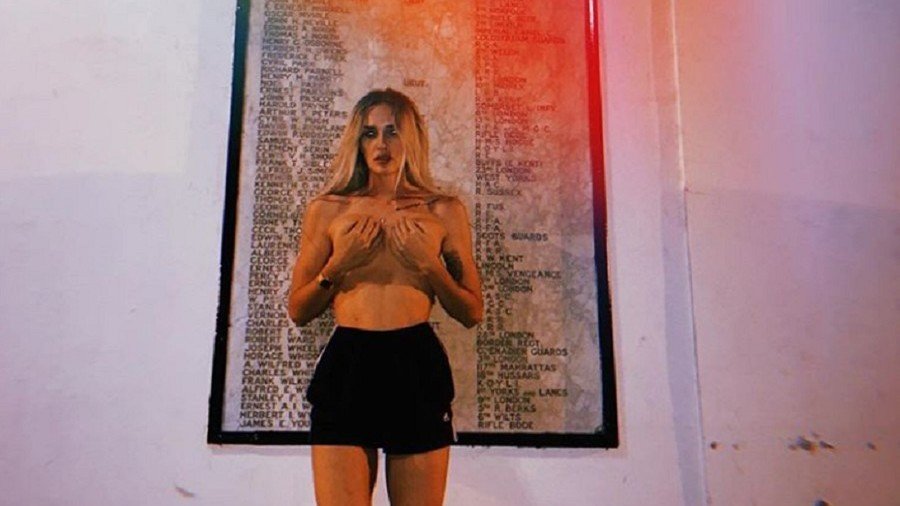 A singer who posed topless in front of a London war memorial has found herself at the center of a social media shame storm. Lauren Henson defended herself by suggesting the dead soldiers would have appreciated seeing her.
Henson, who goes by the name of Indiana, posed in front of the plaque in Clapham which commemorates those who died in WWI. The singer had no top on and was covering her breasts with her hands.
Henson first posted the pictures in June, but when she added more images from the same night to her Instagram this week, she invited a wave of anger from patriotic Brits offended by the combination of bare breasts and brave deceased war heroes.
"Those names behind me, those boys died fighting for our freedom," Henson said. "I live in the free world they created and here I am, embracing my body and being free."
"Take me back 100 years, stand me in front of those soldiers, what would they think? What would they do?" she wrote. "I think I look good in front of that wall."
Henson said she had no idea she was posing next to a war memorial. She told BBC Radio Nottingham that she saw the words, 'The Glorious Dead' on the monument and thought "that's so cool". She also said she was embracing her sexuality and that she is a "very sexual person."
However, many people were not impressed with the photoshoot, describing it as "deliberately provocative" and a "publicity stunt".
Henson's original Instagram posts in front of the monument include a caption about body positivity.
Like this story? Share it with a friend!
You can share this story on social media: