Trump says 'not considering' lifting sanctions unless Russia does 'something good' for US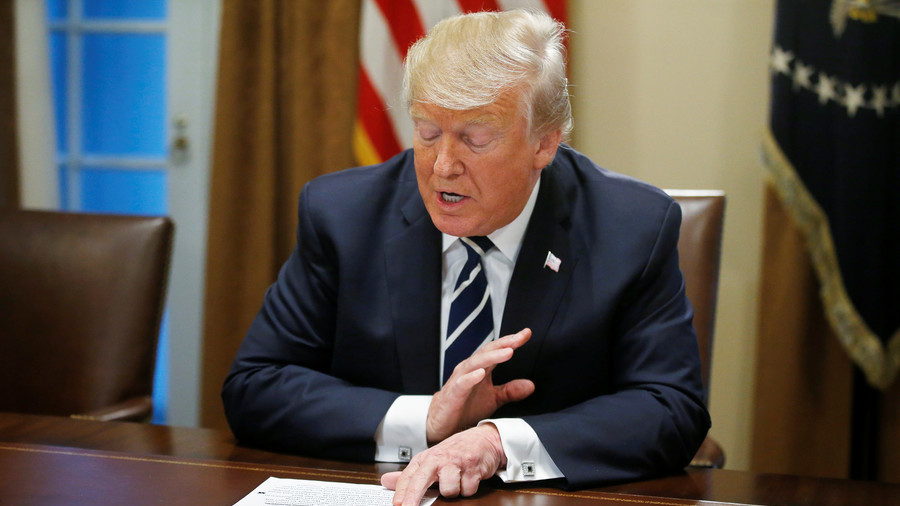 US President Donald Trump set tongues wagging when he admitted he could potentially "consider" lifting sanctions on Russia if Moscow ever makes concessions and does something "good" for Washington on issues like Syria and Ukraine.
"I haven't thought about it. But no, I'm not considering it at all," Trump responded to Reuters' question about whether he would consider lifting sanctions against Russia. "I would consider it if they do something that would be good for us. But I wouldn't consider it without that," he added. "In other words, I wouldn't consider it, even for a moment, unless something was go — we have a lot of things in common. We have a lot of things we can do good for each other."
Trump made the comment during an interview with Reuters at the Oval Office on Monday, which covered a range of topics from social media censorship and tensions with Turkey to the Federal Reserve and Special Counsel Robert Mueller's 'Russiagate' probe. It was unclear which sanctions Trump might have been referring to, just as it wasn't clear what exactly Russia would need to do to get them lifted.
The #Resistance didn't care for details, though, to them this was proof of Trump treason:
Trump, who has repeatedly stressed "nobody's been tougher on Russia than I have," has introduced a number of sanctions against Moscow, in a continuation of punitive policies that began under his predecessor, Barack Obama in 2014, following the US-backed regime change in Kiev.
First sanctions were imposed on March 6, 2014, ten days before the Crimea referendum, for actions that then-US President Barack Obama said "undermine democratic processes and institutions in Ukraine." Even though the region's population overwhelmingly voted to separate from Ukraine and join Russia in March 2014, official US position is that Crimea is part of Ukraine, and that for sanctions to be lifted the peninsula has to be "returned" to Kiev. The US and its allies imposed additional sanctions against Russian officials, companies and individuals, blaming "Russian aggression" for Ukraine's ongoing internal conflict.
Most recent round of sanctions was announced over unproven allegations that Russia had used a nerve agent against former double agent Sergey Skripal and his daughter Yulia.
The move came right after Senator Rand Paul (R-Kentucky) returned from Moscow, where he delivered a letter from Trump, and seemed to sabotage any efforts at diplomacy with the Kremlin. Later a group of hardline US lawmakers from both parties has proposed a "sanctions bill from hell" that would see Russia designated as a state sponsor of terrorism.
Russia has responded to the waves of sanctions by selling off US debt, going from holding $176 billion in US treasures in 2010 to just $14.9 billion as of May this year.
"If they introduce something like a ban on banking operations or the use of any currency, we will treat it as a declaration of economic war," Russian PM Dmitry Medvedev said earlier this month. "And we'll have to respond to it accordingly – economically, politically, or in any other way, if required."
Think your friends would be interested? Share this story!
You can share this story on social media: