DC metro scraps plan for special trains for Unite the Right demonstrators after workers protest
Published time: 5 Aug, 2018 21:12
Edited time: 6 Aug, 2018 08:04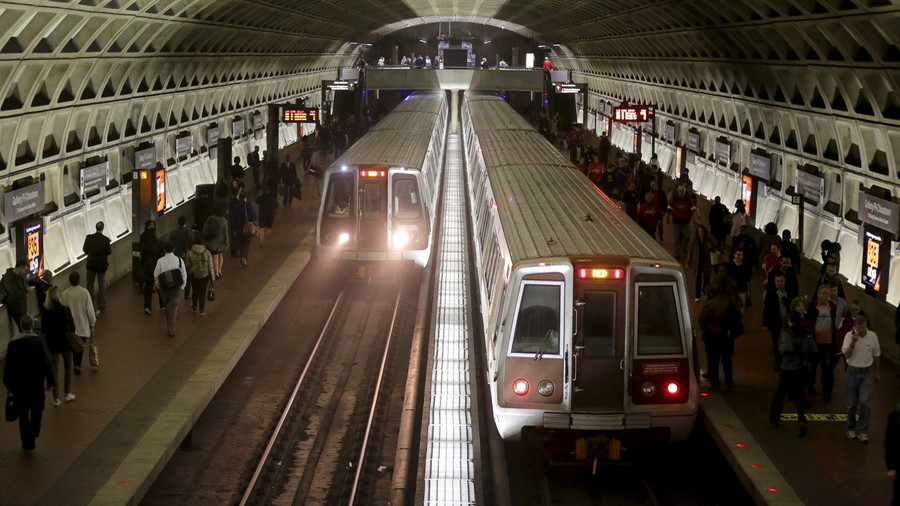 Washington's Metrorail authorities have abandoned plans to provide dedicated trains for white nationalists expected to descend on the capital on the anniversary of the Charlottesville riots after criticism from a trade union.
"Metro will not be having a separate train, or a separate car, or anything separate for anybody at this event that is going to happen next Sunday," Jack Evans, chairman of the transit agency's board and a District of Columbia Council member, told the BNC 4, referring to the 'Unite the Right' march.
On Friday, Evans told the Washington Post that the Metrorail was considering providing separate trains or at least train cars for white nationalists attending the event in an attempt to prevent potential clashes between the far-right demonstrators and counter-protesters. The plan envisaged providing the white supremacists with special trains that would pick up at the East Falls Church Metro in Virginia and then transport them to the Foggy Bottom station in Washington DC's downtown on August 11 and 12.
DC authorities are concerned about scuffles and more serious confrontations following last year's rally in Charlottesville, VA, where clashes broke out and a woman was killed after a suspected white supremacist rammed his car into the crowd.
The idea, however, provoked an angry reaction from a local trade union of transport workers, the ATU Local 689, which is a member of the Amalgamated Transit Union – Metro's biggest such association. "Sources have shared with ATU Local 689 that a hate group with Ku Klux Klan affiliation will be provided three private Metro rail cars and police escort to Foggy Bottom Metro Station for the 'Unite the Right' 2018 rally," the union said, as it initially made the transport agency's plans public.
"More than 80 percent of Local 689's membership is people of color, the very people that the Ku Klux Klan and other white nationalist groups have killed, harassed and violated. The union has declared that it will not play a role in their special accommodation," the trade union said.
It then explained that the union's members are "proud to provide transit to everyone for the many events we have in D.C. including the March of Life, the Women's March and Black Lives Matters" but have to "draw the line at giving special accommodation to hate groups and hate speech."
Following the outrage, Evans drastically changed his rhetoric and told NBC 4 that a plan to provide white supremacists with a special train was actually "never under consideration." Meanwhile, the forthcoming 'Unite the Right' rally remains a source of concern.
The previous such event was held in Charlottesville, Virginia and drew around 500 attendees, becoming the largest far-right march in recent US history. However, the event ended up in tragedy when suspected Nazi sympathizer James Alex Fields drove his car into a crowd following the aborted rally. Anti-fascist counter-protester Heather Heyer was killed and 19 others were injured in the incident.
READ MORE: Several arrested during anti-Marxist and opposing rallies at Berkeley (WATCH LIVE)
A more recent event, involving right-wing marchers and anti-fascist counter-protesters, which was held in Portland, was also followed by violent clashes between the two rival camps.
A violent brawl broke out with people using fireworks, eggs, rocks, bottles and construction equipment, prompting police to revoke the right-wing Patriot Prayer group's protest permit and to declare a riot situation.
Like this story? Share it with a friend!