Vandalism, scuffles in Berkley as right-wing and left-wing protesters gather a year after clashes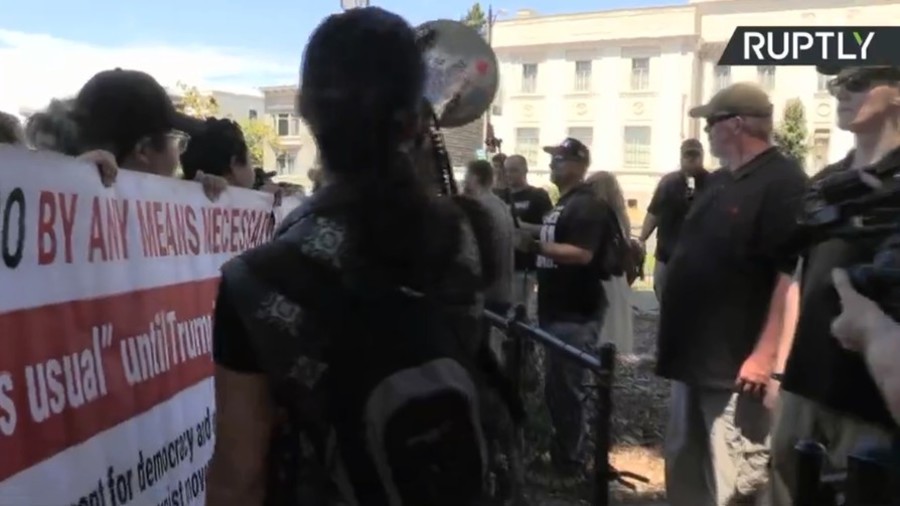 Berkley police managed to prevent major clashes on Sunday, when right-wing 'anti-Marxists' and left-wing counter protesters gathered in the city a year after a similar situation escalated into violence.
Police reported arresting some 20 people during the rallies, most of them for possession of banned weapons. No major injuries were reported as police managed to keep the right-wing rally in the Civic Center Park away from the left-wing counter-rally – unlike in 2017.
A few scuffles broke out in the park, where some counter-protesters had gathered before the police cordon was erected, but law enforcement intervened to stop the violence.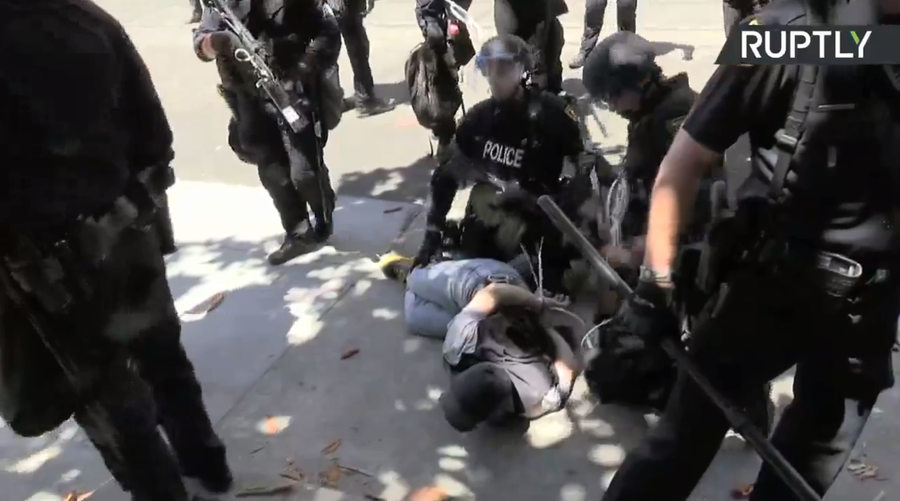 Live video from the scene showed protesters beating drums and chanting slogans. The right-wing rally participants were seen carrying US flags and banners supporting President Donald Trump and shouting slogans against "communism," while the left-wing counter-protesters could be heard chanting "No Trump, no KKK [Ku Klux Klan], no fascist USA" and "Fascists out of Berkeley!"
On one occasion, police clashed with a group of left-wing activists, who were trying to push their way into the park using a section of chain-link fence and a few garbage bins. The police were reportedly attacked by them with firecrackers before responding with smoke bombs and rubber-bullet fire.
In another incident, masked left-wing protesters vandalized municipal cars, smashing windshields and setting one of them on fire. The fire was quickly extinguished by city employees, according to footage of the incident.
The right-wing rally dubbed "No to Marxism in America 2 / Exposing Communism" was sponsored by Amber Gwen Cummings, a self-described transgender patriot, who says she has a beef with radical, violent leftists, who describe themselves as anti-fascists. The Sunday event is a follow-up to a similar rally that Cummings organized in August 2017.
Last year, the march ended up with some protesters being arrested and some people being seriously injured, prompting police to take heavy security measures this time. The counter-protests were attended by members of leftist groups Refuse Fascism and By Any Means Necessary, along with a few others.