Internet aroused by nude pic briefly appearing on Russian Defense Ministry's Instagram page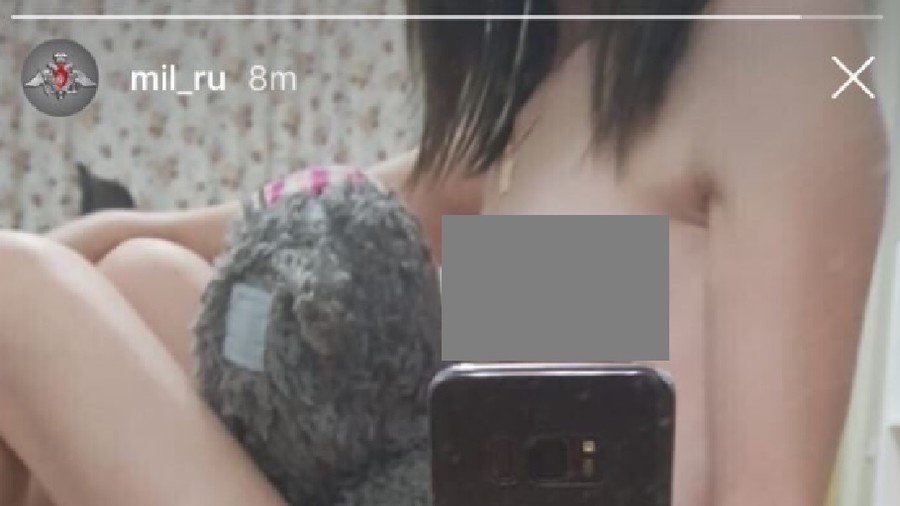 A selfie of a naked woman, claimed to have been posted on the Instagram account of the Russian Defense Ministry, has gone viral even though it was up for around 10 minutes according to reports on Twitter and Telegram.
The image showed a bare-breasted brunet, who was only covering her biking area with a large grey teddy bear. In the upper left corner of the picture there was the Russian Defense Ministry's coat of arms and the name of its official Instagram channel, which has more than 200,000 subscribers.
There has so far been no comment from the Defense ministry regarding the claimed incident.
Despite being swiftly taken down, a screenshot of the picture was shared and widely discussed on social media.
Mash telegram channel, which was among the first to repost the photo, commented on it, by wondering: "Has the Defense Ministry's SMM specialist mixed up the accounts? Or is it just a new way to attract followers."
The Russian language Instagram users were also curious about the reasons for the blunder, asking the MoD: "Have you been hacked?" and "What's going on?" However, when the picture was finally removed, there were some followers, who demanded the "beautiful girl" back on site.
The twitterati also soon joined the debate, mocking the embarrassment and questioning the ministry's protocols regarding the security of its social media accounts.
However, some users suggested that the picture of a naked woman indicated a switch to a brand new, less militarized strategy for the Defense Ministry.
The girl in the picture was also attacked for her looks as some commentators found her to be too thin. But there were people, who defended her and slammed those sharing the photo of being insensitive.
Like this story? Share it with a friend!
You can share this story on social media: