US money to support Afghan irrigation 'helped' poppy cultivation – watchdog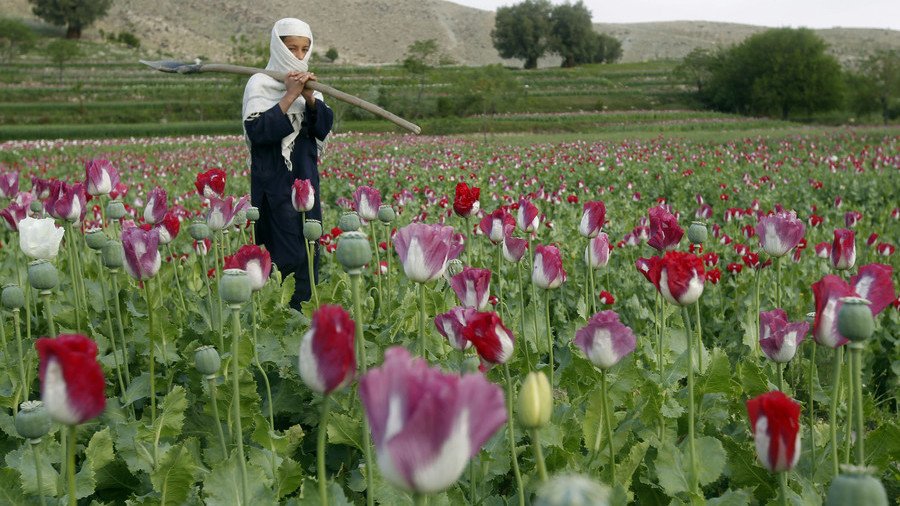 US counternarcotics policy in Afghanistan not only failed to reduce the notorious opium production, but also contributed to increased poppy cultivation due to Washington's funding of irrigation projects, a new report said.
The US spent some $8.62 billion on counternarcotics efforts in Afghanistan in 2002-2017, a report from Special Inspector General for Afghanistan Reconstruction (SIGAR), the US government authority which oversees Afghanistan reconstruction, states. Despite these enormous 15-year-long efforts, the war-shattered country still continues to be the world's largest opium producer. Plus opium poppy remains the "largest cash crop" in Afghanistan.
"Our analysis reveals that no counternarcotics program led to lasting reductions in poppy cultivation or opium production," the document states, noting that "eradication efforts" in the country had no lasting impact. In addition, alternative development programs which often were "too short-term", failed to provide sustainable alternatives to poppy, "and sometimes even contributed to poppy production," it stresses.
United States Agency for International Development (USAID) mainly focused its efforts on "large-scale, short-term interventions" which attempted to replace poppy with another crop.
Yet, the majority of these initiatives didn't give a clear assessment "of how program activities contributed to reductions in opium production," SIGAR assumes. "Some projects, for example improvements to irrigation systems, even contributed to increased poppy cultivation," the document notes.
According to SIGAR, anti-narcotics efforts failed to reduce the drug-related threats to Afghanistan "in a meaningful way." The sum of all opium seizures from 2008 through March 2018 stood at 5 percent of the opium produced in 2017 alone, the explosive figures from the watchdog reveals.
READ MORE: Afghan opium production at record high despite British troops dying to stamp it out
SIGAR's findings are far from being the first that question US strategy in Afghanistan. Back in 2016 the watchdog revealed that the US Defense Department squandered $6 million airlifting nine rare, blond male goats from Italy into Afghanistan. The goal was to "bolster the cashmere industry" in the war-ravaged country.
In addition, since 2012 Washington 'lost' some $9.7 million in assets in Afghanistan because of the army's negligence, the Inspector General of the US Department of Defense revealed in 2017, adding that enemy troops might even have used the resources against US troops.
Also in 2017, the US Agency for International Development (USAID) claimed that its mission failed to report results from 91 percent of Afghanistan Reconstruction Trust Fund (ARTF) contributions in its 2013-2015 annual reports. USAID provided Afghanistan with $1.5 billion.
READ MORE: 'Afghan opium boom to benefit European, Asian criminal groups'
Despite the US-led campaign in Afghanistan, which has been going on for nearly 17 years, Taliban militants still maintain a significant presence there. From 2001 to mid-2016, around 104,000 people, including 31,000 civilians have been killed in the war, data from the Costs of War Project said.
Subscribe to RT newsletter to get stories the mainstream media won't tell you.
You can share this story on social media: