'CNN sucks!' White House reporter gets harsh welcome at Trump rally (VIDEO)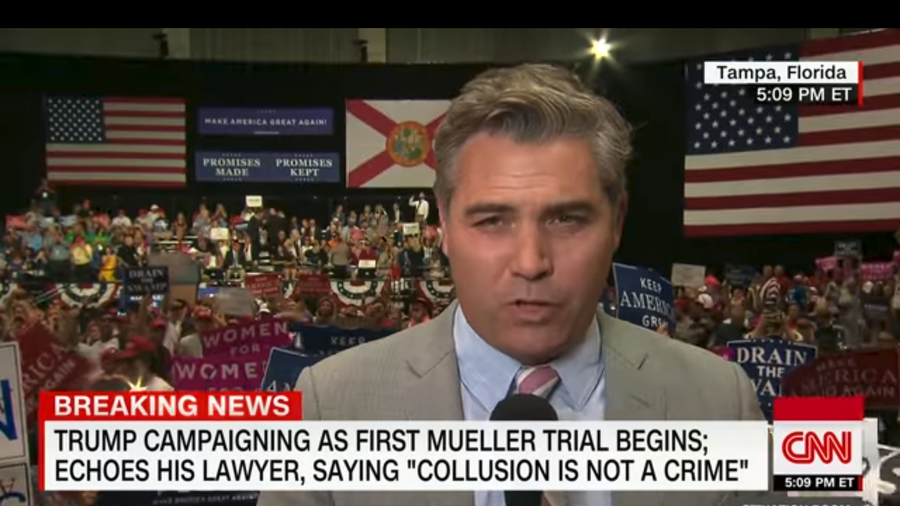 CNN's White House correspondent Jim Acosta felt the wrath of the Tampa crowd when he was doing a live shot from a pro-Trump rally on Tuesday. Acosta was heckled with his stand-up almost drowning in chants of "CNN sucks."
The CNN reporter, known for shouting questions at the US president and being denied answers, was in Tampa to cover the massive 'Make America Great Again' rally there. Delivering on his pledge to "campaign six or seven days a week" for Republicans ahead of the midterm elections, Trump was trying to drum up support for Rep. Ron DeSantis (R-Fla) in the race for Florida governor.
Videos captured Acosta near-surrounded by agitated Trump supporters, whose chants of "CNN sucks" and "traitor" almost drowned out the CNN broadcast. At one point, Acosta appears to address the crowd, but his words cannot be heard over continuing heckling and loud booing.
After the video of his botched live coverage attempt took off on Twitter, the reaction was mostly partisan.
Some, like controversial columnist and TV personality Katie Hopkins, applauded "Team Trump" for "excellent work" at the rally.
Members of anti-Trump '#Resistance' sprung to Acosta's defense, slamming a crowd that was "so angry at CNN and Jim Acosta they were practically foaming at the mouth."
Commenting on the incident, Acosta claimed that he almost bonded with the pro-Trump demonstrators at the end of the broadcast. Saying that "it was great chatting with all the Trump supporters in Tampa tonight," he still managed a dig at Trump, adding: "I took more questions from them than the president has taken from the press lately."
By reaching out to Trump's grassroots supporters, Acosta even scored some points with fellow media professionals from a Fox affiliate.
It's far from the first time Acosta has faced off with Trump fans or the president himself.
In June, he got the same treatment at a Trump rally in Columbia, South Carolina. The crowd yelled "Go home Jim" and "Fake news" as Acosta was waiting for the president's arrival at a press area.
Last month, Trump snubbed Acosta at his joint press conference with UK PM Theresa May, denying him a question and going on another rant against "fake news" CNN.
Trump has repeatedly bashed CNN as "fake news" amid his ongoing war with the liberal-leaning media, also calling the New York Times "failing" and BuzzFeed a "pile of garbage."
You can share this story on social media: