'Go home, CNN sucks!' White House correspondent booed & berated at Trump rally (VIDEO)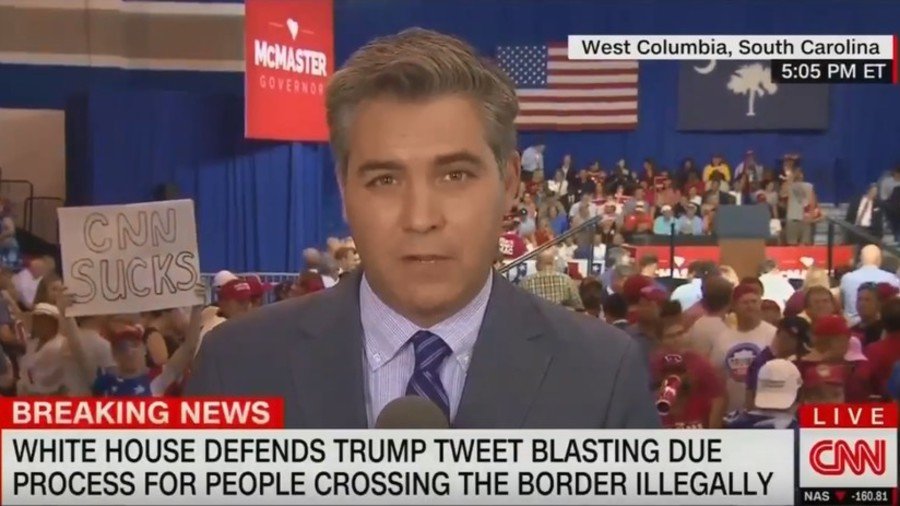 It was a rough day for CNN's White House correspondent Jim Acosta, who was heckled by an angry crowd at a Trump rally. People, including one infuriated lady, chanted "CNN sucks!" and told the reporter to "go home."
The heated encounter occurred as Republican supporters gathered on Monday night at Airport High School in West Columbia, South Carolina, where US President Donald Trump held a campaign rally for Governor Henry McMaster, who is running in the state primary. CNN sent White House correspondent Jim Acosta to cover the massive GOP rally.
Acosta, who has challenged Trump on numerous occasions in the past, was waiting for the president's arrival in the press area. All of a sudden, members of the crowd showed up holding signs that read "CNN fake news." As their wrath grew, they began chanting "Go home, Jim!"
At one stage, a woman approached Acosta and told him what she really thinks of corporate media. Shouting "take him out!" she waved her hands in his direction and urged the other attendees to heckle the CNN reporter.
"I have every right to be here," Acosta is heard telling the woman in a video posted by an AP correspondent.
Here's some video of a woman berating @Acosta. This went on for several minutes as many in the crowd cheered her on. As someone who's covered my share of Trump rallies, it feels like 2016 all over again. pic.twitter.com/j0SF2nFDvG

— Meg Kinnard (@MegKinnardAP) June 25, 2018
The woman, who Fox News identified as Maria Rojas, further attacked Acosta, accusing him of disrespecting the country. "I do respect the United States, yes I do," Acosta said.
The reporter later said on CNN that "while we have had some people come up to us and be very nice this evening, I did have an elderly woman come up to me... and said that we at CNN should get the f*** out of this auditorium."
The anti-MSM crowd continued to make Acosta's day miserable when he appeared live on the air during the rally, and a man is seen in the background holding a sign that says "CNN sucks."
Acosta has so far had a rather thorny relationship with the current White House. He has drawn the ire of Trump and other White House officials, including Press Secretary Sarah Huckabee Sanders, on numerous occasions over the past year.
Trump's 2020 campaign manager, Brad Parscale, has recently called for the reporter's press credentials to be withdrawn after Acosta shouted questions at Trump and North Korean leader Kim Jong-un during the milestone summit in Singapore earlier in July. Acosta tweeted in response that "dictatorships take away press credentials, not democracies."
READ MORE: Trump reveals 'Fake News Awards,' website crashes
Trump has rarely minced words with Acosta. In November of last year, when the reporter asked Trump during a White House press briefing why he did not condemn hate groups, Trump replied, "they have been condemned." When Acosta pressed Trump on the matter, the president said, "I like real news, not fake news. You're fake news," before leaving the room.
Think your friends would be interested? Share this story!
You can share this story on social media: