Trump says CNN represents America poorly, triggers social media firestorm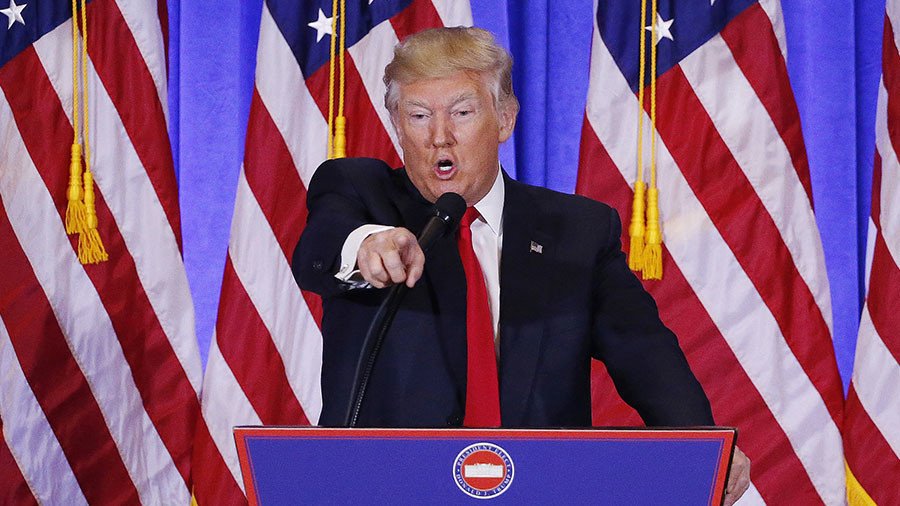 US President Donald Trump has once again expressed his dissatisfaction with CNN, comparing it unfavorably to Fox News. The comment attracted the wrath of the channel, as well as former CIA Director Michael Hayden.
"Fox News is MUCH more important in the United States than CNN, but outside of the U.S., CNN International is still a major source of (Fake) news, and they represent our Nation to the WORLD very poorly. The outside world does not see the truth from them!" Trump said in yet another tweet that resonated around the world.
This is not the first time the US cable news channel, which rarely reports favorably on the current president, has heard such criticism.
In August, when CNN's Jim Acosta asked Trump during a White House press conference why he didn't condemn hate groups, Trump snapped back, "they have been condemned."
When Acosta pushed Trump on the question, the president said, "I like real news, not fake news. You're fake news," before exiting the room.
However, the latest Trump attack on CNN attracted some heavyweights into the shouting match, including former CIA and National Security Agency Director Michael Hayden.
On Sunday morning, Hayden tweeted his dismay with Trump's comments, going so far as to suggest his career has been "wasted."
"If this is who we are or who we are becoming, I have wasted 40 years of my life," Hayden said.
There is no love lost between Hayden and Trump, who have been at loggerheads over everything from Hillary Clinton's missing emails to Trump's controversial decision to bar Muslim immigrants from entering the U.S.
The two also sparred after Trump chastised NFL football players who opted to 'take a knee' during the National Anthem to protest police brutality.
"The president had created what logicians call a false dilemma, that support for free speech or for teammates equated to disrespect for flag, anthem or country. And he did it for political advantage," Hayden wrote in an opinion piece for The Hill.
Journalist Glenn Greenwald couldn't resist an opportunity to take a dig at the former intelligence chief, who was once criticized for lying to the media over the NSA's surveillance of American citizens.
Meanwhile, in his latest tweet on the subject of CNN, Trump suggested we have a "contest" to determine which of the coverage of "your favorite President (me)" is the most "dishonest, corrupt and/or distorted."
"Winner to receive the FAKE NEWS TROPHY!" the US leader wrote.
The heated remarks from Trump come as CNN posted comments by former US attorney Preet Bharara, who said Sunday that it was "likely" Trump's former national security adviser, Michael Flynn, is in discussions with special counsel Robert Mueller about cooperating with his ongoing investigation into so-called 'Russian meddling' in last year's election.
Trump has repeatedly denied any collusion with Russia in the course of the campaign, which saw the New York real estate developer emerge victorious in a hotly contested election. Despite months of talk about "Russian meddling" by US media organizations like CNN, no evidence has ever been produced to prove the claim.
You can share this story on social media: