CNN, MSNBC look away as Trump hosts families of victims killed by illegal immigrants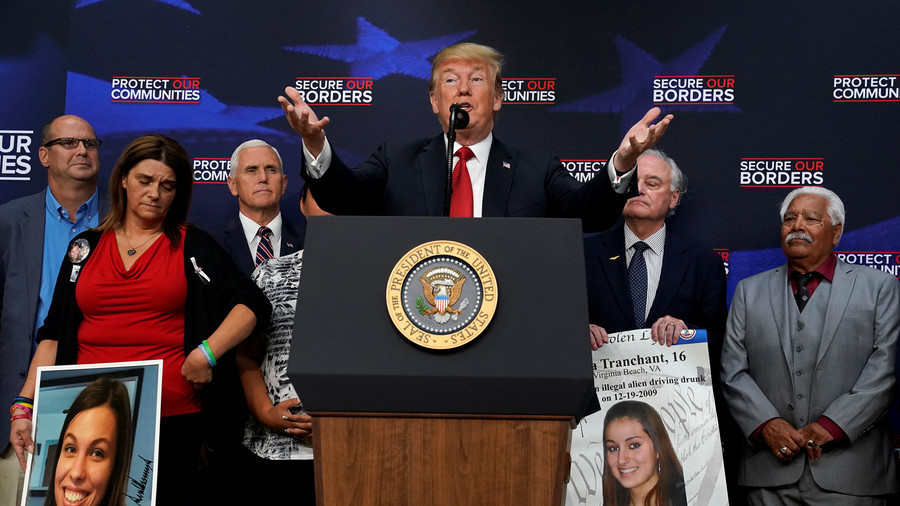 President Donald Trump hosted families who lost loved ones to crimes committed by illegal immigrants. CNN and MSNBC cut their coverage of the White House event shortly after Trump accused the media of 'overlooking' the families.
Trump hosted 14 members of "Angel Families" at the White House on Friday. Some of them held up photos of the loved ones whose murderers turned out to be illegal immigrants.
"We're gathered today to hear directly from the American victims of illegal immigration. You hear the other side, you never hear this side, you don't know what's going on," Trump said. "These are the American citizens permanently separated from their loved ones… because they were killed by criminal illegal aliens."
"These are the families the media ignores. They don't talk about them, very unfair," the president continued.
At this point, two of of three major US cable networks decided to cut away from the event, the Washington Examiner pointed out on Friday afternoon. Fox News stayed tuned to the meeting.
Angel families are slamming the media for biased coverage of immigration. CNN & MSNBC cut away."It's the media that won't share it with other ppl." "I wish some of our media had the same integrity as our prez""The MSM does not let you now what's really happening"

— Gabby Morrongiello (@gabriellahope_) June 22, 2018
"I'm not sure why attacks on the media are necessary there," CNN anchor Brooke Baldwin said as she interrupted the coverage, adding that "obviously our hearts go out to them." CNN then returned to coverage of illegal immigrant families being separated after crossing the US border.
MSNBC likewise decided the event was not worth their continued attention. "Of course their stories are indeed tragic," anchor Chris Jansing said, before moving on to a segment that disputed Trump's claim of widespread crime being committed by illegal immigrants.
Can someone tell me why CNN cut off their live broadcast of the Angel Families? let me remind everyone, this the same network that spent days defending MS13 after they were called Animals but they don't have the decency to give American families air time? Wow! #FridayFeeling

— Melissa A. (@sweetatertot2) June 22, 2018
At the White House event, Trump shared statistics on the human toll of illegal immigration in the US, citing a 2011 government report. At the time, those numbers included an estimated 25,000 arrests for homicide, 42,000 for robbery, nearly 70,000 for sex offenses, and nearly 15,000 for kidnapping.
The victims' families were allowed to speak during the event, during which they shared the stories of their lost loved ones, thanked Trump for his fight against illegal immigration, criticized the media for what they called biased coverage, and stressed that their separation from their loved ones was permanent.
Like this story? Share it with a friend!