UN rights chief blasts US policy of breaking up immigrant families as 'unconscionable'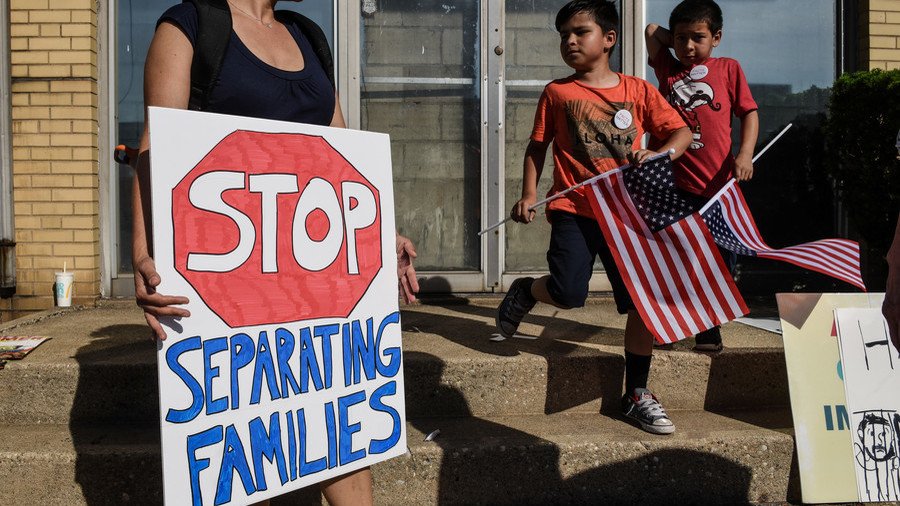 The UN High Commissioner for Human Rights urged the US officials to stop separating children from their parents who illegally cross the border with Mexico. 
"The thought that any state would seek to deter parents by inflicting such abuse on children is unconscionable," Zeid Ra'ad Al Hussein told on Monday during a Human Rights Council meeting in Geneva. "I call on the United States to immediately end the practice of forcible separation of these children."
READ MORE: Trump's wife 'hates' to see migrant families split as president cracks down on illegal immigration
In the past six weeks, nearly 2,000 children were separated by the border agents from their parents who have been detained, or deported, according to the Department of Homeland Security (DHS) figures, obtained by the AP. Most of the children affected come from Central American countries, such as Guatemala and El Salvador. The policy of breaking up families of illegal immigrants has caused a public outcry within the US, with President Donald Trump taking most of the heat.
The American Association of Pediatrics called the practice "government-sanctioned child abuse" – its assessment was later quoted by the United Nations human rights chief when he denounced the actions of the US border agents.
The UN Refugee Agency also criticized the US policy, calling the White House to "prioritize family unity and the best interest of children" on the US-Mexico border. "There are effective ways to ensure border control without putting families through the lasting psychological trauma of child-parent separation," the UN High Commissioner for Refugees Filippo Grandi said in a statement.
Donald Trump has blamed the Democratic Party for the existing family separation policy saying it should work with Republicans to enact "new legislation" fixing the problem. The DHS, meanwhile, defended the practice. "We do not have the luxury of pretending that all individuals coming to this country as a family unit are in fact a family," Homeland Security Secretary Kirstjen Nielsen said. "We have to do our job; we will not apologize for doing our job."

If you like this story, share it with a friend!
You can share this story on social media: