'No, you're fake news': Trump snubs CNN, slams NBC during Theresa May presser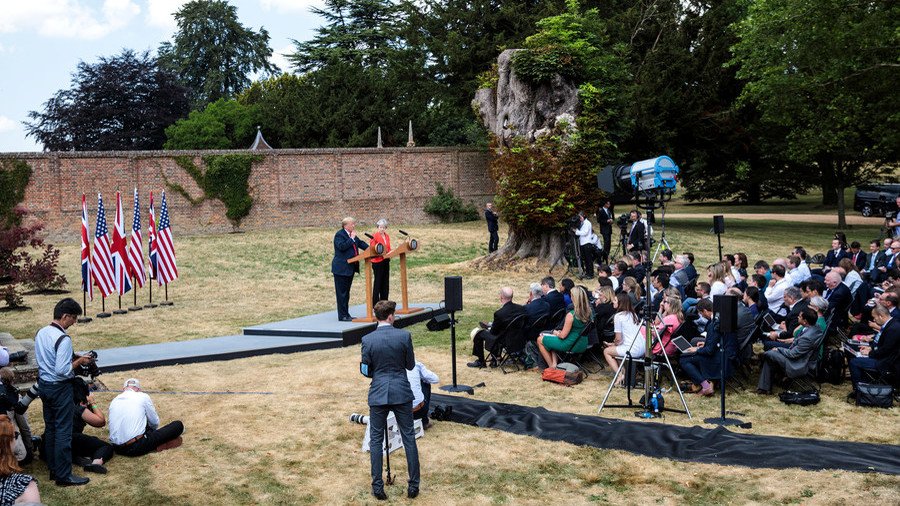 US President Donald Trump lashed out at 'fake news' during a joint press conference with UK PM Theresa May, singling out NBC and denying the CNN correspondent a question.
Trump went on the offensive after NBC's White House correspondent Kristen Welker asked a question about NATO and the upcoming summit in Helsinki, Finland.
"You have spent the week taking on NATO allies, criticizing Prime Minister May on her own soil, and I wonder are you giving Russian President Vladimir Putin the upper hand heading into your talks, given that you are challenging these alliances that he seeks to break up and destroy?" Welker asked, adopting a standard mainstream media line on Russia.
Fake news? 10 times US news anchors got it really wrong
"See, that's such dishonest reporting," Trump fired back. "Of course it happens to be NBC — which is possibly worse than CNN."
Trump went on to dismiss the notion that he was breaking up NATO, describing the alliance as more "strong and powerful" as a result of his presidency. He also said that his administration has been "far tougher on Russia than anybody."
Citing his decision to expel 60 Russian diplomats as a favor to Britain over its claims of an alleged nerve agent attack in Salisbury in March, Trump said that his tough stance on Russia has gone largely unappreciated because "the fake news doesn't want to talk about it."
In an attempt to defend his network's honor, CNN correspondent Jim Acosta requested to ask the next question, since Trump had "attacked CNN."
Trump ignored him, calling on a Fox News correspondent instead.
"Can I ask you a question?" Acosta repeated.
"No," Trump replied. "CNN is fake news. I don't take questions from CNN." He then called on John Roberts of Fox again, saying he was from "a real network."
"Well, we're a real network too," Acosta retorted.
A nearly identical exchange took place in January 2017, when then president-elect Trump refused Acosta's question, saying: "Not you – not you – you're fake news. Your organization is terrible."
British reporters also caught heat from the US leader, with Trump chastising The Sun for cutting out all the praise he had heaped on May from a sensationalist interview published Thursday.
"I said very good things about her. I didn't think they'd put it in, but that's alright. They didn't put it in the headline, I wish they'd put it in the headline. And she's a total professional because when I saw her this morning I said, 'I want to apologize because I said such good things about you', and she said, 'don't worry, it's only the press'."
Welker was referring to that interview when she said Trump had criticized May "on her own soil," but the Sun had noted the interview was recorded before the US president arrived in the UK.
Like this story? Share it with a friend!
You can share this story on social media: