Fake news? 10 times US news anchors got it really wrong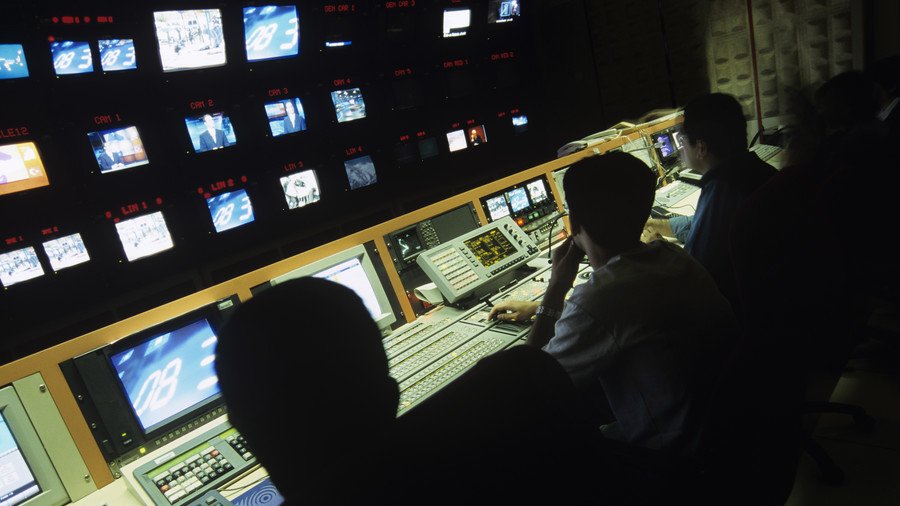 Fake news, alternative facts, propaganda wars — it's been a rough few years for American journalism. A survey carried out in 2016 found that only six percent of Americans had a "great deal of trust" in their news media.
So, here are 10 times news anchors gave Americans good reason to doubt their trustworthiness.
1. When Lawrence O'Donnell said Putin planned Syria gas attack to help Trump
When US President Donald Trump launched 59 Tomahawk missiles at the Syrian government's Shayrat airbase April 2017 in response to an alleged chemical attack, O'Donnell had an odd theory. The MSNBC host suggested that perhaps Russian President Vladimir Putin advised Syrian President Bashar Assad to attack his people with chemical gas to give Trump an excuse to hit the Syrian base, thus helping to improve his damaged image at home. O'Donnell was promptly called out by experts and Twitter users for the deranged theory.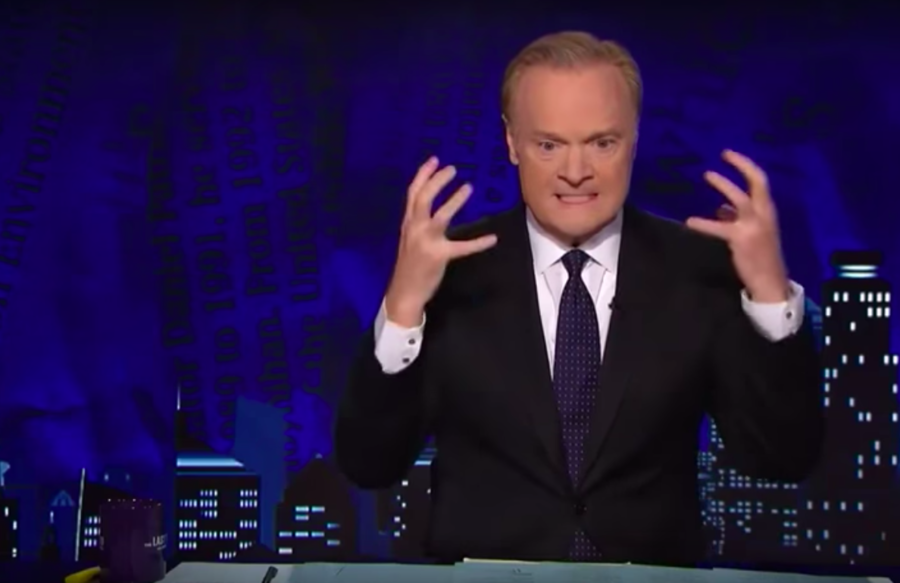 But a more recent comment from O'Donnell might hold the key to explaining his reasoning. The anchor — who is MSNBC's second-highest rated host after network star Rachel Maddow — said last week that it's "very, very good for business if the president attacks you" — and we all know that ratings reign supreme.
Wouldn't it be nice if it was impossible to suspect Putin ok'd Assad's gas attack so Trump could fire missiles & change the subject in USA?

— Lawrence O'Donnell (@Lawrence) April 7, 2017
2. When Joy Reid said Trump is kowtowing to 'communist Russia'
Not known for her calm and measured reporting on anything to do with Trump or Russia, MSNBC host Joy Reid has been a firm favorite among Russiagate conspiracy theorists — and some of her comments could go down in Twitter history for their level of wrongness.
In 2016, Reid revealed to the world that she thinks Russia is still a communist country and expressed worry that then-candidate Trump was being too friendly to the dastardly communist Russians. Twitter quickly intervened to remind her that the Soviet Union collapsed more than two decades ago, but Reid was unapologetic — and the tweet is still there in all its glory.
3. When Brian 'I was shot out of the air' Williams was suspended for Iraq fabrication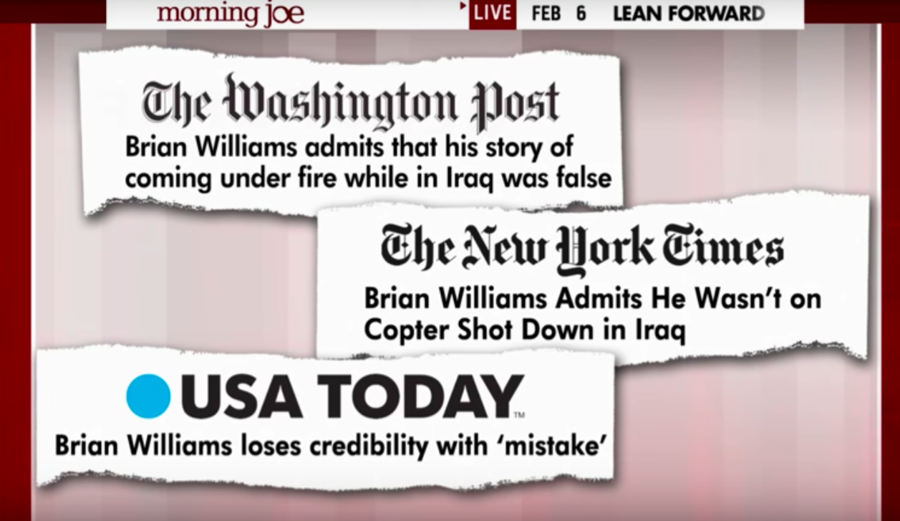 In 2015, NBC News star Brian Williams was suspended when it was revealed that he had completely made up a story about the helicopter he was traveling in being shot at and forced down during his reporting on the Iraq War. Worse still, he had repeated the false story multiple times at different events. Ironically, Williams has gone on to lament the part "fake news" allegedly played in the 2016 presidential election.

But Williams' lie about a dramatic war-time event that never happened was probably just wishful thinking on his part. When Trump attacked Syria in 2017, Williams waxed lyrical about the "beautiful pictures" coming from the event. So, it seems he just really enjoys war.
4. When Mike Barnicle said Obama's time was 'scandal-free'
If Americans needed any more reasons to doubt the credibility of their news media, MSNBC host Mike Barnicle handed one to them on a plate earlier this year when he claimed — without a shred of irony — that former President Barack Obama's time in office had been"virtually scandal-free."
Barnicle made the comment during an interview with former Obama press secretary Robert Gibbs about the "damage that's being done to the institution of the presidency" since Trump took office. Clearly, Obama-era scandals like Benghazi, Hillary Clinton's emails, drone wars, and the Democratic president's war on whistleblowers just slipped his mind.
5. When Alisyn Camerota conducted a scripted 'interview' with a 7-year-old
In 2017, CNN's Alisyn Camerota faced criticism when she engaged in what can only be described as a completely scripted interview with a child refugee. In the interview, 7-year-old Bana Alabed, who multiple analysts have claimed is being exploited for a pro-US war agenda in Syria, was shown to barely be able to understand basic English. In the video, the young child is seen struggling to read words from a script in front of her while Camerota responds from a script of her own.

Now, you might be thinking that's highly unethical and weird; how could CNN allow that to happen? Unfortunately, much of the US mainstream media, including CNN, have been cheerleaders for US-led regime-change in Syria — and a scripted interview with a child seemed to be acceptable to facilitate that goal.

6. When Sean Hannity forgot about that little conflict of interest
In April, it was revealed that Fox News host Sean Hannity was a client of former Trump lawyer Michael Cohen. The only problem is that Hannity had been covering the story surrounding Cohen for weeks, defending the lawyer and slamming an FBI raid on his New York office which was carried out as part of special counsel Robert Mueller's investigation into alleged Russian interference in the 2016 presidential election.
Stunning that media is not drawing attention to Sean Hannity's extraordinary conflict of interest here, as conduit for Giuliani's disclosure that exculpates Michael Cohen from potential FEC charges, when Hannity has been named as Cohen client himself!!! https://t.co/6piMOWi1lH

— Matt Seaton (@mattseaton) May 3, 2018
Soon after Hannity was revealed as Cohen's 'secret client' he faced backlash for his conflict of interest. Since Cohen is known for having paid off a porn actress to keep schtum about an alleged affair with Trump, comedian Jimmy Kimmel wondered who Hannity might have "had sex with" in order to be in need Cohen's legal services.
7. When Rachel Maddow said Putin orchestrated Trump-Kim summit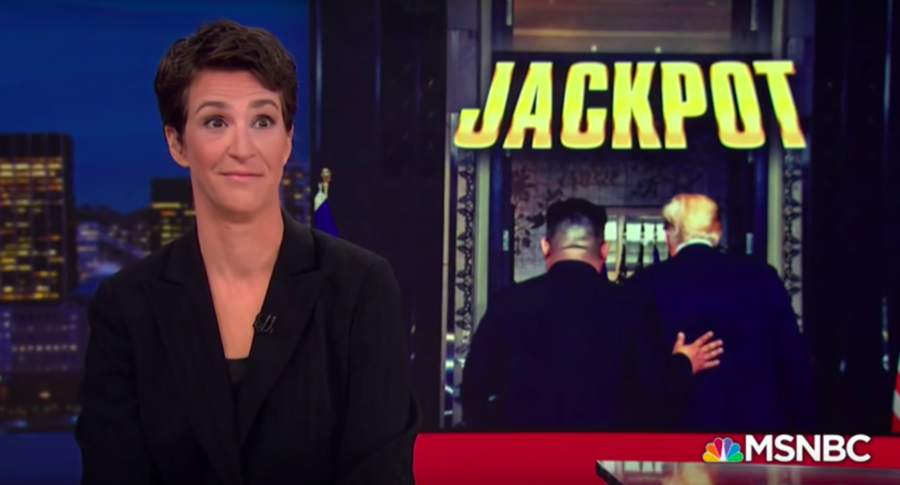 After theatrically revealing to her viewers that North Korea has a small border with Russia — as though it was some kind of geographic revelation only recently discovered by her team of producers — MSNBC host Rachel Maddow proceeded to advance an insane conspiracy theory about the recent Singapore Summit between Trump and North Korean leader Kim Jong-un.
The reason, she suggested (without evidence), that Trump had suddenly called off war games around the Korean Peninsula was… because Putin had asked him to. Maddow was lambasted on Twitter for that and the numerous other times she has advanced Russiagate conspiracies.
So after dramatically revealing to her audience that North Korea has a border with Russia -- gasp -- Maddow tonight went on an extended dot-connecting monologue where she darkly intimates that maybe somehow the real beneficiary of the Trump/Kim summit was... PUTIN. Beyond parody pic.twitter.com/a9bEwWn6l1

— Michael Tracey (@mtracey) June 13, 2018
8. When Chris Hayes said that a racist Democrat was a Republican
Back in 2013, MSNBC host Chris Hayes was forced to apologize when he misidentified former Alabama Governor George Wallace as a Republican during a clip criticizing him for speaking out against desegregation and the civil rights movement. It was left to Breitbart to point out that the segregation fan was in fact a Democrat. Hayes apologized for his "stupid, inexcusable, historically illiterate" mistake and said that he "should have caught it" before it went to air.
But some viewers weren't buying it. One said that the "real problem" with the incident was that if Hayes had known Wallace was a Democrat he probably "wouldn't have run the story at all."
9. When Brian Ross said Trump was trying to contact Russians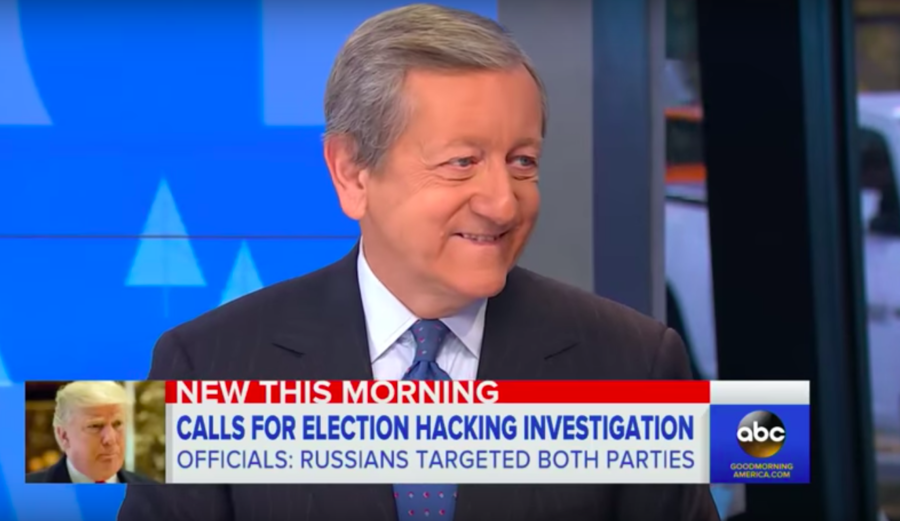 Veteran ABC journalist Brian Ross was suspended last December for a bombshell report that was so explosive it sent the stock market tumbling.
Ross reported that candidate Donald Trump had instructed Michael Flynn, one of his advisers, to contact Russian officials during his campaign for the presidency. It later transpired that Trump had asked Flynn to make contact with Russian officials after his election — which was not so unusual after all. Ross, whose journalism career has been littered with ​embarrassing mistakes, announced this week he would be leaving ABC for good.
10. When the MSM used Pentagon analysts to sell the Iraq War
In 2008, an investigation by the New York Times found that the impartial "analysts" being used by mainstream media to give their opinions on the Iraq War were not quite so impartial as viewers had been led to believe. In fact, the investigation found that they were part of a Pentagon effort to ensure that the Bush administration received as much positive coverage as possible during the Iraq War.
The analysts were found to have ties to military contractors and would very clearly benefit personally and financially from the continuation of the war. The Times' investigation led the Society of Professional Journalists to call on NBC to cut ties with one analyst in particular in order to "re-establish the integrity" of its reporting — though, given how many times MSNBC has appeared on this list, it doesn't look as though that worked.
You can share this story on social media: