Exploitation of Bana al-Abed: Parents use child to whitewash terrorists in Aleppo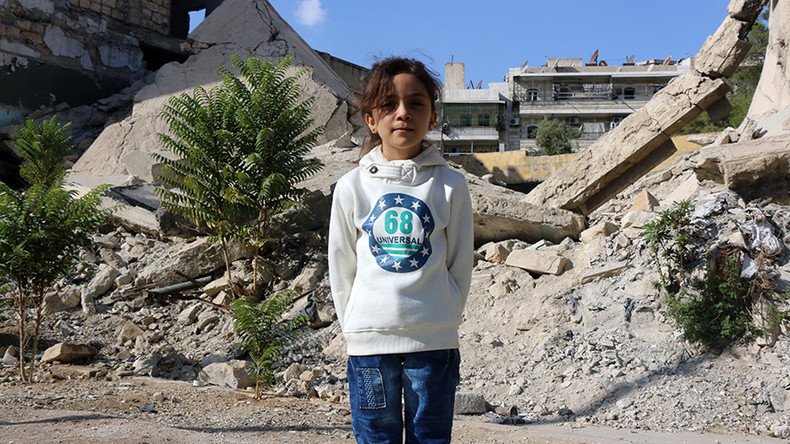 The exploitation of children in the propaganda war against Syria has become routine. However, the exploitation by the parents themselves is a new low of depravity. Such is the case of Aleppo child, Bana al-Abed, and the exploitation by her parents.
Until and even after the liberation of Aleppo in December 2016, one of the most popular Aleppo Twitter accounts, offering pleas for Western intervention in Syria, was that of then seven-year-old Bana al-Abed, living in eastern Aleppo's al-Muasalat al-Qadima neighborhood of Jouret Awwad, Sha'ar.
As with the exploitation of Omran Daqneesh, the Bana narrative features an endearing child who causes otherwise rationally-thinking people to uncritically-accept transparent war propaganda rhetoric.
The Bana Twitter account began in late September 2016, with calls early on for action against the Syrian president, and Russia, and with a glaring absence of information or mention of the terrorist factions occupying eastern areas of Aleppo. In one notable early tweet, although only a cached version of the tweet exists, the Bana account tweeted:
"Dear world, it's better to start 3rd world war instead of letting Russia & Assad commit #HolocaustAleppo"
On December 13, a ceasefire agreement was reached and an evacuation deal agreed upon which would see the expulsion and transfer of the different terrorist factions and their families from the eastern quarters of Aleppo, with the option to remain in the government-secured city. That day, Bana was among the many seemingly-choreographed "last message" from Aleppo posters, tweeting:
"I am talking to the world now live from east #Aleppo. This is my last moment to either live or die."
In spite of the Bana account's fearmongering, the girl and family were safely evacuated to Idlib, as promised and honored by the Syrian government. Bana and family went on from Idlib to Turkey, becoming citizens in mid-May.
The child's account, which now has 369,000 followers, continues to vilify the Syrian and Russian governments and hobnobs with world leaders and global celebrities. Time magazine lauded Bana as among the most 25 influential people on the internet. On June 30, the Bana account tweeted the announcement of her memoirs, published by Simon & Schuster.
This is an eight-year-old with a truly unbelievable story. And in fact, this is an eight-year-old who has been exploited by her parents for war propaganda.
After much online criticism regarding the implausibility that a child whose reply to a question about what food she liked was "Save the children of Syria" could be tweeting nuanced, idiomatic, English phrases, often with perfect punctuation, Bana's mother Fatema admitted to penning some of the tweets.
Although in late December Fatema promised that only Bana would be tweeting after that, it defies credibility that a child who could scarcely string together a sentence later tweeted this:
"My letter to @realdonaldtrump: I beg you, can you do something for the children of Syria? If you can, I will be your best friend. Thank you"
The BBC uncritically published the entire letter, never doubting the veracity of a letter said to be penned by an English-illiterate 7-year-old, a letter which also included near-perfect mastery of idiomatic expressions and more subtle calls for Western intervention.
Critics noting that the Bana Twitter account smacked of war propaganda, also surmised that Bana's father, Ghassan might have ties to, or indeed be a member of, terrorist groups then in eastern Aleppo. One such tweet read:
"Hey @AlabedBana can you ask your dad why he's friends with jihadists from Jabhat Nusra and Ahrar Sham?"
Indeed, it turns out there is far more to the Bana story, and her family's criminal activities with terrorists than observers had surmised.
Filming Bana meters from Al-Qaeda headquarters
In June 2017, in Aleppo, I met with Syrian journalist Khaled Iskef to discuss his investigations into the propaganda around Omran Daqneesh. Recently, I spoke with Iskef anew after he published part one and part two of a video series looking into the exploitation of Bana al-Abed, as well as investigating the family itself and their whitewashing of Al-Qaeda and affiliated terrorists in Syria, who they were living next to and indeed undoubtedly cooperating with.
For his research, Iskef did more than look at the social media accounts of the family. He went to their home, which happened to be just meters around the corner from an al-Nusra (Al-Qaeda) headquarters, and less than 400 meters down the street from the main Al-Qaeda headquarters in Aleppo.
Western media portrayed Ghassan al-Abed as the civilian he claimed to be; an "Independent lawyer, Activist against terrorism and ISIS," reads his Twitter bio. Had the media dug even a little bit deeply, they would have found all of these claims to be false.
The self-professed "investigative" website known as Bellingcat (dubbed on twitter as #Bellingcrap for the disinformation it propagates) in December 2016 falsely asserted:
"...claims that Ghassan Alabed probably works for a Shariah court are totally without basis in evidence."
Khaled Iskef revealed the contrary. In the al-Abed home, Iskef found a notebook documenting Ghassan's work with terrorists over the years. According to the notebook (and coinciding with photos formerly on his social media pages) Ghassan Al-Abed was a military trainer for the Islamic Sawfa Brigade, and worked in the Shariah Council in the occupied state Eye Hospital, under the control of ISIS for a time until 2014, and al-Nusra for all of the time that al-Abed was there. The Shariah Council which al-Abed worked with passed decisions on imprisonment and assassination of the captured civilians being tried.
According to residents of the district, Iskef reports, Ghassan's father, Mohammed al-Abed, was a known arms dealer and had a weapons maintenance shop in Sha'ar, servicing light to heavy weapons for terrorist factions. The al-Abed weapons shop was opposite a school-turned-headquarters for al-Nusra.
Although Ghassan and family have deleted self-incriminating photos from the various social media accounts, Iskef saved a number from their various accounts. In one, Ghassan sits outside the family gun shop holding a gun, along with four other armed men, including his brothers.
Iskef's on the ground documentation has already received a poor attempt at "debunking" by an author who goes by an Arabic pseudonym, slings the decades-old CIA "conspiracy theorist" accusation meant to discredit, attempts to whitewash the presence of al-Nusra literally around the corner from the al-Abed house and links to a map which even the UN body that produced it states "is a preliminary analysis and has not yet been validated in the field."
The author either does not understand Arabic or perhaps missed the point in Iskef's first video wherein he reads from Ghassan al-Abed's notebook which states that Ghassan was working in the Shariah Council in the Eye Hospital from early 2013, before reports of ISIS being pushed out of Aleppo in 2014.
For those who followed the Bana Twitter account, a constant theme was that she missed going to school. What wasn't mentioned was that terrorists, including al-Nusra, were using schools as headquarters, along with other buildings in the district, amounting to at least twenty headquarters in Bana's area, and over 300 in eastern Aleppo, according to Iskef.
In an interview, investigative journalist Vanessa Beeley explained that Ghassan al-Abed was the Director of the 'Civil Registry of the east Aleppo Council,' "run by Abdul Aziz Maghrabi, who was with the Tawhid Brigades in 2012 when they invaded eastern Aleppo. He then became not only an al-Nusra Front leader but also the originator of the White Helmets organization in east Aleppo." At the same time.
The east Aleppo Council was receiving payments from the UK government, via "organizations like Adam Smith International and Integrity Consulting," Beeley said. "Payments directly, effectively, to Nusra Front, to distribute among the extremist factions in east Aleppo."
A short walk down the lane and around the corner from the al-Abed home, Iskef entered one a former al-Nusra headquarters, somehow not included in the Bana account tweets. The lower level of the building comprised an improvised prison and was littered with terrorist banners, food aid packaging from countries hostile to Syria, and a notebook listing the names and weapons of al-Nusra fighters in that area.
In his second video report, Iskef shows a photo which Bellingcat also shared in their December report. What Bellingcat didn't bother to research was that in the picture Bana stood within meters of the most important al-Qaeda headquarters in Aleppo.
The building behind Bana, Iskef reports, was a school, also turned-terrorist headquarters. Immediately across from where Bana stood were three further terrorist headquarters, of Ansar al-Sham, the Muhajireen Brigade, and al-Nusra.
The photo shared by Bellingcat was taken from a video in which Bana delivered an emotional message: "I'm sad, it's so bad." Iskef remarked. "She stood here and delivered the message...without showing the military headquarters surrounding her."
The former main headquarters of al-Nusra for Aleppo and countryside was just a camera swivel (and some meters) away.
When he entered the building some months prior, Iskef reports that he found letters from Al-Qaeda leader Ayman al-Zawahiri to Abu Bakr al-Baghdadi (head of ISIS) and Abu Mohammad al-Julani (head of the Nusra Front), dated May 22, 2013.
Discussing with Iskef the improbability of the Bana family, as 'civilians' filming next to such an Al-Qaeda headquarters, he told me: "When I asked civilians whether anyone could take photos/videos there—because it was a (Nusra) military area—all said, no it's impossible, you couldn't take any photos/videos near an Al-Qaeda location. So how did they (Bana's handlers) take a video around meters away?"
The logical conclusion, thus, is that the family of Bana had permission from, ties to, Al-Qaeda, and filming directly next to their headquarters was not only not an issue, but a part of the war propaganda the account was initiated for.
In an October 2016 Danish TV 2 channel interview with Syria's President Bashar al-Assad, the journalist raised the issue of Bana, asking "Do you trust her as an eyewitness?"
President Assad replied: "You cannot build your political position or stand, let's say, according to a video promoted by the terrorists or their supporters. It's a game now, a game of propaganda, it's a game of media....Our mission as a government is to deal with the reality. You have terrorists in Syria, they are supported by foreign powers and foreign countries, and we have to defend our country."
As it turned out, Assad was correct: narratives like that of the Bana al-Abed account are sad games of propaganda. The losers are the victims themselves like Bana, and the Syrian people being abused, and killed, by Western-backed war propaganda.
The statements, views and opinions expressed in this column are solely those of the author and do not necessarily represent those of RT.
You can share this story on social media: