'Trump Chicken' blimp to be sailed around San Francisco Bay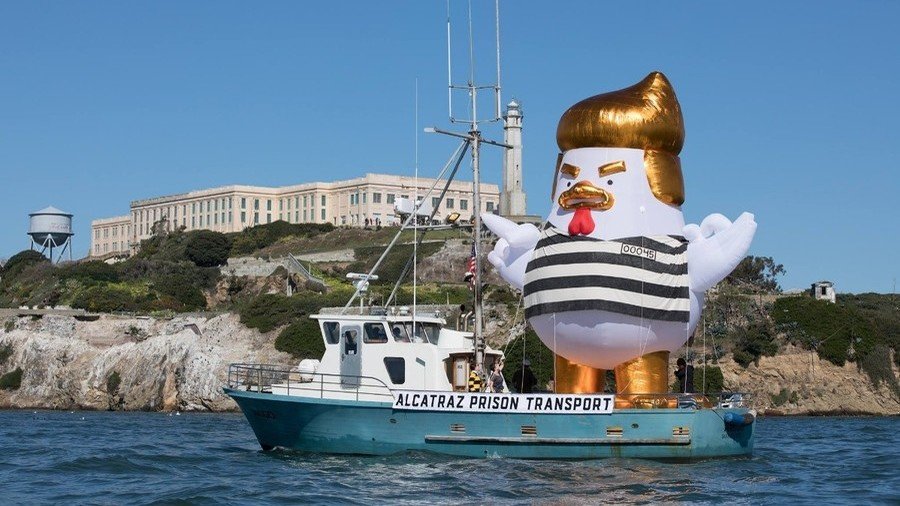 In a fresh controversy involving a giant inflatable Donald Trump-themed blimp, US pranksters are taking a leaf out of the book of London protesters by sailing a 10-meter 'Trump Chicken' around San Francisco Bay.
READ MORE: 'Biggest insult ever': Farage slams London mayor for Trump baby blimp greenlight, Twitter reacts
The blimp incorporates a huge chicken with a quiff styled like the US president and a black-and-white prison outfit labeled 'Prisoner 45' – a reference to Trump being the 45th US president. It will be sailed around the bay aboard two boats on Sunday afternoon, beginning at 11:30am at the Hyde Street Harbor before going along the Embarcadero pier front. The event is set to end around 3pm, according to local broadcaster Kron 4.
The project was created by San Francisco resident Anne Pruett, who has raised around $715 through a GoFundMe page to help with the expense of the sailing. The accompanying post invites people to come down and take out their frustration on the chicken as it passes along the waterfront. "You can say anything you want to President Chicken. You can mock and squawk and swear like you've never sworn before in a proud expression of your First Amendment right. Bring your friends."
READ MORE: German public TV trolls Trump with baby balloon collages
It isn't the first time the Trump Chicken has been brought out around the bay. The inflatable effigy was debuted at the San Francisco Tax March in April last year, and most recently set sail on President's Day in February. A similar incarnation of the blimp was also inflated behind the White House in April. Earlier this month, a giant inflatable Trump-baby balloon was flown over London to protest against the US president's visit to the UK.
Think your friends would be interested? Share this story!
You can share this story on social media: