'Biggest insult ever': Farage slams London mayor for Trump baby blimp greenlight, Twitter reacts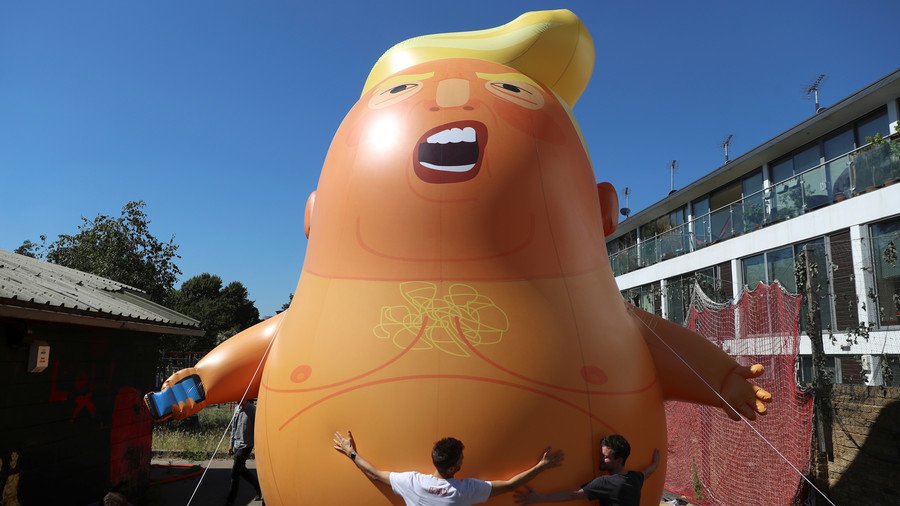 Nigel Farage has branded the decision to permit protestors to fly a Donald Trump baby blimp over London during next week's visit as "the biggest insult to a sitting US president ever." Social media exploded in reaction.
Farage, a big fan of Trump's protectionist policies and tough talk to European leaders, made the comments criticising London Mayor Sadiq Khan during the Thursday edition of his evening call-in show on LBC Radio.
Farage asked his listeners: "Do you actually think that an application to fly an [Barack] Obama blimp, of Obama as a crying young baby over Parliament Square when he came here last during the referendum, to tell us to vote remain. Do you actually think that that would be allowed?"
"I just think that you can't stop people protesting, expressing their opinion, but I do think this never-ending war of words, and it does cut both ways, the president does cause a fair bit of it, but this never-ending war of words between Sadiq Khan and Donald Trump is frankly ridiculous."
Taking the London mayor to task for not expressing outrage at what he described as Obama's initial decision to "introduce a total ban on refugees coming from seven predominantly Muslim countries," Farage said the decision to allow the blimp was "a step too far."
As with all things Trump, social media's reaction has been mixed, with Trump supporters on both sides of the Atlantic agreeing that the blimp was in poor taste, and that the ploy was the effort of a Left "losing and imploding worldwide."
Great show. Glad to hear my friend Michelle made it on the air. She speaks the truth. We Americans do not see the baby Trump blimp as being representative of the the UK people, but of Sadiq Khan. The Left is losing and imploding world wide. Let then keep digging that hole.

— Chris Holman (@ChrisHolman424) July 6, 2018
And as a proud citizen of the US who was ashamed of the treasonous, anti-American Obama, I am damn glad that we now have a President who loves us & our country! At least most Europeans know Obama was counseling Merkel to open Europe's borders to millions of unskilled migrants!

— Corenna Cornwell (@corennacornwell) July 5, 2018
Insulting the American President who was democratically elected by the American people is shameful & unacceptable by this failure of a London Mayor

— Margot Parker MEP (@MargotLJParker) July 5, 2018
You'll see a lot more people like him than you think, just like more people voted Brexit than you thought or more people voted for trump than you thought!! I wish our government was as strong as him

— Craig (@Cboyerrr) July 6, 2018
Those supporting the blimp were quick to bring up the topic of free speech, question Trump's popularity in the country, insist republicans have been more disrespectful to Democratic presidents, or going as far as actress Patricia Arquette and referring to Trump as a "s***hole president."
Off the mark on several counts. 1. You'll see when Trump arrives that the UK people have a very low opinion of him. 2. Sadiq Khan had to be pressured into authorising the blimp. And 3. the left are fine thank you very much.

— Dr Susan Grey (@SJG99) July 6, 2018
I actually think that might've been the Republicans' racist caricatures of Obama that likened him to an ape, but whatever. Poking fun at a man who tears families apart or sticks them in concentration camps is, obviously, much more reprehensible than racism in your book.

— Kyle (@K_Thomas97) July 5, 2018
Think your friends would be interested? Share this story!
You can share this story on social media: