Nigel Farage: 'I'm banned from meeting Trump because UK govt hates me'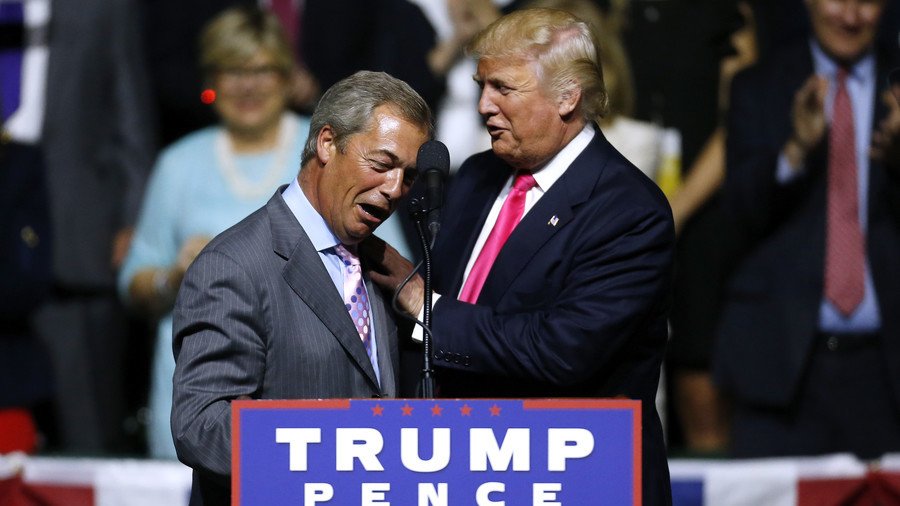 Nigel Farage has responded to reports that Downing Street has banned him from meeting US President Donald Trump by saying the claims are "undoubtedly true" as the government "hates me."
An unnamed source close to the former United Kingdom Independence Party leader (UKIP) told the Telegraph on Tuesday the ban was a "red line [issue] for 10 Downing Street" in talks about Trump's visit.
The Republican leader – who Farage once amicably described as a big silverback gorilla – will land at Stansted airport on Thursday July 12 for a three-day visit to the UK, where he will meet Prime Minister Theresa May and the Queen.
Farage said he has been told that the government has made it clear it does not want a meeting between the duo to go ahead "through normal protocol channels."
He said: "I understand that through the normal protocol channels established between [the countries] ahead of a visit that they are very keen – almost paranoid I was told – that he [Trump] doesn't meet me," the Telegraph reports.
Downing Street has rejected the claims, saying it was "not even aware of a meeting being requested", adding that "either way we are not trying to stop one."
The US embassy in London has declined to comment, while it is understood the White House has not yet raised the issue.
Talking on LBC, Farage once again rebuked the government for failing to use him as an intermediary between the White House and Number 10.
READ MORE: Leaked pic reportedly shows Nigel Farage delighted at Brexit night pound collapse
"It's undoubtedly true because the government hates me and thinks that I'm responsible for Brexit which they still don't support or believe in but, you know what, given that I've got some good relations with the US you'd have thought I might be helpful to you," he said.
"Clearly I'm not wanted. Nevermind."
Trump previously said Farage – who appeared at Trump campaign rallies during the 2016 presidential election campaign – would do a "great job" if he became the UK ambassador to the US. The idea was rejected by Downing Street, saying "there is no vacancy."
Like this story? Share it with a friend!
You can share this story on social media: