Leaked pic reportedly shows Nigel Farage delighted at Brexit night pound collapse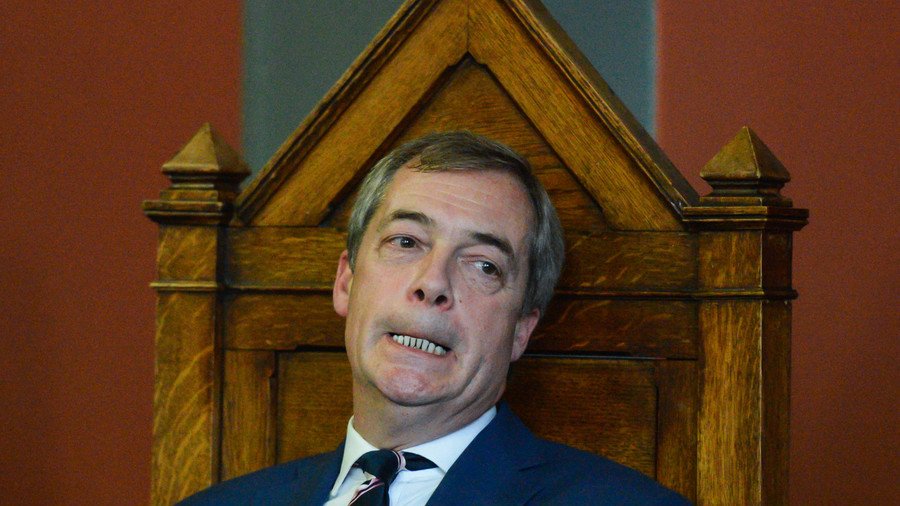 A 'never seen before picture' of a gloating Nigel Farage has circulated on social media, with the Brexiteer seemingly delighted that the Pound Sterling was in freefall as it came to light that Britain had voted to leave the EU.
Published in Thursday's edition of the staunchly pro-Remain New European newspaper, the image was reportedly taken 3.35am on the morning of June 24, 2016, and shows a grinning Farage pointing to a TV news report which shows the British currency collapsing at the news British citizens had voted in favour of breaking ties with the European Union.

The picture adds further questions to the conduct of the UKIP MEP on the night of the referendum result, after an investigation by Bloomberg claimed he conceded defeat for the Leave side while being privy to data that indicated that this wasn't the case. It is alleged that currency speculators used inaccurate early predictions of a remain victory to profit by shorting the pound.
Following the picture's leaking, many, some of whom were evidently anti-Brexit, took to Twitter to denounce Farage and question the picture's meaning.
On Monday, a spokesperson for Farage denied that he had any financial interest in currency movements on the night of Brexit, however, the surfacing of the picture is likely to raise further questions about his motives and conduct on the night in question.
If you like this story, share it with a friend!
You can share this story on social media: