Trump ruffles allies' feathers with indelicate statecraft during European tour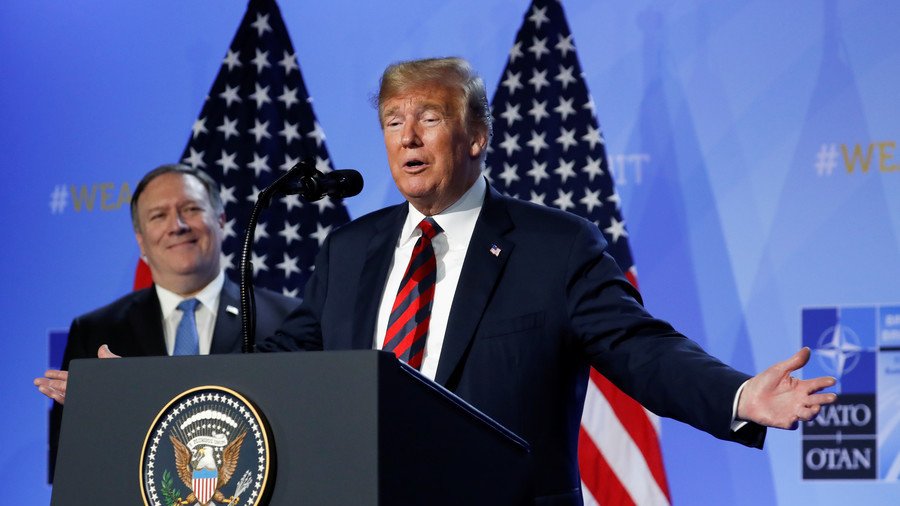 President Trump is not exactly known for his subtlety, but few could have predicted the smorgasbord of candid (and at times uncouth) remarks directed at US allies during the president's European tour.
Amid strained relations between Washington and its transatlantic allies, US President Donald Trump arrived in Brussels on Tuesday for a weeklong trip to Europe – beginning with the annual NATO summit, followed by a visit to the UK, and ending with a meeting with Russian President Vladimir Putin in Helsinki.
READ MORE: Trump says he 'thinks' he can pull out of NATO without congressional approval
Trump joked that the meeting with Putin "may be the easiest of them all" – and he may be right. So far, the US leader has managed to irk his NATO partners with vapid ultimatums and empty claims, while ruffling British feathers with comments about migrant crime waves and Boris Johnson's political potential. To borrow Trump's description of the NATO summit, the US president's visit to Europe has so far been a "great success."
German captives
Trump got the wrecking ball rolling early, taking aim at one of his favorite targets – Germany – while meeting with NATO Secretary-General Jens Stoltenberg on Wednesday morning.
In an impromptu geopolitical analysis over breakfast, Trump told Stoltenberg that "Germany is totally controlled by Russia" and a "captive" because of Berlin's energy deals with Moscow. Unamused, German officials pushed back on Trump's unflattering characterization of German sovereignty.
"We are not prisoners, neither of Russia nor of the United States," German Foreign Minister Heiko Maas told reporters on the sidelines of the NATO summit. "We are one of the guarantors of the free world and that will stay that way."
German Chancellor Angela Merkel expressed similar misgivings about Trump's remarks, noting that she had first-hand experience of when East Germany was controlled by the Soviet Union. "I am very happy that today we are united in freedom, the Federal Republic of Germany. Because of that we can say that we can make our independent policies and make independent decisions. That is very good, especially for people in eastern Germany," Merkel said.
Pay up!
Trump's straightforward statecraft shined during talks with NATO states about increasing defense spending – although his hardball tactics appear to have accomplished little aside from peeving Washington's allies.
On Thursday, Trump reportedly warned that if the alliance's wealthiest economies aren't paying two percent of their GDP on defense by January, then the United States is "going to do our own thing."
But even that wasn't enough for Trump. The US leader also tweeted from Brussels that "all NATO Nations must meet their 2% commitment, and that must ultimately go to 4%!"
Trump later announced that the allies had agreed to significantly increase defense spending – a claim that was later denied by France and Germany, and even the NATO secretary general. Despite Trump's demands, it appears that the alliance is sticking with a plan from 2014, which calls for spending two percent of GDP on defense by 2024.
Trump goes after London mayor
Even before arriving in the UK on Thursday evening, Trump got down to business, criticizing everything from the UK's immigration policy to the London mayor's handling of crime.
"Allowing the immigration to take place in Europe is a shame," Trump told the Sun newspaper in Brussels, before setting off to London to begin his official visit to the UK. "I think it changed the fabric of Europe and, unless you act very quickly, it's never going to be what it was and I don't mean that in a positive way," he said.
"Take a look at the terrorism that is taking place. Look at what is going on in London. I think [Sadiq Khan] has done a very bad job on terrorism," Trump told the British publication. "I think he has done a bad job on crime, if you look, all of the horrible things going on there, with all of the crime that is being brought in."
London Mayor Sadiq Khan fired back on Friday, saying it was preposterous for Trump to blame the rise in violent crime in the city on immigration.
"The idea that you can blame this on immigration from Africa is I think preposterous and we should call him out when he does so," Khan told BBC radio on Friday.
Backing Boris, criticizing May's Brexit
Never hesitant to speak his mind, Trump happily provided the British tabloids with his uniquely Trumpian take on UK politics, commenting that recently-resigned Foreign Secretary Boris Johnson would make a terrific prime minister, and chastising current Prime Minister Theresa May for not "listening to him" about Brexit.
"I am not pitting one against the other," the US president said when asked if he'd like to see Johnson as prime minister. "I am just saying I think he would be a great prime minister. I think he's got what it takes," Trump told The Sun. Expressing his disappointment with May's handling of Britain's withdrawal from the EU, Trump said that he had provided the prime minister with an airtight plan, but she decided to ignore his stellar advice.
"I would have done it much differently. I actually told Theresa May how to do it but she didn't agree, she didn't listen to me," Trump told the tabloid. "I would actually say that she probably went the opposite way. And that is fine. She should negotiate the best way she knows how. But it is too bad what is going on."
Trump later walked back his criticisms of May during a joint press conference with the prime minister on Friday, claiming that The Sun had taken his comments out of context and had failed to report his praise for the British leader.
"I said very good things about her. I didn't think they'd put it in, but that's alright. They didn't put it in the headline, I wish they'd put it in the headline. And she's a total professional because when I saw her this morning I said, 'I want to apologize because I said such good things about you', and she said, 'don't worry, it's only the press.'"
Like this story? Share it with a friend!
You can share this story on social media: