Kelly shows dissatisfaction with Belgian 'pastries and cheese' as Trump berates Germany (VIDEO)
Published time: 12 Jul, 2018 17:39
Edited time: 13 Jul, 2018 12:38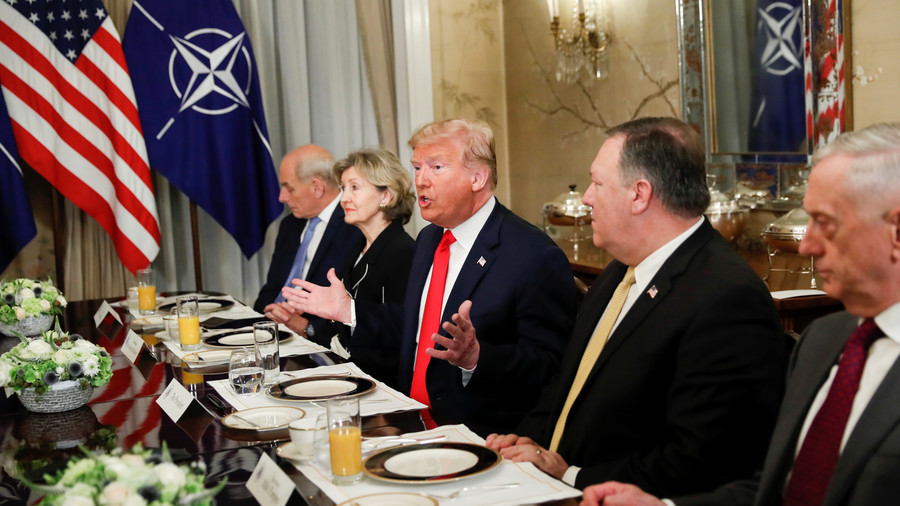 As Donald Trump tore into Germany for its reliance on Russian energy, Chief of Staff John Kelly looked uneasy when he made the remarks. The White House says he was just struggling with his breakfast.
As Trump lambasted Germany's investment in a gas pipeline from Russia, he claimed "Germany is totally controlled by Russia." Kelly grimaced at the president's remark, staring blankly at the table.
According to the White House, a NATO breakfast was simply not good enough for the former Marine Corps general. In a statement given to the Washington Post, White House Press Secretary Sarah Sanders said that Kelly "Was displeased because he was expecting a full breakfast and there were only pastries and cheese."
Diplomacy is best done on a full stomach, and the European fare clearly agitated Kelly. Secretary of State Mike Pompeo was evidently okay with his continental breakfast, sitting stone-faced on Trump's left.
Right on cue, the Twitter #resistance jumped on the chance to have their say.
While the annual NATO summit in Brussels is usually a carefully-choreographed show, President Trump flipped the script and took the opportunity to hammer the US' allies for reportedly failing to meet their defense spending goals, leaving the US to foot the bill for Europe's defense against the perceived threat from Russia.
After Trump reportedly hinted that the US might leave the alliance and "do its own thing," NATO Secretary-General Jens Stoltenberg called an emergency meeting on Thursday morning.
After the emergency session, Trump said that the alliance is "very unified, very strong, no problem." He said that NATO allies had committed to increasing their defense spending and added that pulling out of the military alliance would therefore be "unnecessary."
Trump left Brussels aboard Air Force One on Thursday, bound for the UK. His visit will be met with protests, and with the flying of a blimp depicting the President as a giant baby over London on Friday.
His officials needn't worry about breakfast though. A full English breakfast of sausages, bacon, eggs, beans and toast can contain up to 1,000 calories.
If you like this story, share it with a friend!