US tougher on Russia than anybody, but chance for better relations with Moscow and Putin - Trump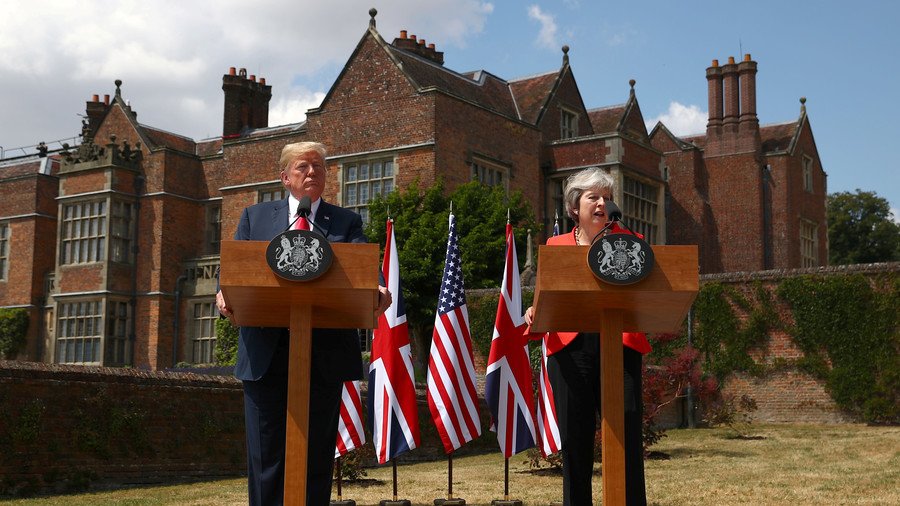 The US President Donald Trump said that his administration was "tougher on Russia than anybody." At the same time, he admitted that getting along with Moscow would actually still be "a good thing."
"When you look at what we have done in terms of Russia, I guarantee that whoever it is in Russia, they are saying: 'Oh, God, do we wish that Trump was not the victor." The US leader told journalists at a joint press conference with British Prime Minister Theresa May at her country residence in Chequers. Trump then went on to say that Washington was "extremely tough on Russia" under his rule.

Trump particularly boasted that, following the incident in Salisbury that involved the former Russian double agent Sergei Skripal and his daughter, Yulia, the US expelled a "far greater number" of the Russian diplomats "than anybody.""We expelled … 60 people and Germany [expelled] three," he said.
"We have been really very strong on Russia," Trump added as he told the journalists that his administration "left NATO with more money, with more unity, with more spirit than NATO probably has ever had."
Trump also once again denied having any "relationship" with the Russian President Vladimir Putin, adding that the two leaders met "two and a half times." However, he then suddenly changed his tone and said that "if we could develop a relationship, it would be good for Russia and good for us, good for everybody."

"If we get along with China and Russia, that will be a good thing, not a bad thing," he added.
The US president's remarks came just days before his meeting with the Russian leader, which is scheduled to take place in Helsinki on July 16. Ahead of the meeting, which has already provoked concerns among US, UK and Germany officials, Trump called Putin a "competitor." At the same time, he said he still "cannot say" if Moscow was Washington's "friend or foe."
MORE TO FOLLOW
You can share this story on social media: