Indian man with world's longest fingernails has them clipped & put on display in New York (VIDEO)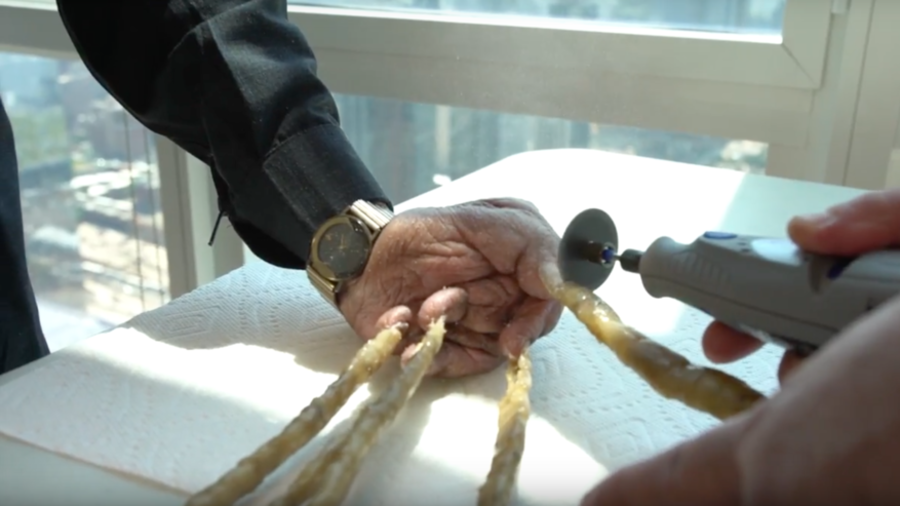 The holder of the Guinness world record for the longest fingernails has finally decided to trim his alpha-keratin opus, which grew over past 66 years to a combined length of a city bus and will now be put on display in New York.
Shridhar Chillal, 82, has not used nail clippers on his left hand since 1952, when a teacher at his school lost his temper over his accidentally broken nail. The 14-year-old then decided to take up a challenge to see how long he could go without trimming his nails.
Never too late: 96yo WWII veteran graduates with degree seven decades after last class
Over the years his lifelong ambition has left him handicapped, with atrophy curtailing his left-hand movement. The man could not open his hand or flex his fingers. Finally deciding to change his life, the Guinness World Record holder (for the 'longest fingernails on a single hand') flew to New York to seek aid from a doctor.
Wielding a power saw, one by one the doctor cut off the Indian's fingernails, which had grown to a combined length of 909.6 cm (29 ft 10.1 in), the length of a bus. His thumbnail alone matched the height of any NBA player, spanning 197.8cm (6.48 ft) in length. The historic surgical procedure, which took roughly 20 minutes to complete, took place at Ripley's Believe It or Not! Museum in Times Square.
The end of an era. After 66 years of growth, watch record-breaker Shridhar Chillal from India cut off his enormous fingernails - which will now go on display at @Ripleys in New York https://t.co/uoEv6gHF10

— GuinnessWorldRecords (@GWR) July 11, 2018
"It was a very difficult decision for me to cut my nails but when I realized that, after cutting them, they'll be at Ripley's Believe It or Not! and the museum is going to maintain them very nicely and for a lifetime, then I felt that I was making the right decision and that is why I decided to cut my nails," Chillal told reporters at the museum, which now has 66 years' worth of uncut nails on display.
If you like this story, share it with a friend!