Trump calls in British reinforcements as America's longest war drags on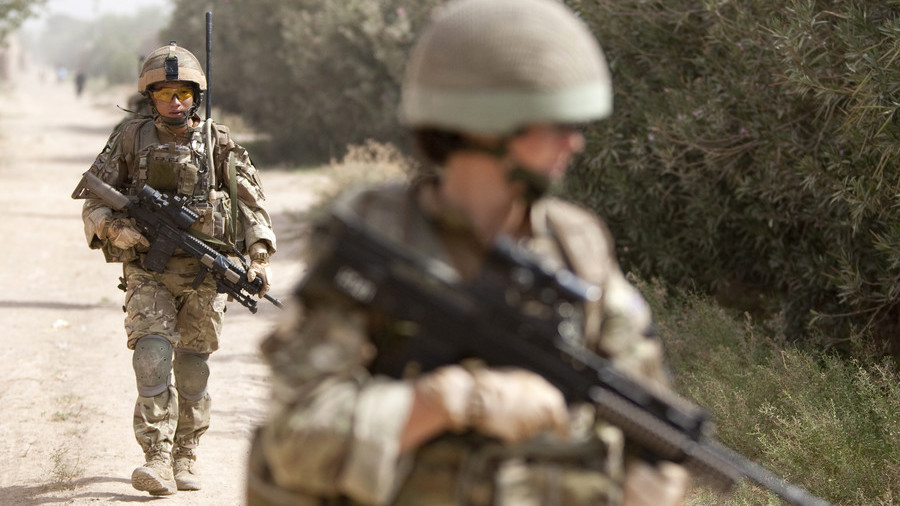 British Prime Minister Theresa May announced that the UK will almost double its troop numbers in Afghanistan, after a request by US president Donald Trump. The war in Afghanistan shows no signs of ending, 17 years after it began.
Britain will send 440 troops to Afghanistan, bringing its total number of deployed forces to around 1,100. The troops will train and assist Afghan forces, and will not be deployed in a combat role, reported Reuters. They will begin to deploy from August.
Ahead of a NATO summit in Brussels that will likely be characterized by arguments between Trump and allies over defense spending, May said that the deployment shows the UK's commitment to pulling its weight within the alliance.
"In committing additional troops to the Train Advise Assist operation in Afghanistan we have underlined once again that when NATO calls, the UK is among the first to answer," May said. "NATO is as vital today as it ever has been and our commitment to it remains steadfast. The Alliance can rely on the UK to lead by example."
Fragile
The boost in British troop numbers comes as Afghanistan's security situation becomes ever more fragile. As parliamentary elections loom in October, hundreds of civilians have been killed in attacks this year.
In January, 95 people were killed in Kabul when a Taliban suicide bomber drove an ambulance packed with explosives through a security checkpoint and detonated it in a crowd of pedestrians. The attack kicked off six months of regular bombings and shootings in the capital.
April saw nine journalists and almost 20 others killed in a series of bombings by the Islamic State (IS, formerly ISIS/ISIL) terrorist group, and at least 57 killed when another IS suicide bomber blew himself up at a voter registration center.
Last month, an unprecedented ceasefire between government and Taliban forces during the Muslim holiday of Eid was brutally shattered by a series of explosions in the cities of Jalalabad and Nangarhar. At least 44 people died, among them a mix of Afghan forces, Taliban fighters, and civilians. IS claimed responsibility for the attack.
Outside the cities, the Taliban are estimated to control 14 of Afghanistan's 407 districts, with another 46 under the group's influence. A separate study by the BBC, disputed by the Afghan government, found that the militant group are active in 70 percent of the country, threatening 15 million people or half of the country's population.
The threat of the Taliban is compounded by the presence of the Islamic State-Khorasan (IS-K) group, mostly Pakistani Taliban who have pledged loyalty to Islamic State, and by Al-Qaeda.
American buildup
Trump's request to May was made against this bloody backdrop. Last year the US president promised to increase US troop numbers in the country by 3,000. He also shifted the US' Afghanistan strategy to one where troop numbers would be dictated by conditions on the ground, a departure from former President Barack Obama's policy of phased withdrawal from the battle-scarred country.
Broadly, the Trump administration's strategy is to train, assist, and advise Afghan forces, while deploying more air power and artillery, and fighting tooth and nail to prop up the fragile government in Kabul. Trump also delegated decision-making authority over troop numbers to the military.
Newsweek estimates as many as 16,000 US troops could be in Afghanistan by the end of 2018, and American aircraft keep hammering Taliban and IS positions in the country. In March, the Afghan Air Force stepped up the intensity of its own bombing sorties, dropping a GBU-28 laser-guided bomb on a Taliban compound in Farah province.
Advisors with TAAC-Air conducted training with their Afghan Air Force counterparts to increase accuracy and offensive capability. AAF weapons teams, crew chiefs and A-29 pilots completed their first live training with new GBU-58s munitions, hitting all targets. #AFGStrongpic.twitter.com/29x26gl3OR

— Resolute Support (@ResoluteSupport) January 4, 2018
Despite the Trump administration's newfound assertiveness, some Afghan politicians feel that they have seen little progress made against the Taliban and that the present security agreement with the US should be changed.
"What have we achieved from this security agreement? Nothing, except notoriety," said Afghan senator Zalmai Zabuli in May. "The foreign forces in Afghanistan have not fulfilled their commitments," agreed senator Mohammad Hanif Hanifi.
The war in Afghanistan is now the longest-running war in American history, with almost 17 years since hostilities began in 2001. It has cost the US over one trillion dollars, and almost 2,300 lives. Secretary of State Mike Pompeo, who met with US forces in Afghanistan on Tuesday, hinted that victory may not be the only option.
Pompeo told the troops that the Taliban "cannot wait us out," and that they "will ultimately have to settle their differences with the Afghan government at the negotiating table."
Like this story? Share it with a friend!