At least 18 dead as second blast shatters holiday truce between Taliban & Afghan government forces
Published time: 17 Jun, 2018 22:02
Edited time: 18 Jun, 2018 13:08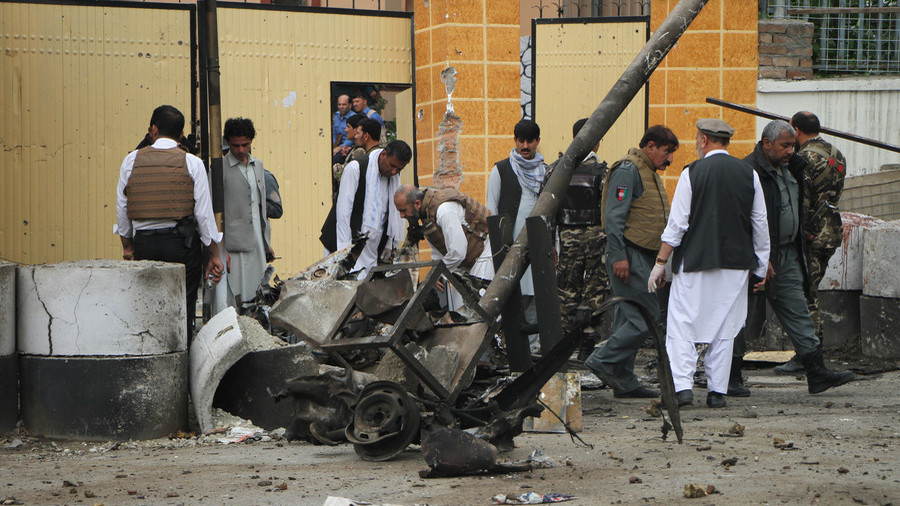 At least 18 people have been killed in an explosion in a crowded area in the eastern Afghan city of Jalalabad. It is the second such incident, after an unprecedented ceasefire for the Muslim Eid holiday had been agreed.
The deadly blast rocked an area outside of the governor's compound in the capital of the Afghan Nangarhar Province as Taliban militants, government officials and civilians mingled together while exiting the government building following an Eid celebration. The explosion claimed the lives of at least 18 people, according to the head of the provincial public health department.
The explosion also left 45 people injured, Afghan officials report. The attack, allegedly carried out by a suicide bomber who blew himself in a crowd of people, came in the last hours of the ceasefire between the Taliban insurgents and the government forces. Despite that, Afghan President Ashraf Ghani extended a unilateral ceasefire for ten more days.
No group has claimed responsibility for the blast so far. The Sunday explosion has become the second incident that hit the province in a few days. On Saturday, 26 people were killed in another blast at a meeting of Taliban and Afghan security forces. The Saturday incident was later claimed by Islamic State (IS, former ISIS).
The incidents marred two out of three days of the ceasefire, agreed upon by the Afghan government and the Taliban, to mark the Muslim holiday of Eid. Earlier in June, the Taliban had made a surprising statement, announcing the suspension of hostilities toward government forces. This is the first time that the Taliban has ever extended an offer of this kind to Kabul.
The truce witnessed Taliban members entering Afghan cities, including the country's capital of Kabul, and urging people to come forward and take selfies with them. Photos and videos on social media then showed Taliban fighters giving hugs to locals and Afghan forces across several provinces.
Think your friends would be interested? Share this story!