At least 26 dead as blast hits meeting of Taliban & Afghan forces during landmark ceasefire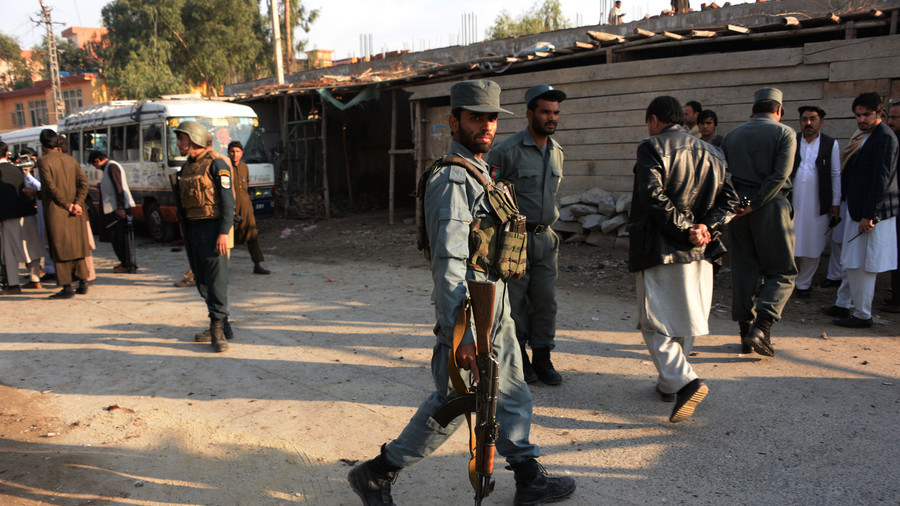 At least 26 people were killed as an explosion rocked a meeting of Taliban and Afghan security forces during an unprecedented ceasefire for the Eid holiday. Islamic State (IS, formerly ISIS) has claimed responsibility.
Casualties include Taliban members, Afghan security forces, and civilians, Attaullah Khogyani, spokesman for the provincial governor of Nangarhar, said.
IS has claimed responsibility for the deadly attack, according to the group's Amaq news agency, which confirmed that it targeted "a gathering of Afghan forces."
Earlier, Taliban spokesman Zabihullah Mujahid confirmed that "the incident has nothing to do with the Taliban," adding that "our members suffered casualties."
The timing of the bombing in the eastern city of Nangarhar appears to be significant. On Saturday, Taliban members entered the Afghan capital, Kabul urging people to come forward and take selfies with them. The unusual move reportedly occurred elsewhere in the country, as photos and videos on social media showed Taliban fighters giving hugs to locals and Afghan forces across several provinces.
Nangarhar: Ten people killed in an explosion in Nanagarhar's Rodat district. Governor's spokesman Attaullah Khogyani said the explosion happened when the Taliban and the people were celebrating Eid. Casualties include Taliban and civilians. #Afghanistan.

— TOLOnews (@TOLOnews) June 16, 2018
Afghan President Ashraf Ghani addressed the nation, saying the truce between the government and the Taliban will be extended.
Peace is an urgent need and as it turned out that in the last 24 hours there was a consensus between the Afghan government and the Taliban on peace, it proved that we are all for peace. Fortunately, there's also consensus among the international community on peace in Afghanistan.

— Ashraf Ghani (@ashrafghani) June 16, 2018
The government freed at least 46 Taliban prisoners amid the ceasefire, the president's office confirmed, as cited by Reuters. Ghani's office urged the militant group to also extend their ceasefire, saying that the government is waiting for their response.
READ MORE: Taliban members take selfies, hug Afghan soldiers during Eid ceasefire
Earlier in June, the Taliban made a surprising statement announcing the suspension of hostilities with the government forces for three days to mark the Muslim holiday of Eid. This is the first time that the Taliban has ever extended an offer of this kind to Kabul.
The ceasefire came two months after the group announced its annual spring offensive, as they vowed to target the "American invaders." Heavy clashes repeatedly broke out across a number of Afghan provinces, with casualties inflicted among Afghan soldiers and police officers.
The militants attacked a number of cities across the country, seizing large quantities of weapons and equipment.
Think your friends would be interested? Share this story!