Trump takes aim at 'crazy' Maxine Waters, says her antics will send people fleeing from Democrats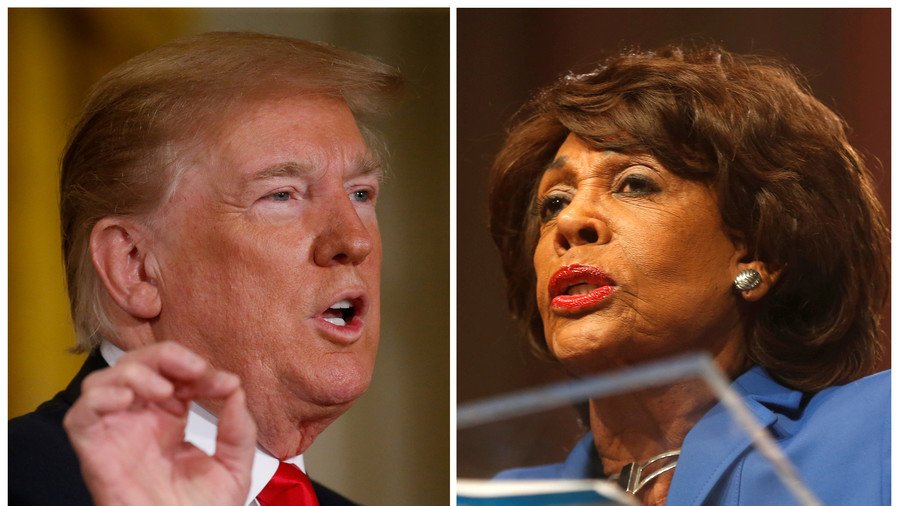 US President Donald Trump has lashed out at Democratic Congresswoman Maxine Waters on Twitter, calling her "one of the most corrupt people in politics" and warning that she has become "the face" of the Democratic Party.
The California representative has been a vocal critic of Trump and has repeatedly called for his impeachment. Last week, she made headlines when she encouraged her supporters to harass members of the Trump administration if they see them in public.
Crazy Maxine Waters, said by some to be one of the most corrupt people in politics, is rapidly becoming, together with Nancy Pelosi, the FACE of the Democrat Party. Her ranting and raving, even referring to herself as a wounded animal, will make people flee the Democrats!

— Donald J. Trump (@realDonaldTrump) July 3, 2018
Trump said that Waters' "ranting and raving" would make people begin to "flee" the Democratic Party in the run-up to the November midterm elections. Surprisingly, it seems Waters' own party members might be in agreement.
Her antics sparked reactions from both Senate Minority Leader Chuck Schumer and House Minority Leader Nancy Pelosi, who called for civility after she encouraged the harassment of White House officials.
Waters is not backing down, however, telling MSNBC's Joy Reid that Schumer and Pelosi "will do anything that they think is necessary to protect their leadership."
"I was blessed with courage. And I was blessed with the kind of strength that does not allow me to be intimidated by the likes of Donald Trump," Waters told Reid. "Let him call me whatever he wants to call me. Let him say whatever he wants to say. He will not stop me."
During a protest against Trump's immigration policies on Saturday in Los Angeles, Waters again called for the president's impeachment and made it clear that she doesn't care what those in her party think of her recent behavior.
Waters seemed happy to revel in her newfound status as a victim of both the right and left, telling the audience that she knew there were people talking about kicking her out of Congress or even "shooting" her. "All I have to say is this, if you shoot me you better shoot straight, there's nothing like a wounded animal," she said.
READ MORE: New American Civil War? Some people think it's already begun
It transpired that this was not the first time Waters had made reference to being shot at. The USA Today newspaper reported that she made similar comments at a town hall meeting last year. After hearing a pop sound in the crowd, Waters said: "I don't know what the sound was," she said. "But whoever it is, if it's a shot, you better shoot straight."
You can share this story on social media: