Waters slams Democrat leaders for protecting own power as they urge her to stop resistance rhetoric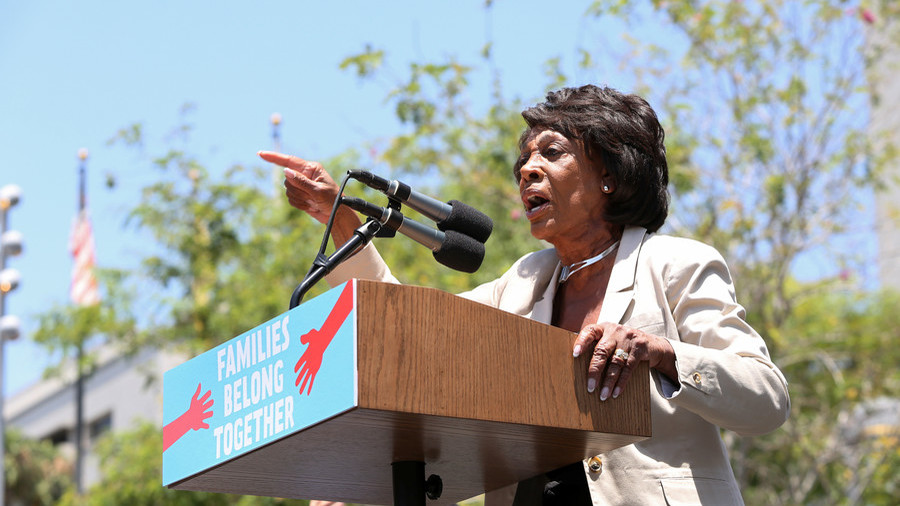 Democratic Congresswoman Maxine Waters has accused her party's leaders of protecting their own power, after they denounce her calls for harassing Trump officials.
The California congresswoman, dubbed #MadMaxine by some Trump supporters, blasted establishment Democrats for calling for calm. Senate Minority Leader Chuck Schumer and House Minority Leader Nancy Pelosi both called for civility and debate instead of violent confrontation.
"Leadership like Chuck Schumer will do anything that they think is necessary to protect their leadership," said Waters, speaking to MSNBC's 'AM Joy' on Sunday. "What I have to do is not focus on them. I've got to keep the focus on the children," she added, referring to the Trump administration's 'zero tolerance' immigration policy that saw almost 2,000 children of illegal immigrants separated from their parents and held in detention centers recently.
After White House Press Secretary Sarah Sanders was booted out of a Virginia restaurant for her politics one week before, Waters told supporters "If you see anybody from that Cabinet in a restaurant, in a department store, at a gasoline station, you get out and you create a crowd and you push back on them, and you tell them they're not welcome anymore, anywhere."
Waters later denied that her comments were an incitement to violence, but not before both sides of the political spectrum condemned them. President Trump responded on Twitter, calling Waters "an extraordinarily low IQ person," and the "unhinged face" of the Democratic Party.
Congresswoman Maxine Waters, an extraordinarily low IQ person, has become, together with Nancy Pelosi, the Face of the Democrat Party. She has just called for harm to supporters, of which there are many, of the Make America Great Again movement. Be careful what you wish for Max!

— Donald J. Trump (@realDonaldTrump) June 25, 2018

"Let him call me whatever he wants to call me, whatever he wants to say, he will not stop me," Waters told MSNBC. "They want me to run away, they want me to stop talking, they want me to be quiet. But he can't do that to me."
Trump's immigration policy has triggered a wave of Democrat anger, with some of it turning violent.
Senate Majority Leader Mitch McConnell and his wife, Department of Transportation Secretary Elaine Chao, were heckled by protesters as they left an event at Georgetown University in Washington last Tuesday. The weekend before also saw chanting protesters camped outside Homeland Security Secretary Kirstjen Nielsen's house; an animal carcass left outside the house of a Department of Homeland Security official; and Florida Attorney General Pam Bondi screamed at and spat on by a mob as she tried to attend a movie in Tampa.
In addition, radical left Antifa activists have disseminated a database of the names, photographs, addresses, and children's names of around 1,600 people working for Immigration and Customs Enforcement.
With the divide between left and right growing, several voices on the right have suggested that Trump staffers and supporters arm themselves for protection, as the #resistance grows louder and more dangerous.
Waters has chosen to dig in and defend her position, as her own party calls for reconciliation and as she allegedly receives death threats for her fiery anti-Trump rhetoric. At an immigration protest in Los Angeles on Saturday, Waters as usual called for Trump's impeachment, and basically told opponents to 'come and have a go'.
"I know that there are those who are talking about censuring me, talking about kicking me out of Congress, talking about shooting me, talking about hanging me," Waters told the crowd. "All I have to say is this, if you shoot me you better shoot straight, there's nothing like a wounded animal."
Like this story? Share it with a friend!