Donald Trump answers prank call aboard Air Force One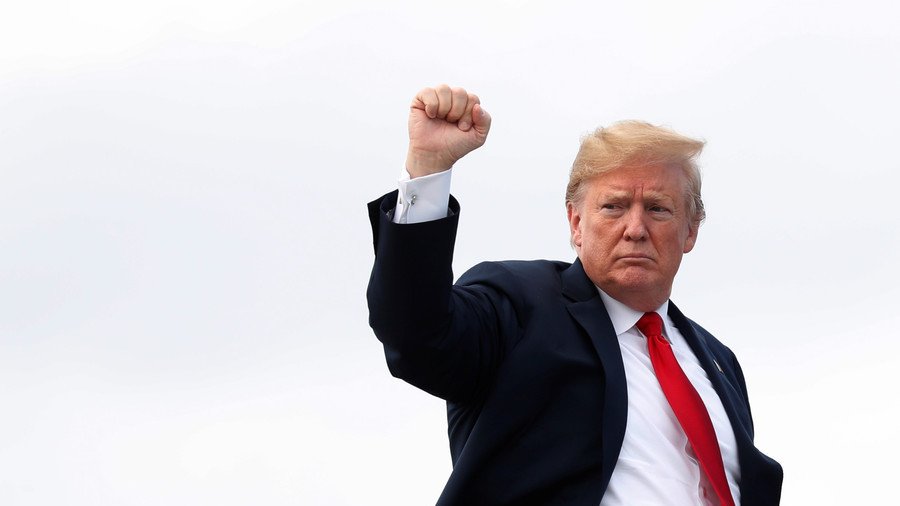 A US comedian says the Secret Service paid him a visit after he tricked President Donald Trump aboard Air Force One with a prank call in which he pretended to be a Democratic senator.
Comedian John Melendez posed as Senator Bob Menendez for the joke and says he actually spoke to the president's adviser and son-in-law Jared Kushner, while posing as an assistant, before receiving a call back from the president on Thursday.
Melendez, also known as Stuttering John, uploaded a recording of the four-minute conversation to his podcast, in which Trump can be heard revealing his plans to nominate a new Supreme Court judge in "10 to 14 days," following Anthony Kennedy's decision to step down next month.
In the recording, the man identified as Trump also congratulated Senator Menendez for his acquittal in a 2017 bribery case. Menendez was accused of accepting gifts from a Florida eye doctor in exchange for political clout.
Melendez said that he and a friend initially called the White House and were honest about their identity, but they were told the president was busy. When the comedian called back with an English accent pretending to be "Shawn Moore," a fake assistant to Menendez, they were successful.
READ MORE: 'Generally conservative' candidates on Trump's Supreme Court shortlist, nomination coming soon
He later tweeted that the Secret Service was "at his door," but that he refused to answer. At that point, the agents apparently left.
Melendez also fired off a few other tweets, in which he joked about getting arrested and going to jail. He also suggested that Trump's screening staff should be the ones who get arrested for not doing their jobs properly and letting the call through.
CNN reported that the White House confirmed the gaffe on Saturday, admitting: "The president wants to be accessible to members and likes engaging them and wants them to have the opportunity to connect. The downside of that is sometimes the channels are open too widely and mistakes like this happen."
The comedian said that if the administration had asked him about Senator Menendez' party affiliation or even the state for which he is a senator, his cover would have been blown: "But they didn't ask me any of this," he told CNN.
"I just could not believe that it took us an hour and a half to get Jared Kushner and Donald Trump on the phone from Air Force One," he added.
It appears that Kushner will be shouldering the blame for the embarrassing blunder. According to Politico, when Legislative Affairs got word of the call, they contacted Menendez's chief of staff and learned that the senator was not trying to contact the president. However, the call was still put through by Kushner.
Democratic Senator Menendez is an avid campaigner for immigration reform. President Trump and his administration have been under intense scrutiny lately over the long-standing US policy of separating migrant children from their parents at the Mexican border.
You can share this story on social media: