China to be '1st mover' in military hi-tech, US 'perilously close' to lag behind – ex-Deputy DefSec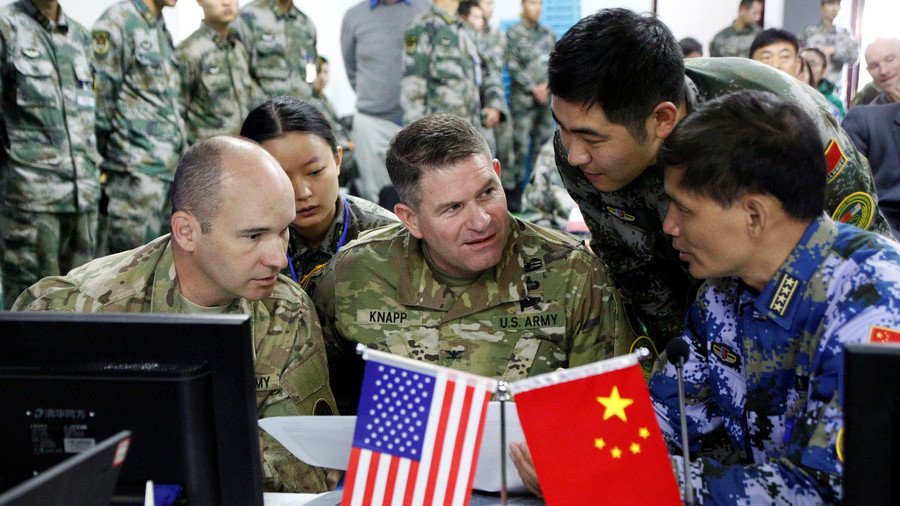 The US risks being outpaced by China in groundbreaking military hi-tech, including artificial intelligence, robotics and big data, former US Deputy Defense Secretary warned, adding "this is what it feels like to be offset."
The United States "should be prepared to be surprised" in any conflict with China, not only because Beijing has done a lot to modernize its armed forces, but also how much it has invested in next-generation military technology, former Deputy Secretary of Defense Robert Work told a conference 'Strategic competition: Maintaining the edge' hosted by the Center for a New American Security (CNAS).
"As I watch the ongoing military technical competition in the Western Pacific, in between our two great power rivals – especially China – I find myself saying: This is what it feels like to be offset," Work added. "And I got to tell you – it doesn't feel very good."
Work, a retired Marine Colonel who served as Deputy Defense Secretary from 2014 until 2017 under Obama and Trump administrations, China "wants to be a first mover" in artificial intelligence, incorporating the Internet of things, big data, robotics and machine learning.
"That will be how they will get ahead of the United States," Work said, adding the US should invest its $700 billion-worth military budget into artificial intelligence and the like to narrow the gaps.
According to the former defense official, China is poised to beat the US in future battlefields by building up first-strike capabilities as well as disrupting American command-and-control networks. The Chinese "are looking deep and shooting deep," Work stated.
He said China's progress is evident in electronic warfare, cyber, counter-space systems, hypersonic and rail-guns – the kinds of next-generation weapons systems being also tested in the US and Russia.
Speaking at the same event, Air Force General Paul Selva, vice chairman of the Joint Chiefs of Staff, added the Chinese "haven't mass deployed hypersonics or long-range [tactical] ballistic missiles" yet, but they are able now "to deploy those capabilities at a large scale."
Work said there is every reason to be pessimistic about US-China technological competition. "Make no mistake, after reviewing what the Chinese military has been able to do in the last two decades … any objective assessment, in my view, must conclude that the US joint force is perilously close to being a victim of patient, exquisitely targeted, robustly resourced and technologically driven offset strategy," he cautioned.
China as well as Russia has been named among the main challengers to America's global power in the newest edition of the National Security Strategy (NSS). Calling the two countries "revisionist powers, such as China and Russia," the NSS claimed they seek to "shape a world antithetical to US values and interest."
Moscow said the paper was "of imperial nature," and accused Washington of unwilling "to abandon the idea of a unipolar world and accept a multipolar world." Beijing, for its part, called the US to rid of "outdated concepts such as a Cold War mentality and a zero-sum game, otherwise it will only harm everyone."


Like this story? Share it with a friend!
You can share this story on social media: