'Abandon Cold War mentality': China hits back at Trump's 'selfish' national strategy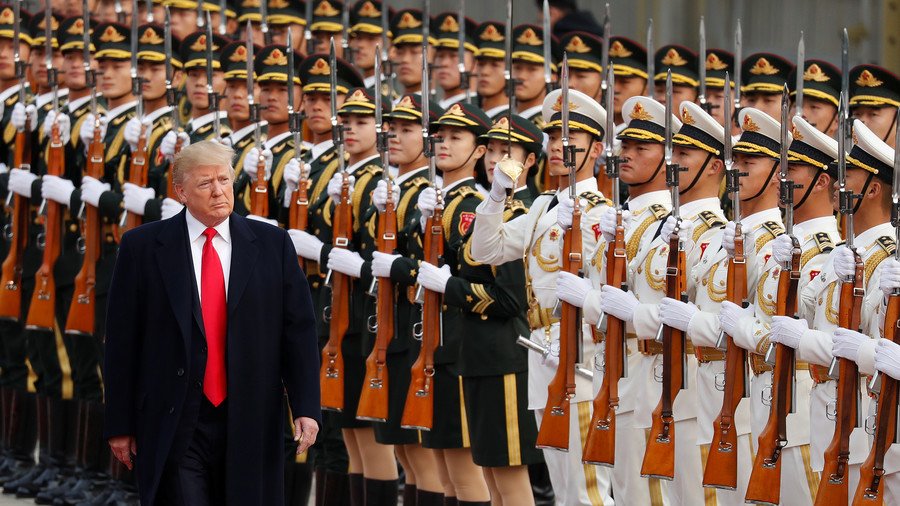 China has rejected the insinuation that it is a "revisionist state," voiced by the US in its national security strategy. Beijing has urged Washington to give up its "outdated zero-sum thinking" and Cold War rhetoric.
The newly-released national security document, unveiled by US President Donald Trump on Monday, lists China and Russia as "revisionist powers" attempting to "erode American security and prosperity." As Trump introduced the strategy, he branded the above-mentioned states "rival powers" that "challenge American influence, values and wealth." All the same, Trump promised to work with the two countries while putting American interests first.
It did not take Beijing long to hit back at the statement. Commenting on the move, the Chinese Foreign Ministry said it has never developed at the expense of other states' interests, but vowed to protect its own.

"We urge the United States to stop deliberately distorting China's strategic intentions, and abandon outdated concepts such as a Cold War mentality and a zero-sum game, otherwise it will only harm everyone," Foreign Ministry spokeswoman Hua Chunying told reporters on Tuesday.
Meanwhile, the Chinese embassy in the US said it is "completely selfish" for Washington to put its interest above others, warning that such an approach "will only lead to isolation." The Chinese mission also accused the US of "self-contradictory rhetoric" that diminishes the countries' cooperation.
"On the one hand, the US government claims that it is attempting to build a great partnership with China. On the other hand, it labels China as a rival. The self-contradictory rhetoric of the US betrays the truth that China and the US are becoming increasingly interdependent and have growing intertwined interests," the embassy said in a statement.
"For China and the United States, cooperation leads to win-win outcomes, while confrontation can only lead to a lose-lose situation," the diplomatic mission added, calling the US "to abandon its outdated zero-sum thinking" and "engage in win-win cooperation."
A commentary published by Chinese state-run news agency Xinhua says that such rhetoric "would only widen the gap of distrust" and set up "more hurdles" between Russia, China and the US, while stressing the necessity of cooperation on global issues between them. The article also cited Trump's recent Jerusalem move and pulling out from the Paris climate change accord as examples of Washington's other harmful, unilateral approaches.
"The attempt to preserve one's own national interests without being mindful of other parties is not only impossible but also could boomerang," the article said, advising the US "to have a fresh mindset that fits this new era and commit itself to a more constructive engagement with the world."
You can share this story on social media: