Trump's new security strategy to keep Russia & China as main competitors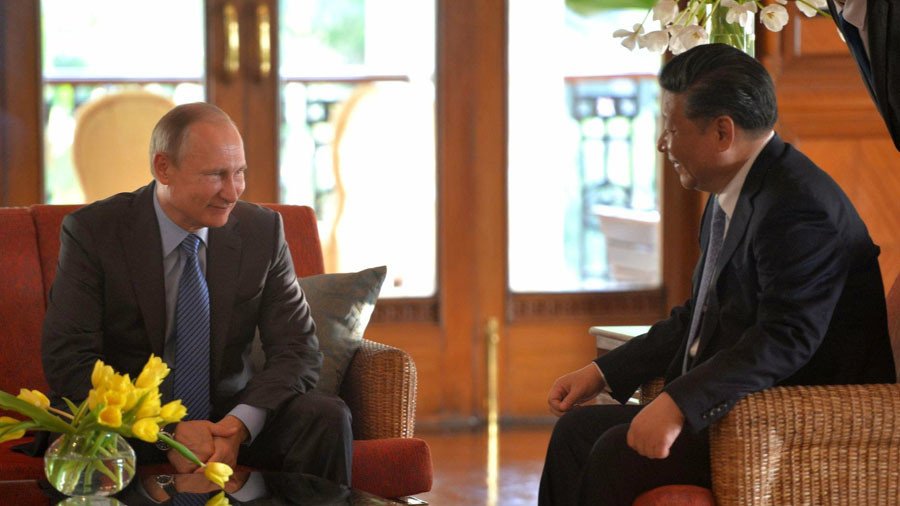 Trump's new national security strategy will preserve the Obama-era declaration of Russia and China as the two main challengers to US global power, excerpts from the document released by the White House show.
The new strategy, which is to be announced later on Monday, comes after months of deliberation by the Trump administration. It will state that China and Russia "are determined to make economies less free and less fair, to grow their militaries, and to control information and data to repress their societies and expand their influence," according to the excerpts.
According to a senior White House official, who briefed reporters on the upcoming publication, the Trump administration sees Moscow and Beijing as "revisionist powers" that want to change the global status quo. The document will state that the US should not presume that engaging with its rivals "would turn them into benign actors and trustworthy partners."
Unlike the previous version of the document prepared under President Barack Obama, Trump's administration will not mention climate change as a serious threat to the US. "The United States will continue to advance an approach that balances energy security, economic development, and environmental protection," the document will say.
But it will keep the Obama-era perception of Iran, North Korea and terrorist groups as threats to America, focusing on Pyongyang in particular. The document also encompasses economic competitiveness, border security, and preserving American prosperity.
READ MORE: 'Let's take the word "reset" out of the dictionary,' says US ambassador to Russia
Russia and China both challenge America's hegemony, opposing its globalist and interventionist agenda. Beijing and Moscow have both promoted a vision of a multipolar world, in which countries respect each other's national interests and do not try to impose their preferred political systems through military force.
In security terms, China and Russia have been unnerved by the belligerent US approach to the North Korean crisis. While both nations agree that Pyongyang should not have nuclear weapons and intercontinental ballistic missiles, they say Washington's hostile statements and continued military exercises – which openly hold North Korea as a target – only escalate tensions. Both powers believe that Washington should acknowledge Pyongyang's security concerns and agree to negotiate a solution suitable for all parties.
Russia and China have also opposed American support for militant groups in countries such as Libya and Syria, saying such regime change operations foster extremism and cause widespread humanitarian suffering. The 2011 war in Libya led to persistent chaos in the country – something exploited by such terrorist groups as Islamic State – and directly contributed to the refugee crisis gripping Europe.
America's influence on the global financial system, facilitated by the dollar's unique status as a global reserve currency and its use in the energy trade, is also a point of contention in Moscow and Beijing. Russia and China say the US abuses its power to pursue geopolitical goals, as was the case with anti-Iranian sanctions under the Obama administration.
You can share this story on social media: