'Most important relations': How US pressure may help turn China-Russia strategic ties into alliance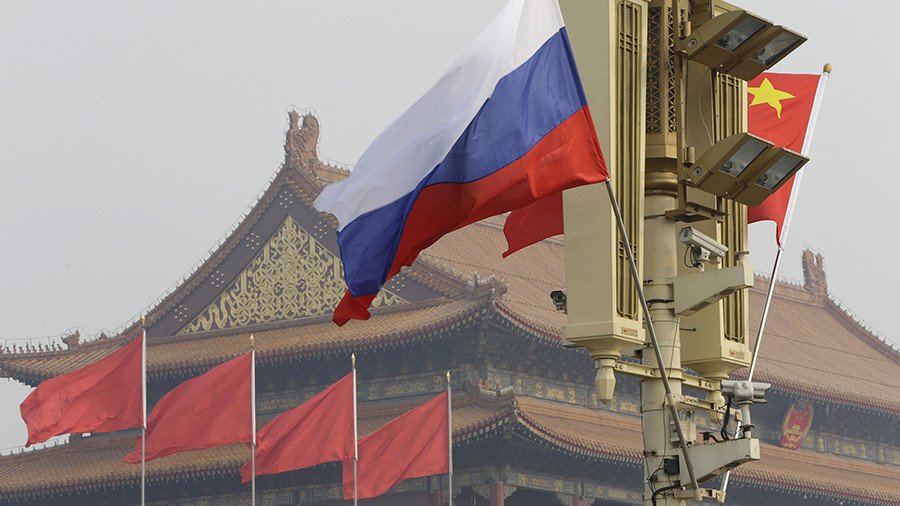 The Chinese Ambassador has praised the Russia-China relationship as "the best in the world," but analysts tell RT it falls short of a close economic or military alliance. This may change if Washington chooses to confront Beijing.
Over the course of history Moscow and Beijing, former Communist allies and later bitter rivals, now find themselves on the same side in opposing Washington in its insistence on global dominance. The Russian and Chinese positions are often aligned on issues such as the Syrian conflict, the North Korean crisis or America's habit of using military force to achieve its geopolitical goals.
Commenting on relations between the two nations, Chinese Ambassador to Russia Li Hui praised the current state of affairs. "The Chinese-Russian relations of comprehensive strategic cooperation and partnership are the most important bilateral relations in the world and, moreover, the best relations between big countries," he said at an event dedicated to the 19th Chinese Communist Party Congress in October. "One can say that they are a classic example of the healthiest and most mature interstate relations and an important force to protect peace and stability throughout the world."
The commendatory remark of the Chinese diplomat, which Newsweek called a "snub of US President Donald Trump," should be taken with a grain of salt, since the actual relations between the two countries are more complex, experts tell RT.
"This is a sort of diplomatic mantra," said economist Sergey Lukonin from the Institute of World Economy and International Relations, who specializes in Chinese studies. "There are many countries with which China has very close relations. Chinese foreign policy is multifaceted and multilateral, so seeing ties with one nation as the most important would be not quite right."
The sphere in which the Russian-Chinese relations are lacking is economic. Russia accounted for 1.8 percent of China's export and 2 percent of China's import in 2016, compared to 18.4 percent and 8.5 percent for the US, China's most important trade partner. So Russia's market and goods may be important for China, but not as important as those of the US and the EU, Lukonin said.
"They call our relations with China a 'strategic partnership,'" Yuri Tavrovsky, a China expert at the People's Friendship University of Russia, told RT. "In terms of strategy, we have reached a really high level. As for partnership, things could have been better. We have not been able to reach the benchmark of $100 billion annual trade volume for several years now."
"The Chinese describe it in this way: there is warmth at the top and cold at the bottom," he added, referring to the good personal chemistry between Russia's President Vladimir Putin and China's President Xi Jinping, which contrasts with a lack of economic ties on the ground. Tavrovsky said he hopes that with Xi consolidating his power with the Party Congress and Putin's possible re-election in March 2018, the two leaders may find a way to way to convert their political capital into an improved connection between businesses in China and Russia.
But on the political front, Russia and China have much to offer each other beyond coordinating their votes at the UN Security Council. The militaries of the two nations stage regular joint exercises, including simulated defense from a missile attack currently under way in Beijing. It takes a certain degree of trust to expose to another nation your military's methods of countering such threats.
China and Russia are working together to eliminate the dollar from bilateral trade, which weakens America's grasp on the global financial system. Russia's participation in China's Road and Belt infrastructure project gives Beijing a reliable land route to European markets, safeguarding the trade from a hypothetical naval blockade.
There may be some tension between Moscow and Beijing over Central Asia, or China's influence in Russia's Far East, but "on balance, there are more strategic advantages in forming closer ties with China against a common threat from a not-so-friendly United States and an unpredictable President Trump," Andrew K P Leung, a Hong Kong-based investment consultant and China strategist, told RT.
"China feels there is a persistent American strategy to contain and restrain China's rise. An example is the US pivot to Asia vaulted to deploy 60 percent of US global navy assets to the Asia-Pacific," he said. "America controls the Malacca Strait, to which a large proportion of China's trade and energy flows pass through. There are heavy US military deployments in the so-called First and Second Island Chains surrounding China. The US is also strengthening military alliances with belligerent neighbors like Japan and Australia."
But despite being natural allies against the US pressure, Russia and China are unlikely to become part of a military bloc similar to that of the USSR and the People's Republic of China had under Stalin and Mao, Leung believes. "The Cold War idea of blocs between countries no longer works in a vastly interconnected and inter-dependent world. Nations befriend each other as circumstances dictate and must accept that both rivalry and cooperation can co-exist."
On the other hand, China and Russia may be encouraged to form a NATO-style organization. A political-military alliance is possible if the US choses to drastically ramp up pressure on Beijing in an attempt to stop it from pursuing its global vision for the future, Tavrovsky believes.
"In terms of geopolitics, China and Russia already actively coordinate their positions… As to moving closer to a political-military alliance, it will largely depend on how much pressure the US will exert," Tavrovsky said, pointing to the reports of an imminent US-Chinese trade war.
Beijing has also produced its new global doctrine, which may pave the way for a proactive foreign policy – something the Chinese leadership has been watching Russia do with a keen interest.
"The Chinese see the Russians as belligerent since they prefer not to get involved [in foreign politics]. But with their new doctrine of a common destiny for the humanity they may activate their foreign policy, including through military projection. They're building aircraft carriers and build military bases in Africa and the Middle East for a reason… The Chinese voice is becoming more of a roar," Tavrovsky said.
You can share this story on social media: