Trump raises stakes in trade war with China, targets further $200bn-worth of imports with tariff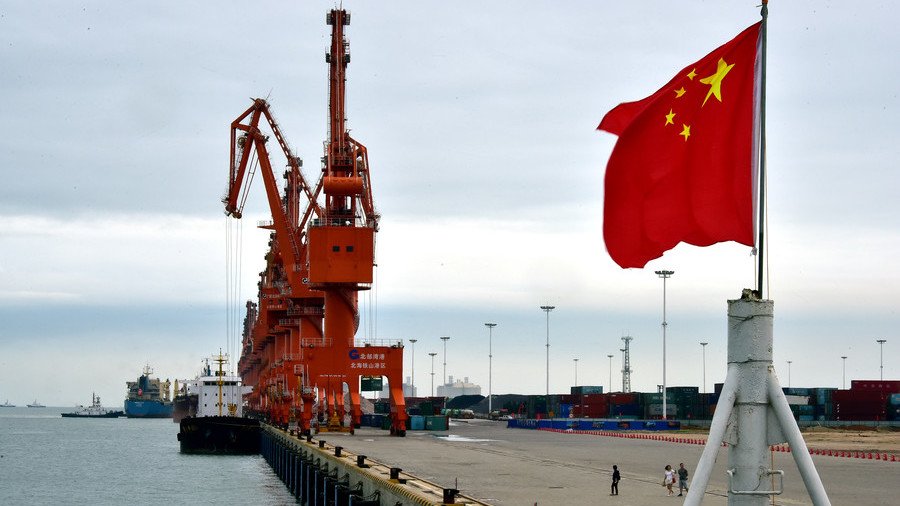 US President Donald Trump is looking to impose a 10 percent tariff on another $200 billion-worth of Chinese goods, after Beijing imposed reciprocal tariffs on US imports, as part of an expanding trade war with Washington.
In a statement released by the White House on Monday, Trump cited Beijing's decision to respond to US tariffs on $50 billion-worth of Chinese imports, imposed earlier, as his reason to escalate the conflict.
"China apparently has no intention of changing its unfair practices related to the acquisition of American intellectual property and technology," Trump said. "Rather than altering those practices, it is now threatening US companies, workers and farmers who have done nothing wrong."
The new US tariff will be imposed if China goes ahead and implements its new tariff on American goods, announced last week, the White House said, adding that trade between the two countries "must be much more equitable." China is currently running a $376 billion surplus in trade with the US, according to the White House.
If Beijing choses to continue its tit-for-tat tariff policy with the US, Washington will impose further tariffs on imports from China in addition to the $200 billion announced, the statement warned.
Responding to the news, the Chinese commerce ministry said Beijing will retaliate by imposing similar penalties on American goods, if Washington delivers on its threat.
"The United States has initiated a trade war and violated market regulations, and is harming the interests of not just the people of China and the US, but of the world," the Chinese ministry said in a statement.
As late as May 20, US Treasury Secretary Steven Mnuchin was saying the trade war with China was "on hold" and that negotiations with Beijing were ongoing. Last week, however, the Trump administration announced tariffs on 1,102 separate categories of Chinese products, to go into effect on July 6.
China responded by setting a 25 percent tariff on 545 American products, worth $50 billion, in agriculture products, cars, and seafood. Another 114 product categories, including chemicals, medical equipment and energy industry products, will be "announced later," the Chinese state news agency Xinhua reported.
China is not the only country facing the prospect of a trade war with the US. The Trump administration, in its pursuit of the "America first" policy, has recently levied tariffs on imports of aluminum and steel from the EU, Canada and Mexico, angering their leaders and making for a very chilly G7 summit in Canada earlier this month.
French President Emmanuel Macron called the tariffs "not only criminal, but a mistake," adding, "Economic nationalism leads to war." He also hinted that the remaining countries of the G7 combined are a bigger market than the US and "we don't mind being six, if needs be."
Canadian Prime Minister Justin Trudeau called the tariffs "totally unacceptable" and an "affront" to Canada, describing the announcement from Washington as "a turning point in the Canada-US relationship."
"We have to believe that, at some point, common sense will prevail. But we see no sign of that in the US action today," he said on May 31, announcing retaliatory duties on US imports.
Think your friends would be interested? Share this story!
You can share this story on social media: