'Shouldn't be in kindergarten': Lockdown rhyme tells kids how to evade active shooter (PHOTO)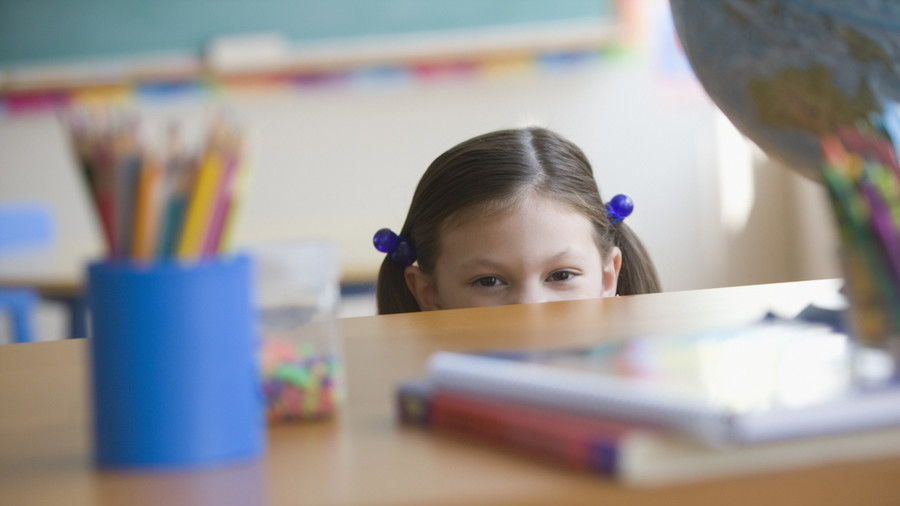 A parent has shared her dismay at seeing an ominous "lockdown" nursery rhyme in her child's kindergarten class which gives instructions on what to do in the event of an active shooter.
"This should not be hanging in my soon-to-be-kindergartener's classroom," wrote Georgy Cohen, a Massachusetts mom, about a seemingly innocent nursery rhyme taped to the wall of her child's new school.
Upon closer inspection, the eerie lyrics are actually a set of instructions for children to follow in the event of an active shooter situation, apparently set to the tune of 'Twinkle, Twinkle Little Star'.
Lockdown drills for children are already common place in nursery schools across in the US. Cohen wrote that her child was "excited" by the "game to see if you can stay quiet for 'one whole minute'".
Beneath the post another Twitter user shared the impact heightened school security measures are having on her daughters:
My girls were playing "teacher" this past weekend. They had math time, snack time, a reading nook and practiced their active shooter drill.

— Tia X_line (@TiaX_line) June 7, 2018
READ MORE: Bulletproof shields – best gift for US students? Pennsylvania school actually thought so
On Tuesday an entire graduating class of eighth-graders at a Pennsylvania middle school were gifted $150 bulletproof shields to prepare them for high school. That same day President Trump's Education Secretary Betsy DeVos said the Federal Commission on School Safety won't being looking into the role of guns in school shootings.
DeVos said the commission - established in response to the Parkland shooting in which 17 people died - would not look at the role of firearms in school shootings because "that is not part of the commission's charge, per se".
Think your friends would be interested? Share this story!