Bulletproof shields – best gift for US students? Pennsylvania school actually thought so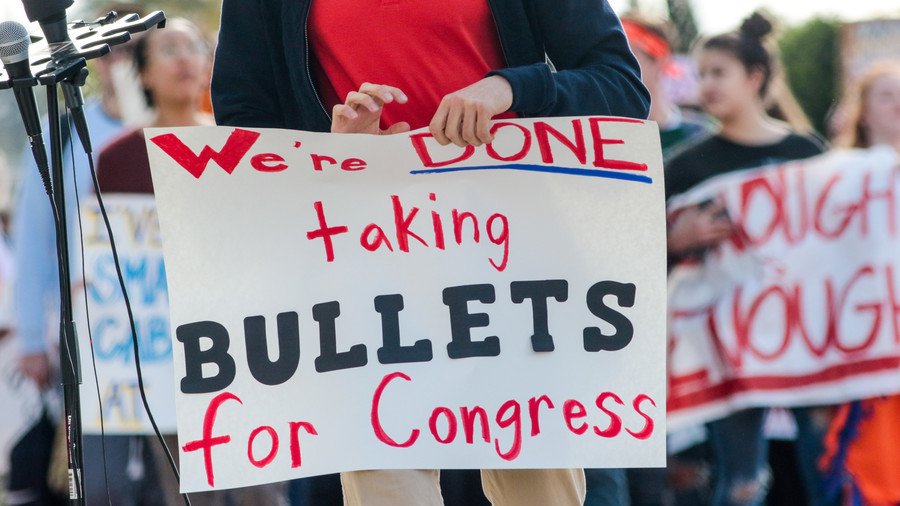 Eighth-graders at a Pennsylvania middle school were given a special gift to prepare them for high school: bulletproof shields. To Twitter, it was another depressing story from an America rocked by gun violence.
The entire graduating class at St. Cornelius Catholic School in Chadds Ford, Pennsylvania, were given the $150 shields as a gift by local company Unequal Technologies, which manufactures protective sports gear and, now, ballistic shields.
With the size of the chest plate from a bulletproof vest, the shields measure 10 by 12 inches (25x30 cm) and weigh around 20 ounces (less than 300 grams) – which is slim and light enough to slip into a backpack alongside schoolbooks and packed lunches. Unequal Technologies says its shields will stop knives, shotgun blasts, and most handgun bullets – even high-caliber .44 magnum or .357 rounds.
Nestled along the banks of the Tolkien-sounding Brandywine Creek, about an hour west of Philadelphia, Chadds Ford is the last place parents would expect a school shooting to take place. Still, locals see the unusual graduation gift as a sign of the times.
"You hear about these school shootings almost weekly, and I can't believe that's where we are in our nation today, but that's the fact," one grandparent told Fox.
While the threat to St. Cornelius may be minimal, staff there are already running a tight ship. Visitors have their driving licenses taken and their backgrounds searched before they can enter the school, and classrooms are outfitted with multiple deadbolt locks.
"Anything that we can do to protect our children and our staff... that's my job," Principal Barbara Rosini told Fox.
The news drew some attention on Twitter. Some saw it as a cynical attempt by Unequal Technologies to grab some free advertising and sell some more $150 shield plates.
That's not the answer. Sensible gun laws are the answer. But I have to wonder what the motivation of Unequal Technologies was in this case. Advertising? Product promotion? I don' know the answer to that question, but I'd sure like to.

— Konor Manogan (@KonorManogan) June 5, 2018
Anti-gun activist David Hogg saw it as further proof that the US needs more restrictive gun laws.
To others, it was just another depressingly bizarre story.
SIGN OF THE TIMES: A Pennsylvania middle school gave their outgoing 8th graders ballistic shields for their backpacks for when they get to high school. https://t.co/8E44S0uEFY

— Tim Williams (@realtimwilliams) June 5, 2018
Definitely in the running for my most depressing headline of the year award. The entire graduating class at a Pennsylvania middle school was given bulletproof backpack plates to prepare them for high school next year. congrats kids! https://t.co/SY7ATmz5nC

— Mike Belmore (@Happy_Belmore) June 6, 2018
School safety has been in the national headlines since a student killed 17 people at Marjory Stoneman Douglas High School in Parkland, Florida, this February. Last month, a teenager killed 10 people at a high school in Santa Fe, Texas.
As survivors of the Parkland massacre have mounted a high-profile campaign for gun control, school administrators have put up security barriers and handed out mandatory clear backpacks, denying potential shooters the opportunity to conceal weapons.
In Texas, Republican Governor Greg Abbott unveiled a plan last month that included increased funding for first responders, increased counseling resources for students, and firearms training for teachers.
Think your friends would be interested? Share this story!
You can share this story on social media: