Soldier steals 'tank' from military base, leads cops on comical car chase (VIDEOS)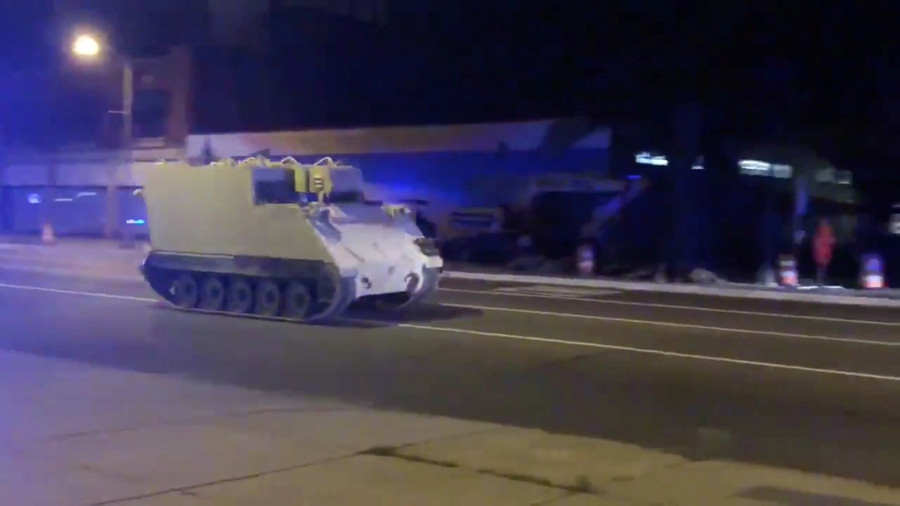 Officers in the Virginia State Police probably couldn't believe their ears when they received the call – a tank-like military vehicle had been spotted speeding down an interstate highway.
If some feared the incident was the first sign of a military coup, they were no doubt relieved to learn that it was just a soldier from a nearby military base, out for an evening joyride.
READ MORE: Motorist drives around block with UCLA picketer on hood (VIDEO)
Footage of the incident posted online on Tuesday shows the armored vehicle, which is the property of the Virginia National Guard and not equipped with any weaponry, topping out at around 40 miles per hour, meaning that the ensuing cop chase appears more like a police escort at times.
This is INSANE! Someone has hijacked a "Tank-like" vehicle from Fort Pickett and just drove it by our apartment! This is on Broad Street in the Fan. pic.twitter.com/EYfhFux1dk

— Parker Slaybaugh (@ParkerSlay89) June 6, 2018
Police pursued the vehicle for 60 miles from Nottoway County, near Fort Pickett where the tank was stolen, to Richmond, where the soldier stopped at around 9.40pm local time. There were no injuries or accidents in the pursuit.
Brother in law is a SWAT officer in the #RVA area and snapped this picture tonight of the crazy tank like vehicle that fled from Fort Pickett. Chase ended downtown near the Children's Hospital. pic.twitter.com/4GYy7r0BC6

— C. H. Baird (@CyrusBaird) June 6, 2018
"The adult male driver is now in police custody. The incident is under investigation and charges are currently pending at this time. It sounds like [the driver] pretty much stopped of his own accord," a police spokesperson said of the incident.
RT has contacted Virginia State Police for further comment.
Think your friends would be interested? Share this story!
You can share this story on social media: