Motorist drives around block with UCLA picketer on hood (VIDEO)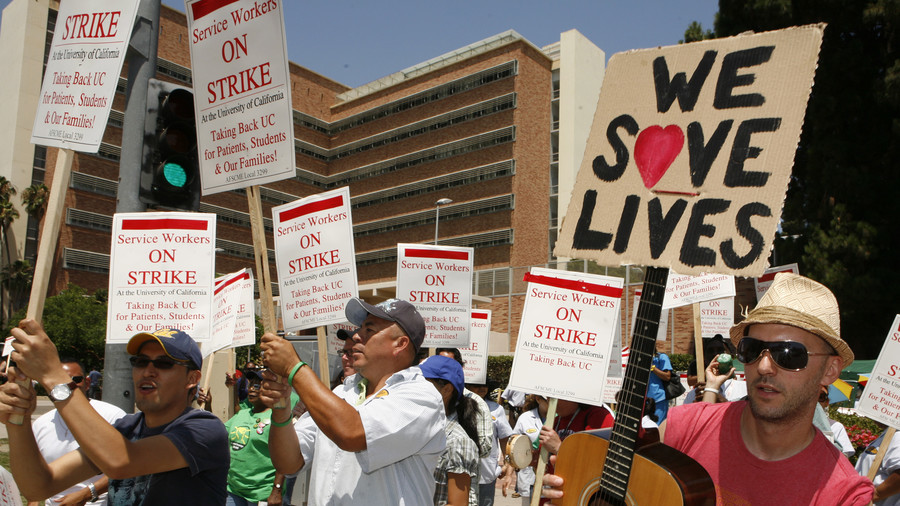 A driver drove right through a crowd striking at the University of California on Monday, with footage from the scene showing a picketer gripping the car's hood as it continues through a junction.
Police eventually stopped the vehicle at gunpoint.
The incident took place at about 9:45am at the intersection of Westwood Plaza and Le Conte Avenue in Los Angeles when a motorist attempted to drive through picketers crossing the street. Thousands of UCLA service workers are striking over contract negotiations.
According to UCLA police and the victim, the incident started when the driver became irate, getting out of his vehicle with a stick and threatening the strikers. He then got back in his car and drove off, with one union member gripping the hood.
"[The driver] got aggravated, you know, got out of his car and had a stick and was like, 'everybody get gotta move,' but hundreds of people are walking by, you can't just run somebody over," the man who ended up on top of the moving vehicle told KNX1070.
Video footage taken from further up Westwood Plaza shows a white SUV driving up the street with a striker holding onto the hood of the SUV. The vehicle goes through a crosswalk and turns on to Medical Plaza as other strikers chase it. It comes to a stop as police officers run in front of it.
"A car hit a couple of our workers, one of them was hanging onto the hood and he drove another block into this area before the police stopped him and arrested him," union communications director John de los Angeles told ACB7. "The worker who was holding on to the hood of the car was able to walk away."
READ MORE: Trump says he should have left UCLA players in Chinese jail, responding to LaVar Ball's outburst
UCLA Police told the LA Times three strikers were treated for minor injuries. The driver was arrested at the scene and was taken to UCLA Ronald Reagan Medical Center for evaluation before he was taken to the police station. RT has contacted the police for more information.
Think your friends would be interested? Share this story!
You can share this story on social media: