Trump says he should have left UCLA players in Chinese jail, responding to LaVar Ball's outburst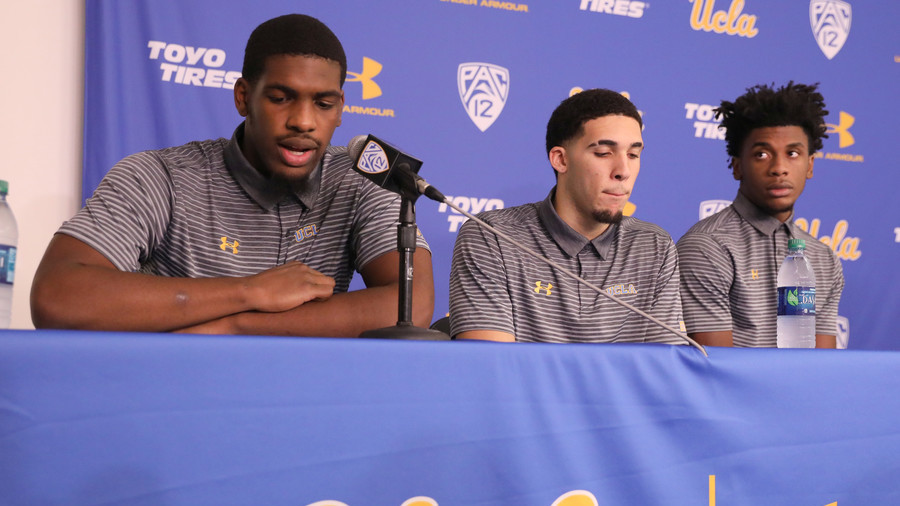 US President Donald Trump has launched a war of words with the notoriously outspoken basketball parent LaVar Ball, saying he should have left UCLA players, including Ball's son LiAngelo in a Chinese prison.
The origin of this feud goes back to LiAngelo and two of his University of California, Los Angeles (UCLA) teammates getting arrested on suspicion of shoplifting sunglasses while on a team trip to China.
The players allegedly stole the glasses from a store in Hangzhou. The players were confined to the team hotel while the incident was being investigated. They returned to the US on Tuesday and were indefinitely suspended by UCLA's basketball program.
On Thursday, Trump said his talks with Chinese President Xi Jinping helped expedite the player's return home without charges being filed, adding that they faced up to 10 years in jail.
He also tweeted that they should be thankful to the Chinese president, and to him, and advised them to "be careful."
The players thanked President Trump for helping to secure their release when they made a public apology. However, LaVar Ball downplayed Trump's role in the fiasco in an interview on ESPN.
"Who?" Ball said when discussing Trump's involvement in the matter. "What was he over there for? Don't tell me nothing. Everybody wants to make it seem like he helped me out."
The president chose to fire back directly at LaVar on Sunday, saying: "I should have left them in jail!"
The Ball family has its own reality show, Ball in the Family, which airs on Facebook. As well as LiAngelo the family includes Los Angeles Lakers point guard Lonzo Ball and high school phenomenon LaMelo, who is already committed to UCLA.
Despite his son's prowess on the basketball court, the undeniable star of the reality show is LaVar. The patriarch has shot to fame for his larger-than-life personality and his outlandish claims about his son's, and his own, ability. He famously said: "Back in my heyday, I would kill Michael Jordan one-on-one."
His loudmouth personality has raised his profile to such as extent that he is now regularly parodied on Saturday Night Live. A war of words with America's outspoken president seems like the logical next step in the LaVar Ball phenomenon.